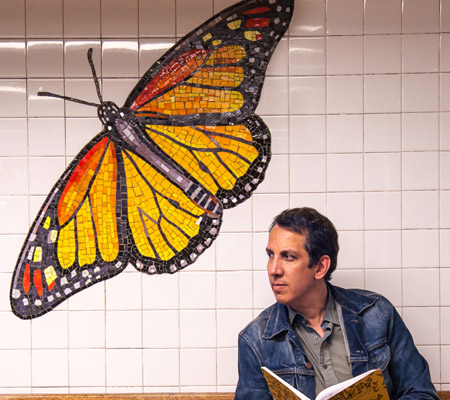 Peter Kuper's illustrations and comics have appeared in magazines around the world including Time, The New York Times and MAD where he has written and illustrated SPY vs. SPY every issue since 1997.
He is the co-founder of World War 3 Illustrated a political comix magazine and has remained on its editorial board since 1979.
He has produced over two dozen books including The System, Stop Forgetting To Remember, Speechless and Sticks and Stones, which won The Society of Illustrators' gold medal.
Peter has also adapted Upton Sinclair's The Jungle and many of Franz Kafka's works into comics including The Metamorphosis, which is used in high school and college curriculums in the US and abroad.
Peter lived in Oaxaca, Mexico from July 2006-2008 during a major teachers' strike and his work from that time can be seen in can be seen in his book Diario de Oaxaca, published by PM Press along with DrawnTo New York an illustrated chronicle of his three decades in New York City.
He has been teaching comics courses at The School of Visual Arts for 25 years and is a visiting professor at Harvard University.
More of his work can be seen at www.peterkuper.com
Peter Kuper: The Wall predicts Trumps plans in 90s cartoon
---
Diario de Oaxaca: A Sketchbook Journal of Two Years in Mexico
SKU: 9781629634418
Author: Peter Kuper • Introduction by Martín Solares
Publisher: PM Press
ISBN: 9781629634418
Published: 9/2017
Format: Paperback, mobi, ePub, PDF
Size: 9.125 x 6.5
Page count: 240
Subjects: Art-Illustration / Latin America
Praise
"Kuper is a colossus; I have been in awe of him for over twenty years. Teachers and students everywhere, take heart: Kuper has in these pages borne witness to our seemingly endless struggle to educate and to be educated in the face of institutions that really don't give a damn. In this ruined age we need Kuper's unsparing compassionate visionary artistry like we need hope."
—Junot Díaz, Pulitzer Prize–winning author of The Brief Wondrous Life of Oscar Wao
"Peter Kuper is undoubtedly the modern master whose work has refined the socially relevant comic to the highest point yet achieved."
—Newsarama.com
"Kuper has long been among the most politically engaged and stylistically distinctive artists working in comics, and both qualities take center stage here."
—Publishers Weekly
"[Kuper's] attempt to escape the last years of the Bush Administration led him to relocate to a town that turned out to be under martial law, in an area plagued by riptides, ecotourists, and stray dogs, all faithfully—and hilariously—documented here."
—New Yorker
"In the hands of an illustrator with such creative gifts, Oaxaca is a brilliant dreamscape whose bugs and vegetation are as visually appealing as its protest graffiti and wild dogs."
—World Literature in Review
---
The System
SKU: 9781604868111
Author: Peter Kuper • Introduction by Calvin Reid
Publisher: PM Press
ISBN: 9781604868111
Published: 5/2014
Format: Hardcover, mobi, ePub, PDF
Size: 7 x 11
Page count: 112
Subjects: Graphic Novel/Politics/Art-Illustration
Praise
"Cartooning is an art that can be universally recognized and appreciated. The purest of this form is the wordless comic, where the cartoonist creates a strictly visual language. If done properly, it is capable of displaying a range of ideas and emotions that people all over the world are able to understand. It is comparable to the early days of silent films when actors like Charlie Chaplin and Buster Keaton only had gestures and facial expressions to tell their stories and convey complex feelings. Pantomime cartooning shares this limitation, yet the challenges are even greater. Not only are there no words to lean on, but there is also no movement. Every action and emotion in the story has to be conveyed through static images alone. Over the years there have been a few geniuses in this specialized art form. One of them is Peter Kuper. Long may his pencil, pen and brush silently flow."
–Al Jaffee, legendary Mad cartoonist
"Though it has no word balloons or thought bubbles, The System is filled with so much urban clatter, you'll want to seal your windows shut. Kuper uses his trademark spray-paint/stencil art to send us careening through a kinetic New York landscape, jump-cutting from a crooked cop to a stripper, panning from a homeless guy to a cell-phone yuppie. The star of the story is the dark city itself, and the point is how money ties all its occupants—whether they know it or not—together."
—Gavin Edwards, Details
"Like a slow-motion footage of a .45 slug drifting through a gun barrel, Peter Kuper's The System gives urban tragedy an almost graceful inevitability. The System intertwines the lives of several instantly identifiable New York City archetypes (drunken subway motormen and drug-dealing beat cops) into a dreamily suspenseful tale of corruption and ambition. Somehow Kuper orchestrates this Robert Altman-esque black comedy without any dialogue, utilizing his signature color-stencil-art style to depict a class-conscious saga superior in depth and emotion to a year's stockpile of the New York Post."
—Robert Morales, Vibe
"This is our world, folks, as it exists right now, teetering on the brink of something we can't quite imagine, laid out by Peter Kuper as a flow chart of parallels and coincidences and connecting fibers so powerful and occult that a pin dropped in a back street creates shock waves that make skyscrapers tremble. The System is a silent epic in the tradition of Fritz Lang's Dr. Mabuse and Lynd Ward's Gods' Man—paranoid, yes, and with good reason.
—Luc Sante, author, Low Life
---
World War 3 Illustrated: 1979–2014
SKU: 9781604869583
Editors: Peter Kuper and Seth Tobocman • Introduction by Bill Ayers
Publisher: PM Press
ISBN: 9781604869583
Published: 5/2014
Format: Hardcover, mobi, ePub, PDF
Size: 8 x 10
Page count: 320
Subjects: Art/Politics/Illustration
Praise
"World War 3 Illustrated is the real thing. . . . As always it mixes newcomers and veterans, emphasizes content over style (but has plenty of style), keeps that content accessible and critical, and pays its printers and distributors but no one else. If it had nothing more than that kind of dedication to recommend it, it would be invaluable. But it has much, much more."
—New York Times
"Reading WW3 is both a cleansing and an enraging experience. The graphics remind us how very serious the problems and how vile the institutions that cause them really are."
—Utne Reader
"Powerful graphic art and comic strips from the engaged and enraged pens of urban artists. The subjects include poverty, war, homelessness and drugs; it's a poke in the eye from the dark side of America, tempered by what the artists describe as their 'oppositional optimism.'"
—Whole Earth Review
"This is art—not marketing—on the newsstand. It represents the sort of creativity too rarely given an outlet in comics. It's the best and longest running alternative comics anthology around."
—Comics Journal
"The artists of World War 3 have forged a space by turns harsh and exciting, honest and rowdy, boisterous and straight-forward, always powered by the wild and unruly harmonies of love. It's a space where hope and history rhyme, where joy and justice meet. Their voices provoke and soothe and energize. I want to hear more."
---
Drawn to New York: An Illustrated Chronicle of Three Decades in New York City
SKU: 9781604867220
Author: Peter Kuper • Introduction by Eric Drooker
Publisher: PM Press
ISBN: 9781604867220
Published: 5/2013
Format: Hardcover, ePub, PDF, mobi
Size: 10.5 x 8
Page count: 208
Subjects: Art-Illustration, History-New York City, Regional-New York City
Praise
"Kuper is extraordinary, a one-of-a-kind talent, and like the city it chronicles, Drawn to New York is beautiful, mutinous, kaleidoscopic, and essential." —Junot Díaz, Pulitzer Prize-winning author of The Brief Wondrous Life of Oscar Wao
"Drawn to New York is Peter Kuper's New York, and anybody who's spent any time here, physically or otherwise, will recognize the energy and architecture, the grime and crowds, the beautiful humanity, the foods, odors, and sights. Love it or not, there's no place on Earth quite like New York City, and few people have captured it as effectively as Kuper." —Newsarama
"One of the strongest and truest radical voices to emerge from contemporary America." —Alan Moore, author of Watchmen and V for Vendetta
"As a cartoonist and graphic novelist, Kuper's art reflects the sequential grid that is Manhattan. Each window tells a story, and the rows of squares and infinite right angles form a map of one man's journey through the modern labyrinth. When viewed as a whole, Kuper's concrete visions of New York amount to an epic love poem." —Eric Drooker
"The island of skyscrapers, the Mecca of cities, and well-known capital of the world, is the backdrop of this colorful odyssey of Peter Kuper and marks a triumph in his already successful career. Drawn to New York is a perfect choice while listening to 'New York, New York,' though not played by Sinatra." —Rolling Stone (Mexico)
---
Book Events
---
Reviews
---
Interviews
---
Mentions
---
Blog