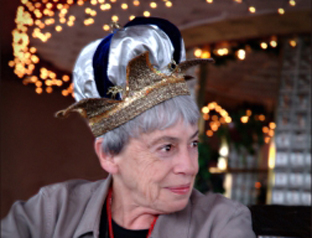 Ursula K. Le Guin is the one modern science fiction author who truly needs no introduction. In the half century since The Left Hand of Darkness, her works have changed not only the face but the tone and the agenda of Science Fiction, introducing themes of gender, race, socialism and anarchism, all the while thrilling readers with trips to strange (and strangely familiar) new worlds. She is our exemplar of what fantastic literature can and should be about.

Most of Le Guin's major titles have remained continuously in print, some for over forty years. Her best known fantasy works, the six Books of Earthsea, have sold millions of copies in America and England, and have been translated into sixteen languages. Her first major work of science fiction, The Left Hand of Darkness, is considered epoch-making in the field for its radical investigation of gender roles and its moral and literary complexity. Her novels The Dispossessed and Always Coming Home redefine the scope and style of utopian fiction, while the realistic stories of a small Oregon beach town in Searoad show her permanent sympathy with the ordinary griefs of ordinary people. Among her books for children, the Catwings series has become a particular favorite. Her version of Lao Tzu's Tao Te Ching, a translation she worked on for forty years, has received high praise.

Three of Le Guin's books have been finalists for the American Book Award and the Pulitzer Prize, and among the many honors her writing has received are a National Book Award, five Hugo Awards, five Nebula Awards, SFWA's Grand Master, the Kafka Award, a Pushcart Prize, the Howard Vursell Award of the American Academy of Arts and Letters, the L.A. Times Robert Kirsch Award, the PEN/Malamud Award, the Margaret A. Edwards Award, etc.
Be sure to check out Arwen Curry's documentary: Worlds of Ursula K. Le Guin
Ursula K. Le Guin is the 2014 recipient of the Foundation's Medal for Distinguished Contribution to American Letters. Watch her rousing speech HERE.
Titles by Ursula
Titles with Essays/Contributions by Ursula
---
Late in the Day: Poems 2010–2014
SKU: 9781629631226
Author: Ursula K. Le Guin
Publisher: PM Press
ISBN: 9781629631226
Published: 12/2015
Format: Hardcover, mobi, ePub, PDF
Size: 5 x 8
Page count: 112
Subjects: Poetry-Collection
Praise
" …a life-long observer of humanity and nature, who has borne critical witness to over eighty years of the modern age."
—Jillian Saucier, Rattle
"She never loses touch with her reverence for the immense what is."
—Margaret Atwood
"There is no writer with an imagination as forceful and delicate as Ursula K. Le Guin's."
—Grace Paley
"Le Guin's down-to-earth, intensely personal voice is unmistakable."
—Los Angeles Times
---
The Wild Girls
SKU: 9781604864038
Author: Ursula K. Le Guin
Publisher: PM Press / Outspoken Author Series
ISBN: 9781604864038
Published: 5/2011
Format: Paperback, mobi, ePub, PDF
Size: 5 x 7.5
Length: 112
Subjects: Science Fiction
Praise
"Idiosyncratic and convincing, Le Guin's characters have a long afterlife." —Publishers Weekly
"Her worlds are haunting psychological visions molded with firm artistry." —The Library Journal
"If you want excess and risk and intelligence, try Le Guin." —The San Francisco Chronicle
"Her characters are complex and haunting, and her writing is remarkable for its sinewy grace." —Time
"She wields her pen with a moral and psychological sophistication rarely seen. What she really does is write fables: splendidly intricate and hugely imaginative tales about such mundane concerns as life, death, love, and sex." —Newsweek
---
Sisters of the Revolution: A Feminist Speculative Fiction Anthology
SKU: 9781629630359
Editors: Ann VanderMeer and Jeff VanderMeer
Publisher: PM Press
ISBN: 9781629630359
Published: 6/2015
Format: Paperback
Size: 6 x 9
Page count: 352
Subjects: Fiction-Anthology/Science Fiction/Women's Studies
Praise
"The VanderMeers are a literary power couple."
—Boing Boing
"A very laudable trait of the editors is their egalitarianism, their refusal to distinguish between lowbrow and highbrow, using quality and impact as their only yardsticks."
—Barnes and Noble
---
Black Box: A Record of the Catastrophe, Volume One
SKU: 9781629631233
Editors: The Black Box Collective
Publisher: PM Press
ISBN: 9781629631233
Published: 12/2015
Format: Paperback
Size: 10 x 7
Page count: 256
Subjects: Politics-Theory/Anthology-Journal
Praise
"Black Box subverts the implicit agenda of most media outlets to deny the truth or to distract us from it. The journal investigates what is a necessary step towards understanding what needs to be."
—Gabor Maté, MD, author of In the Realm of Hungry Ghosts: Close Encounters with Addiction
"What happens if you walk away? What happens if you don't? Black Box is both a philosophy of the street and a poetics of revolutionary encounter. Every page is voltage, orientation, verge."
—Bhanu Kapil, author of Ban en Banlieue
"To think against and beyond the human catastrophe that is capitalism, we need to break down walls, open doors, cross thresholds, communize wherever we can—a black box not as containment but as focal point of the movement of undefined, undefinable rupture."
—John Holloway, author of Change the World Without Taking Power: The Meaning of Revolution Today
"Black Box is either our collectively written obituary or a time capsule of capitalism in its death throes. Let's make it the latter."
—Will Potter, author of Green Is the New Red: An Insider's Account of a Social Movement Under Siege
---
Book Events
---
Reviews
---
Interviews
---
Mentions
---
Blog