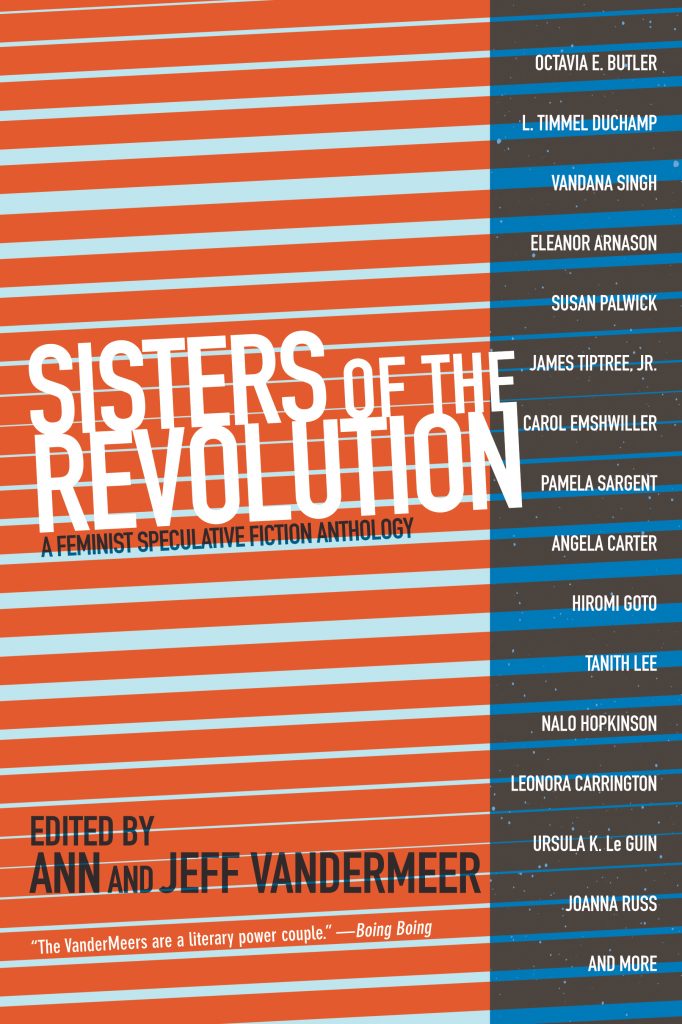 By Alvaro Zinos-Amaro
Intergalactic Medicine Show
July 2015
In their introduction to this excellent compilation of twenty-nine feminist sf/f/h stories, Ann and Jeff VanderMeer observe that there's "a current renaissance in feminist speculative fiction," a statement which the stories themselves — many of recent vintage — amply support. The editors further remark that they see this anthology as "a contribution to an ongoing conversation." Indeed it is that, and may spark a conversation or two of its own.
Normally, with a table of contents this long, I would single out maybe ten names and relegate the remainder to "and others." But in this case I feel it's important to name all the contributors. We have a superlative lineup: L. Timmel Duchamp, Leonora Carrington, Kit Reed, Nnedi Okorafor, Eleanor Arnason, Kelley Eskridge, Angélica Gorodischer, Nalo Hopkinson, Leena Krohn, James Tiptree, Jr., Rose Lemberg, Octavia E. Butler, Anne Richter, Kelly Barnhill, Hiromi Goto, Angela Carter, Pat Murphy, Joanna Russ, Vandana Singh, Susan Palwick, Carol Emshwiller, Eileen Gunn, Tanith Lee, Karin Tidbeck, Ursula K. Le Guin, Pamela Sargent, Rachel Swirsky, Catherynne M. Valente, Élisa Vonarburg. Tonally, many of these stories sizzle with anger and dip into despair: more than one features body horror and gruesome physical transformations, or violent and volatile emotional landscapes. I'll admit that as I started turning the pages I braced myself for provocation, for narratives that would bash my brain and hatchet my heart. I shouldn't have bothered putting up a fight. A dozen pages in I'd been wrestled to the ground. So be it. If fiction provides empathy, and empathy is a recommended staple of one's emotional diet, consider this anthology a mega-dose of literary vitamins.
Aesthetically, we encounter outright bizarreness (Carrington's "My Flannel Knickers"), allegorical fantasy (Arnason's "The Grammarian's Five Daughters"), sword-and-sorcery (Lee's "Northern Chess"), mythical realism (Okorafor's "The Palm Tree Bandit"), historical realism (Le Guin's "Sur," Carter's "The Fall River Axe Murders"), "classic" extrapolative what-ifs (Butler's "The Evening and the Morning and the Night," Russ' "When It Changed"), sf horror and apocalypse (Tiptree, Jr.'s "The Screwfly Solution," Murphy's "Love and Sex Among the Invertebrates"), parodic absurdism (Gunn's "Stable Strategies for Middle Management"), supernatural horror (Hopkinson's "The Glass Bottle Trick"), surrealism (Richter's "The Sleep of Plants," Singh's "The Woman Who Thought She Was a Planet"), and all sorts of other experimentations, like the brilliant melding of poetic cosmogony and intimate realization in Valente's "Thirteen Ways of Looking at Space/Time" or the pitch-perfect, second-person haunting of Swirsky's "Detours on the Way to Nothing." Of course, all these reductive labels are ultimately silly, because these idiosyncratic tales resist categorization. In fact, resistance — whether stoic or raging — is a good word to describe whatever mode of abstract literary kinship these stories might share. The VanderMeers are to be commended not only for their editorial selections but for the sequence into which they've arranged them. With two exceptions I read the stories in the order presented, and the journey was full of welcome contrasts and variations.
I hope that this anthology is read by many and goes into multiple printings. (If so, perhaps the galleys can be re-proofed. There's at least one incorrect publication date, several spelling mistakes, and the sporadic typographical upheaval. Also, Octavia Butler's story is followed by an author's afterword, which is interesting but jarring). For a rich discussion of feminist sf/f in the 1970s, a fertile and innovative period for sf at large, I recommend "Female Counter-Literature: Feminism," the tenth chapter in Andrew M. Butler's Solar Flares: Science Fiction in the 1970s; and for a substantial recent overview, see "Feminism" by Lisa Yaszek in The Oxford Handbook of Science Fiction.
To return, in closing, to the anthology's introduction: Ann and Jeff VanderMeer say that "In a perfect world, Sisters of the Revolution would be followed by several more volumes, each edited by someone different, with a profoundly different perspective." That's entirely appropriate. Even with the twenty-nine authors listed above, there are many other brilliant writers, like Karen Joy Fowler, Caitlín R. Kiernan, Maureen F. McHugh, Kelly Link, Gwyneth Jones, or Margaret Atwood, just to name a few, who could and should be featured in subsequent entries. Science fiction and fantasy truly contain multitudes, and an ongoing exploration of these manifold, aesthetically variegated expressions, as refracted in the prism of gender, is necessary to understand not only ourselves, but the possibilities of our art.
Back to Ann VanderMeer's Author Page | Back to Jeff VanderMeer's Author Page