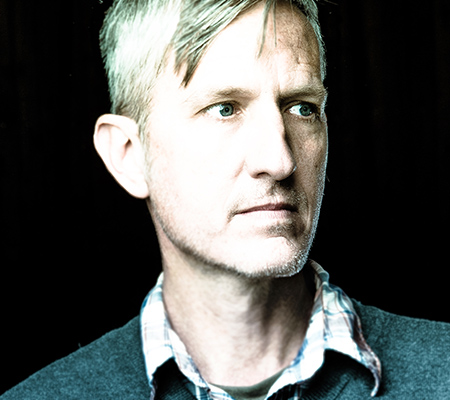 scott (b. Feb. 18, 1967) grew up in a working class family and has engaged his varied life as an international author  and speaker, coop business co-owner, political organizer, educator and strategist, activist, filmmaker, dad and underground musician in a lifelong quixotic quest in the ideas of collective liberation for all rooted in the philosophies of anarchy.
For over two decades he has focused on diverse socio-political issues including worker cooperatives, animal liberation, feminism, police brutality, environmental destruction, prison abolition, political prisoners, alternatives to capitalism and disaster relief.
His first book Black Flags and Windmills: Hope, Anarchy and the Common Ground Collective (PM Press) has been critically lauded including being named by Progressive Magazine as one of the"Top five books of 2011″. His writings have appeared within the books Grabbing Back: Essays Against the Global Land Grab (AK Press) and What Lies Beneath: Katrina, Race, and the State of the Nation (South End Press) as well as within radical publications including Fifth Estate, INFOSHOP.org, Free Voices, Slingshot, Turning The Tide,  Earth First! Journal, and been translated for German and Spanish periodicals.
scott has worked for a number of national organizations creating and implementing direct actions, protests and mobilizations including Greenpeace, A.C.O.R.N., Rainforest Action Network, Ruckus Society and the short lived, but powerful networks, Continental Direct Action Network, and Mobilization For Global Justice. Additional he has worked with many grassroots groups on campaigns, education efforts and strategies including the Industrial Workers of the World and Anti Racist Action.  In these efforts over the years he also co-founded a number of diverse projects, businesses and organizations rooted in cooperative, power sharing models including Lesson Seven (political industrial band), Radical Encuentro Camp (education project), Red Square (co-op art gallery), Dirty South Earth First! (environmental campaign) Century Modern (antique cooperative), Treasure City Thrift  (volunteer/worker cooperative) and the Common Ground Collective  (the largest anarchist organization in modern US history) in New Orleans after Hurricane Katrina.
He has appeared in international media including the New York Times, Democracy Now, CNN, NPR, RT News, Mother Jones, Rolling Stone, Der Spiegel , Z Magazine, Pacifica Radio, Medium and Vice among others. The New York Times characterized him as "anarchist, veteran organizer and an aficionado of civil disobedience" , the FBI called him "a puppet master involved in direct action" and NPR's This American Life called him "a living legend among anarchists".  In other media he appeared in the documentary films Informant (Music Box 2013), Better this World (PBS 2012) and Welcome To New Orleans (Fridthjof Film 2006) and co-produced a documentary film Angola 3: Black Panthers and the Last Slave Plantation (PM Press 2008).
Beginning in the late 1990s, scott was under investigation and surveillance in nine states by the FBI for his political activity related to animal rights and radical environmental issue. He was labeled as an alleged "domestic terrorist" for a decade although no charges were brought.  His high profile case was one of the precursors to the unveiling of the US governments spying on political activists and citizens that was widely revealed in 2013.
Today, when not a home in Austin, Texas he can be found speaking at college campuses and community centers internationally talking about anarchy, surveillance, political prisoners, climate change and environmental issues, animal rights, community organizing and worker cooperatives or at his site www.scottcrow.org.
---
Setting Sights: Histories and Reflections on Community Armed Self-Defense
SKU: 9781629634449
Editors: scott crow • Foreword by Ward Churchill
Publisher: PM Press
ISBN: 9781629634449
Published: 1/2018
Format: Paperback, mobi, ePub, PDF
Size: 6 x 9
Page count: 336
Subjects: Politics / Civil Rights
---
Praise
"This book is a must read. It looks like self-defense and resistance today, but it is more. It is about courage, lucidity, and tools to create new worlds under the storm, in the midst of disaster."
—Gustavo Esteva, founder of the Universidad de la Tierra and author of The Future of Development: A Radical Manifesto
"In Setting Sights, scott crow pulls together an important collection of historic and contemporary essays and interviews on politically informed armed self-defense. Thoughtful, considered, compelling, and even provocative, this edited collection brings together many perspectives, raises important questions, and gives considerable attention to the ways race and gender inform these crucial issues."
—Emilye Crosby, author of A Little Taste of Freedom: The Black Freedom Struggle in Claiborne County, Mississippi
"This provocative book, well worth reading, confirms that there is intellectual heft in revolutionary ideas. A valuable contribution to the history of community self-defense."
—Charlie E. Cobb Jr., author of This Nonviolent Stuff'll Get You Killed: How Guns Made the Civil Rights Movement Possible
"An extensive volume that vividly illustrates the foundations and necessity of community armed defense in struggles for freedom against injustice and racism."
—Robert Hillary King, author of From the Bottom of the Heap
". . . crow is considered armed and dangerous. He is proactive in civil disobedience skills and goes to events to instigate trouble."
—FBI Joint Terrorism Task Force
---
Black Flags and Windmills: Hope, Anarchy, and the Common Ground Collective, Second Edition
SKU: 9781604864298
Author: Elisée Reclus • Editors: John P. Clark and Camille Martin
Publisher: PM Press
ISBN: 9781604864298
Published: 10/2013
Format: Paperback, mobi, ePub, PDF
Size: 6 x 9
Page count: 304
Subjects: Philosophy-Anarchism/Social Science-Geography
Praise
"For far too long Elisée Reclus has stood in the shadow of Godwin, Proudhon, Bakunin, Kropotkin, and Emma Goldman. Now John Clark has pulled Reclus forward to stand shoulder to shoulder with Anarchism's cynosures. Reclus' light brought into anarchism's compass not only a focus on ecology, but a struggle against both patriarchy and racism, contributions which can now be fully appreciated thanks to John Clark's exegesis and [his and Camille Martin's] translations of works previously unavailable in English. No serious reader can afford to neglect this book."
—Dana Ward, Pitzer College
"Finally! A century after his death, the great French geographer and anarchist Elisée Reclus has been honored by a vibrant selection of his writings expertly translated into English."
—Kent Mathewson, Louisiana State University
"Maintaining an appropriately scholarly style, marked by deep background knowledge, nuanced argument, and careful qualifications, Clark and Martin nevertheless reveal a passionate love for their subject and adopt a stance of political engagement that they hope does justice to Reclus' own commitments."
—Historical Geography
"Clark and Martin have opened the door, through their deep introduction and selected reprints, to one of the great thinkers of 19th century anarchist thought."
—Anarchy
"This inspiring analysis and anthology does an excellent job of placing Reclus in his anarchist and social context."
—Anarchist Studies
---
The Angola 3: Black Panthers and the Last Slave Plantation
SKU: 9781604860207
Director: Jimmy O'Halligan • Produced by scott crow and Ann Harkness • Narrated by Mumia Abu-Jamal
Length: 109 Minutes
Aspect Ratio: 4:3
Language: English
Format: DVD (NTSC)
UPC: 022891476399
Published: 9/2008
ISBN: 9781604860207
Publisher: PM Press
Subjects: Documentary, Prison Abolition
---
About
Narrated by Mumia Abu-Jamal, The Angola 3 features interviews with former Panthers, political prisoners and revolutionaries, including the Angola 3 themselves, and Bo Brown, Geronimo (ji Jaga) Pratt, Malik Rahim, Yuri Kochiyama, David Hilliard, Rod Coronado, Noelle Hanrahan, Kiilu Nyasha, Marion Brown, Luis Talamantez, Gail Shaw and many others. Portions of the proceeds go to support the Angola 3. Features the music of Truth Universal written by Tajiri Kamau.
---
Book Events
---
Reviews
---
Interviews
---
Mentions
---
Blog