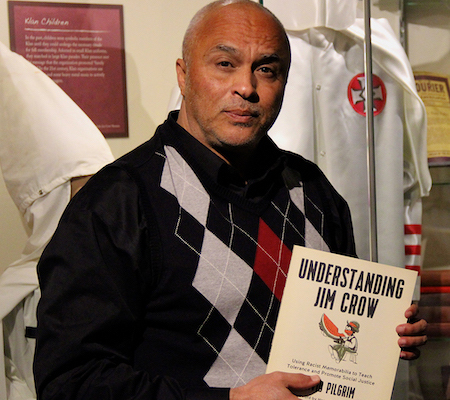 David Pilgrim is a professor, orator, and human rights activist. He is best known as the founder and curator of the Jim Crow Museum of Racist Memorabilia—a ten-thousand-piece collection of racist artifacts located at Ferris State University, which uses objects of intolerance to teach about race, race relations, and racism.
Check out a Virtual Tour of the Jim Crow Museum of Racist Memorabilia HERE
---
Haste to Rise: A Remarkable Experience of Black Education during Jim Crow
SKU: 9781629637907
Authors: David Pilgrim & Franklin Hughes • Preface: David Eisler
Publisher: PM Press
ISBN: 9781629637907
Published: 7/2020
Format: Paperback
Size: 6 x 9
Pages: 208
Subjects: Social Science/Ethnic Studies/African American Studies/Education
Praise
For David Pilgrim's previous works:
"One of the most important contributions to the study of American history that I have ever experienced."
—Henry Louis Gates Jr., director of the W.E.B. Du Bois Institute for African American Research
"This was a horrific time in our history, but it needs to be taught and seen and heard. This is very well done, very well done."
—Malaak Shabazz, daughter of Malcolm X and Betty Shabazz, on the Jim Crow Museum
"The museum's contents are only a small part of the damaging effects of the Jim Crow laws that were found all across America, including bright and sunny California. This history is not only an important part of understanding where America was but, in an age of states making it harder and harder for citizens to vote, it is relevant to note that we have been here before."
—Henry Rollins, host of the History Channel's 10 Things You Don't Know About
"For decades the author has been on a Pilgrimage to bring out from our dank closets the racial skeletons of our past. His is a crucial mission, because he forces us to realize that race relations grew worse in the first several decades of the twentieth century—something many Americans never knew or now want to suppress. This book allows us to see, even feel the racism of just a generation or two ago—and Pilgrim shows that elements of it continue, even today. See it! Read it! Feel it! Then help us all transcend it!"
—James W. Loewen, author of Lies My Teacher Told Me and coeditor of The Confederate and Neo-Confederate Reader
"The museum has been one of my treasured go-to resources for teaching people about the deep-seated roots of the racism that persists in our collective subconscious. Only by facing our history and its hold on our psyche can we construct a better culture. This work is invaluable."
—damali ayo, author of How to Rent a Negro and Obamistan! Land without Racism
---
---
Watermelons, Nooses, and Straight Razors: Stories from the Jim Crow Museum
SKU: 9781629634371
Author: David Pilgrim • Foreword by Debby Irving
Publisher: PM Press
ISBN: 9781629634371
Published: 12/2017
Format: Paperback, PDF, ePub, Mobi
Size: 8 x 10
Page count: 272
Subjects: History-US / African American Studies
Praise
"Pilgrim's book is a well-researched, comprehensive, and ever-present documentation of where we've been and where we still are. All of America needs to confront these injustices in order to put them where they belong, in the past, not the present."
—Philip J. Merrill, CEO and founder of Nanny Jack & Co.
"Undergirding David Pilgrim's effort is his powerful belief that we, as a society, heal better when we stare down the evils that have walked among us, together."
—Henry Louis Gates Jr., Alphonse Fletcher University Professor, Harvard University"
In its compelling reimagination of the museum experience, the Jim Crow Museum of Racist Memorabilia leverages the potential of museums to effect positive social change in a troubled world. By creating a forum for the safe exchange of ideas, Jim Crow transforms its campus and the world it inhabits, one visit at a time."
—Bradley L. Taylor, associate director, Museum Studies Program, University of Michigan

"This book allows us to see, even feel the racism of just a generation or two ago—and Pilgrim shows that elements of it continue, even today. See it! Read it! Feel it! Then help us all transcend it!"
—James W Loewen, author of Lies My Teacher Told Me
---
Understanding Jim Crow: Using Racist Memorabilia to Teach Tolerance and Promote Social Justice
SKU: 9781629631141
Author: David Pilgrim • Foreword by Henry Louis Gates Jr.
Publisher: PM Press
ISBN: 9781629631141
Published: 12/2015
Format: Paperback, mobio, ePub, PDF
Size: 8 x 10
Page count: 208
Subjects: History-US/African American Studies
---
Praise
"An interesting and important project."
—Noam Chomsky
"There is hope. Thanks to Ian Brennan for shining a light."
—Bill Frisell
"Every page of Silenced by Sound is like listening to a fresh, bracing, previously unknown kind of music for the very first time."
—David Harrington, Kronos Quartet
"Brennan presents a hefty, bracing tome . . ."
—Booklist
". . . full of wisdom from someone who cares deeply about the power of real music."
—MOJO
---
Book Events
---
Reviews
---
Interviews
---
Mentions
---
Blog
Take a listen to "Brothers" written and read by David Pilgrim