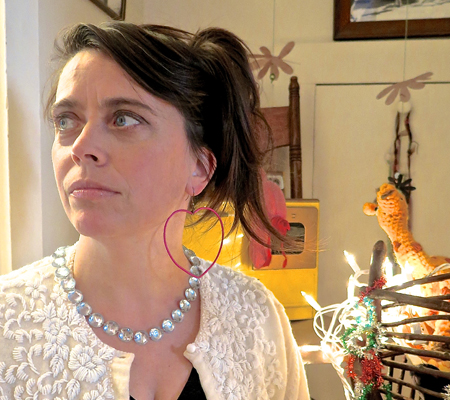 Since 2001, Jacinta Bunnell has been creating coloring books with Irit Reinheimer, Julie Novak, Nathaniel Kusinitz, Leela Corman and others. These coloring books offer a way for people of all ages to look at cultural creations of gender and sexuality. If you can get people ot laugh at themselves and at ingrained expectations, their hearts will be more open to looking at difficult issues. Once you have opened someone's heart with a joke, a shared smile or a good laugh, you are better able to do the hard work of liberation together. Jacinta hopes that these coloring books offer a critique of children's media and the way it introduces us to ideas whose influences we often take for granted throughout our lives.
If you do not see yourself in print anywhere, how do you know you are not the only one that thinks, acts and feels as you? From this query sprung these coloring books: Sometimes the Spoon Runs Away With Another Spoon, Girls Will Be Boys Will Be Girls Will Be…, The Big Gay Alphabet Coloring Book, Girls Are Not Chicks, and the new Spanish translation of Girls Are Not Chicks: Las niñas pueden ser reyes. Jacinta has presented the work of these books at Vassar College, Bard College, Sarah Lawrence COllege, Simon's Rock College, The 519 Centre, Homo A Gogo, Girls' Leadership Worldwide, Bluestockings Bookstore & Activist Center, Zine Archive & Publishing Project, SUNY New Paltz, Rainbow Bookstore Cooperative, In Other Words Bookstore, Reimagining Girlhood Conference, True Colors Conference and Common Threads Conference, leading people of all ages in the creation of anti-bias books and empowering people to being the process of turning their own ideas into tangible media.
Discover more of Jacinta Bunnell's work at www.queerbookcommittee.com.
---
A More Graceful Shaboom
SKU: 9781629638249
Author: Jacinta Bunnell • Illustrator: Crystal Vielula
Series: PM Press
ISBN: 978-1-62963-824-9
Published: 09/2020
Format: Hardcover
Size: 8.5×11
Pages: 48
Subjects: Juvenile Fiction / Picture Book
Praise
"It's often been said that you can't be it, unless you see it, but the queer youth of today are often busy being whatever it is by the time they finally see it represented out there in the world. The classification they choose or the person with whom they identify presents itself as an affirmation rather than an inspiration.  A More Graceful Shaboom is a major affirmation to anyone who identifies as non-binary – and an inspiration to us all." —James Lecesne, Co-founder of The Trevor Project
"A More Graceful Shaboom is what would happen if Remy Charlip and Freddy Mercury had a baby. It's what would happen if you could live in Narnia and Woodstock at the same time. It's what would happen if the idea of inclusiveness was taken to the outer edges of the universe. There's room enough for everyone, plus there's a disco ball. That's enough for me."
—Brian Selznick, author and illustrator of The Invention of Hugo Cabret
"I loved A More Graceful Shaboom! This hilarious, sweet, and witty book will open hearts and minds to the many possibilities beyond what's expected and constrained by society. Harmon's quest for a purse—something to hold their many treasures—will resonate with anyone who has ever searched for a way to make the world a little more beautiful."
—Jen Doll, author of Unclaimed Baggage
"Jacinta Bunnell's nonsense world—where children control the backhoes and there's a purse for every occasion—will be uncannily familiar to kid and adult readers, since it's the very world we live in, with a few fabulous alterations. Each time I read it I can't wait to go back."
—Cory Silverberg, author of What Makes a Baby
"This book presents an image of non-binary life being colorful, exciting, and not fundamentally traumatic." –Phoebe North, author of Starglass and Starbreak
"For kids who are just learning about their gender identity, it's great to have a book like this. I think being unique is really great, but to have being trans be somewhat normalized doesn't make it feel as hard." –Rhys Ellis, student and musician
"I've seen the really incredible way that books like this can allow a child to expand their perception of who they are, allowing them to feel so much more comfortable, knowing this exists and that they exist." –Zia Lawrence, actor and playwright
---
Las niñas pueden ser reyes: Libro para colorear
SKU: 9781629637075
Author: Jacinta Bunnell
Publisher: PM Press/ Reach and Teach
ISBN: 9781629637075
Published: 10/2019
Format: Paperback, ePub, mobi, PDF
Size: 8.5 x 11
Page count: 32
Subjects: Women's Studies/Coloring Books
Praise
"Once again, Jacinta Bunnell has created a coloring book where children are encouraged to color their liberation dreams. In the pages of Girls Can Be Kings, little girls (and all readers, really) are inspired to resist social limitations, find strength in community, and have the courage to create their own narratives in a world determined to control their choices."
—Dr. Jessica N. Pabón-Colón, Assistant Professor, Women's, Gender, and Sexuality Studies, Latin American and Caribbean Studies. SUNY New Paltz
"For over 15 years, Jacinta has been giving us images that educate and revolutionize creative minds of all ages. This book features more art, more truth, and this time en español!" —Cristy C. Road, Next World Tarot, Spit & Passion, Choked Up
"An ingeniously subversive coloring book."
—Heather Findlay, editor in chief, Girlfriends magazine on Girls Are Not Chicks Coloring Book
"Get this cool feminist coloring book even if you don't have a kid."
—Jane Pratt, Jane magazine on Girls Are Not Chicks Coloring Book
"For over 15 years, Jacinta has been giving us images that educate and revolutionize creative minds of all ages. This book features more art, more truth, and this time en español!" —Cristy C. Road, Next World Tarot, Spit & Passion, Choked Up
---
Girls Will Be Boys Will Be Girls Will Be… Coloring Book
SKU: 9781629635071
Author: Jacinta Bunnell
Publisher: PM Press/ Reach and Teach
ISBN: 9781629635071
Published: 5/2018
Format: Paperback, ePub, mobi, PDF
Size: 8.5 x 11
Page count: 40
Subjects: Coloring Book/Gender Studies
Praise
"A perfect alternative to gender-saturated Disney fare."
—Bitch magazine
"A great inexpensive gift for kids age 5 to 95."
—Curve magazine
"If I had had this coloring book when I was little, I think things would have been a little easier for me, and when you're little a little easier is a lot."
—Lynda Barry, cartoonist
---
The Big Gay Alphabet Coloring Book
SKU: 9781629630922
Author: Jacinta Bunnell • Illustrated by Leela Corman
Publisher: PM Press/ Reach and Teach
ISBN: 9781629630922
Published: 6/2015
Format: Paperback, ePub, mobi, PDF
Size: 8.5 x 11
Page count: 64
Subjects: LGBTQ/Coloring Book
Praise
"With beautifully rendered moments of Queer life, The Big Gay Alphabet Coloring Book offers over fifty pages of inked and framed line drawings and typography for folks of all ages, a tool for education and inspiration."
—Cristy C. Road, author and illustrator of Spit and Passion
"Two of my favorite people in the world also happen to be among the most talented. I will add it to my new-parent gift pack, alongside Bunnell's other coloring book projects."
—Anne Elizabeth Moore, The Ladydrawers Comics Collective
"Jacinta and Leela have created a beautiful, fun coloring book which teaches us that everyone is deserving of respect and understanding. I'm only halfway into this thing and I've already gone through three tubes of glitter!"
—Jon Wurster, Bob Mould Band
---
Sometimes the Spoon Runs Away with Another Spoon Coloring Book
SKU: 9781604863291
Author and Illustrator: Jacinta Bunnell and Nathaniel Kusinitz
Publisher: Reach And Teach / PM Press
ISBN: 9781604863291
Published: 9/2010
Format: Paperback, ePub, mobi, PDF
Size: 8.5 x 11
Page count: 36
Subjects: Family-Children, Activity-Coloring Book
Praise
"As moving and funny as Walter the Farting Dog, with pictures you can color however your heart desires, Sometimes the Spoon… is appropriate for children of all ages, especially those who grew up without it."
—Ayun Halliday, Chief Primatologist of The East Village Inky
"For some people the sky's the limit. For Jacinta Bunnell it's a place to put a rainbow. There are no limits in Sometimes the Spoon Runs Away With Another Spoon—just fun and love. Jacinta Bunnell invites you to "Step right up!" to the wonderful world of you!"
—World Famous *BOB*, Ultimate Self Confidence! Coach
---
Girls Are Not Chicks Coloring Book
SKU: 9781604860764
Authors: Jacinta Bunnell and Julie Novak
Publisher: Reach And Teach / PM Press
ISBN: 9781604860764
Published: 9/2009
Format: Paperback, ePub, mobi, PDF
Page count: 36
Size: 8.5 x 11
Subjects: Children's Activity Book/ Feminism
Praise
"An ingeniously subversive coloring book." —Heather Findlay, editor in chief, Girlfriends magazine
"Get this cool feminist coloring book even if you don't have a kid" —Jane Pratt, Jane magazine
---
Book Events
---
Reviews
---
Interviews
---
Mentions
---
Blog