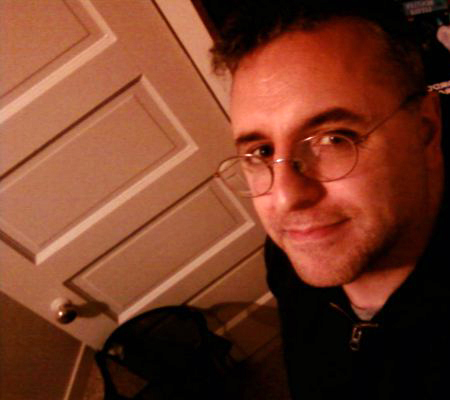 Nick Mamatas is the author of three novels, including the Lovecraftian Beat road novel Move Under Ground, and Under My Roof, a novel of neighborhood nuclear supremacy. With Brian Keene he wrote The Damned Highway and with Ellen Datlow edited the anthology Haunted Legends. His how-to pamphlet on writing, Starve Better, was released in March 2010.
Nick has also published over seventy short stories and hundreds of articles. His short fiction has appeared in Asimov's Science Fiction, Mississippi Review Online, subTERRAIN, Hint Fiction, Supernatural Noir and other venues, and a number of his stories were collected in the book You Might Sleep . . . His reportage and essays have appeared in the Village Voice, The Smart Set, Clamor, In These Times, the books You Are Being Lied To and Everything You Know is Wrong, H+, Poets & Writers, The Writer and many many other places.
He was born in New York and now lives in California with a woman named Olivia and a dog named Kazzie.
---
The Planetbreaker's Son
SKU: 9781629638348
Author: Nick Mamatas
Series: PM Press/Outspoken Authors
ISBN: 9781629638348
Published: 01/2021
Format: Paperback
Size: 5×7.5
Pages: 128
Subjects: Science Fiction
---
Praise
"One of the most inventive, fascinating, and dis­tinctive voices in the field."
—Locus Magazine
"Bay Area author Nick Mamatas is renowned in his work and in his online presence as witty and perspicacious; his new collection will bolster that reputation . . . brilliant, oddball."
—Seattle Times
"Mamatas at his best. Makes me laugh. Makes me drop things. Makes me read on. Makes me run for cover."
—Terry Bisson, author of Bears Discover Fire
"Mamatas is such a great novelist that it's easy to forget he also writes superb short stories."
—LitReactor
"Nick Mamatas is the gadfly that makes the horse buck whip-smart and no bullshit and with one hell of a bite."
—Brian Evenson, author of The Warren and A Collapse of Horses
"How does speculative fiction retain its relevance in an era when daily events feel fictitious and the mere possibility of a future seems speculative? If anyone knows the answer, it's Nick Mamatas."
—Jarett Kobek, author of I Hate the Internet
---
Sensation
SKU: 9781604863543
Author: Nick Mamatas
Publisher: PM Press / Spectacular Fiction Series
ISBN: 9781604863543
Published: 5/2011
Format: Paperback, ePub, PDF, mobi
Size: 5 x 8
Page count: 208
Subjects: Science Fiction
---
Praise
"Nick Mamatas continues his reign as the sharpest, funniest, most insightful and political purveyor of post-pulp pleasures going. He is the People's Commissar of Awesome."—China Miéville, award-winning author of Kraken and The City and the City
"Nick Mamatas' brilliant comic novel, Sensation, reads like an incantation that both vilifies and celebrates the complex absurdity of the modern world."—Lucius Shepard, winner of the Hugo, Nebula, and World Fantasy awards.
"The Majestic Plural, or Royal We, is well known—Sensation introduces the Arachnid Plural, the we of spiders, the ones that live inside you. The spiders care about you—deeply—and want to use you in a millennial war against certain parasitic wasps. No, I was wrong. The spiders only want to help. So let them in."—Zachary Mason, the New York Times best-selling author of The Lost Books of the Odyssey
---
Book Events
---
Reviews
---
Interviews
---
Mentions
---
Blog