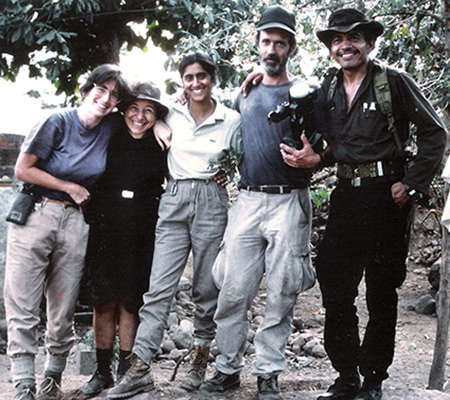 Pamela Cohen has been producing social issue and educational documentaries for the past 25 years. Other films include In the Name of Democracy (1984), and Hope Street (1994). She currently teaches media arts and visual arts in Los Angeles.
Monona Wali is a writer and teacher living in Los Angeles. San Francisco based Catherine Ryan has been producing, directing and editing awarding-winning documentaries for over 20 years. In addition to Maria's Story her other films include: Soldiers of Conscience (2009) and The Double Life of Ernesto Gómez Gómez (1999). Ryan has also produced and directed documentaries for primetime network TV, including The Story of Mothers & Daughters (1997, ABC), The Story of Fathers & Sons (1999, ABC) and Teens (2000, WB).
Picture: "Last day of shoot Maria's Story, 1989." Left to right, Producer/Director Pamela Cohen, Maria Serrano, Director Monona Wali, Cameraman, John Knoop, Manuel of the FMLN.
---
Maria's Story: A Documentary Portrait of Love and Survival in El Salvador's Civil War (DVD)
SKU: 9781604863222
Producers: Pamela Cohen and Catherine M. Ryan • Directed by Monona Wali and Pamela Cohen
Publisher: PM Press
ISBN: 9781604863222
UPC: 760137497295
Published: 4/2010
Format: NTSC DVD (English/Spanish)
Size: 5.5 x 7.5
Length: 60 Minutes
Subjects: Politics, Latin America
Praise
"Documentary at its most illuminating and succinct"
—Los Angeles Times
"As the camera jiggles and the bullets fly one comes as close to combat as one will ever get in the movie theater."
—San Francisco Examiner
"An emotionally powerful film which communicates from the heart."
—San Francisco Bay Times
---
---
Book Events
---
Reviews
---
Interviews
---
Mentions
---
Blog