Leon Rosselson has been at the forefront of songwriting in Britain for fifty years. His songs range from the lyrical to the satirical, from the personal to the political, from the humorous to the poignant. His early songs were topical-satirical (some of them were featured in the TV satire show That Was the Week that Was) but he broadened out from there, absorbing different influences, from Music Hall to French Realist Song, and experimenting with different song forms.
He has performed in every conceivable venue in the UK and has toured North America, Holland, Belgium, Switzerland, and Australia. He has written songs for a stage performance of They Shoot Horses, Don't They? and scripted shows about the Spanish Civil War, sexual politics (Love, Loneliness & Laundry) and the nuclear issue (No Cause for Alarm). His song "The World Turned Upside Down" has been recorded & popularised by, amongst others, Dick Gaughan and Billy Bragg, and has been sung on numerous demonstrations in Britain and the United States.
He has released twelve CDs of his songs and published two songbooks, Bringing the News from Nowhere and Turning Silence into Song. He has also had seventeen children's books published; the first one, Rosa's Singing Grandfather, published by Puffin, was shortlisted for the Carnegie Medal in 1991. Visit his website at www.leonrosselson.co.uk, you can also see Leon Rosselson on YouTube.
printmaking, and illustration at Massachusetts Colleg
---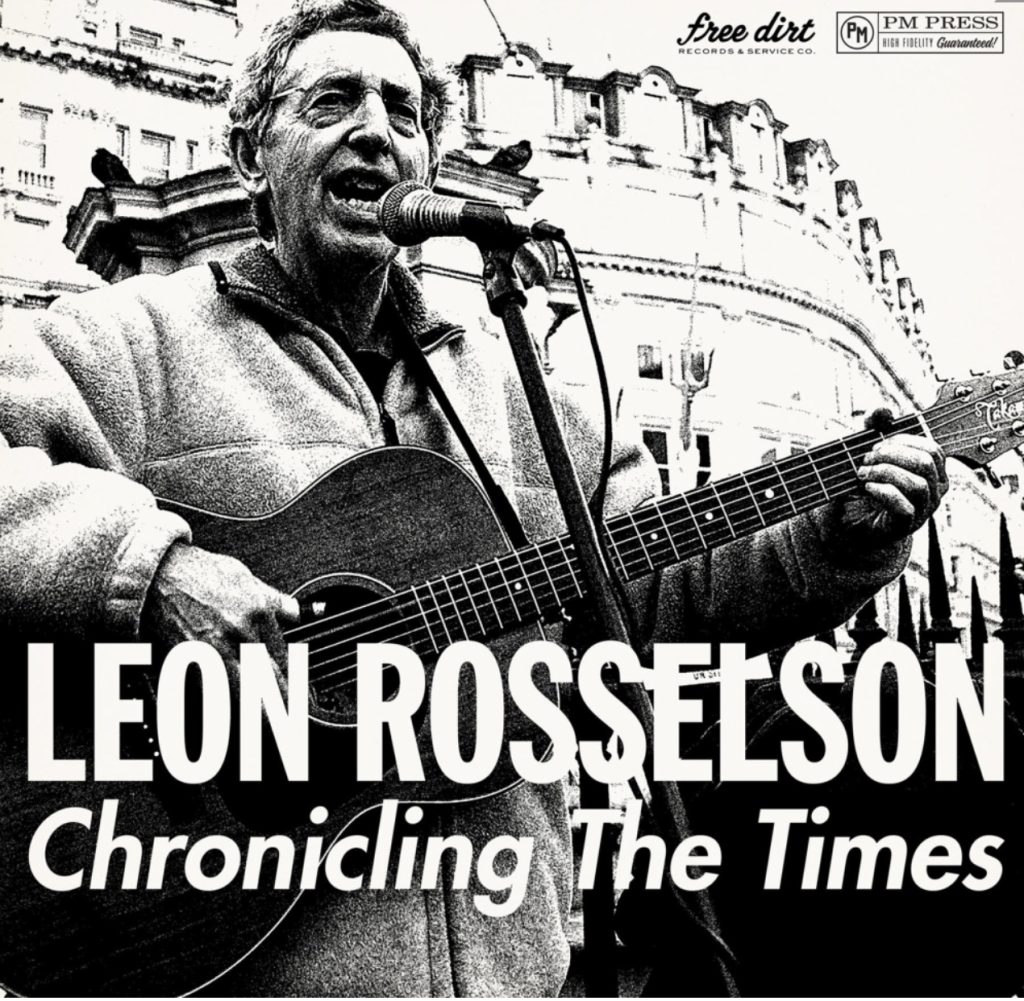 Chronicling The Times – Leon Rosselson (Double LP)
SKU: ChroniclingTheTimesLP
Artists: Leon Rosselson
Publisher: PM Press
Catalog No: PMA 023-1
UPC: 877746010811
Release Date: June 2023
Format: 2 x 12″ black vinyl LP
Size: 12×12
Length: Disc 1: 39 min. 44 sec, Disc 2: 38 min. 26 sec.
---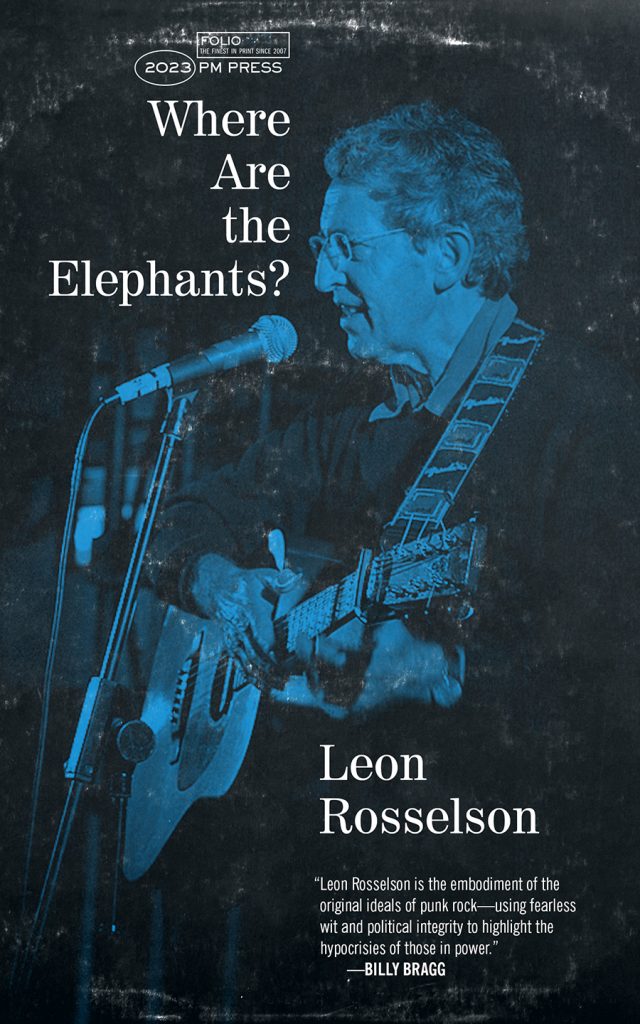 Where Are the Elephants?
SKU: 9781629639734
Author: Leon Rosselson
Series: PM Press
ISBN: 9781629639734
Published: 02/07/23
Format: Paperback
Size: 5×8
Pages: 184
Subjects: Autobiography / Music, Social Activists, Political
---
That Precious Strand of Jewishness That Challenges Authority
SKU: 9781629633787
Author: Leon Rosselson
Publisher: PM Press
ISBN: 9781629633787
Published: 5/2017
Format: Pamphlet
Size: 5.5 x 8.5
Page count: 32
Subjects: Religion and Theology/Music-Folk
---
Where Are the Barricades?
SKU: 9781629632193
Artist: Leon Rosselson
Publisher: PM Press
ISBN: 9781629632193
Published: 1/2016
UPC: 877746007521
Format: CD with booklet
Size: 5.5 x 5.5
Length: 53 Minutes
Subjects: Music-Folk
---
No Gods No Masters: Live in Concert
SKU: 9781604864410
Artists: Leon Rosselson and Robb Johnson
Publisher: PM Press
ISBN: 9781604864410
Published: 1/2014
Format: 2 x DVDs (NTSC)
Size: 5.5 x 7.5
Length: 250 minutes
Subjects: Music-Folk
---
The Liberty Tree: A Celebration of the Life and Writings of Thomas Paine
SKU: 9781604863390
Artists: Leon Rosselson and Robb Johnson
Publisher: PM Press
ISBN: 9781604863390
Published: 5/2010
Format: Double Audio CD with Booklet
Size: 5 x 5
Subjects: Music-Folk, History
---
The World Turned Upside Down: Rosselsongs 1960-2010
SKU: 9781604864984
Artist: Leon Rosselson
Page count: 80
Length: 240 Minutes
Size: 5.5 x 5.5
Format: 4x Audio CD and book
Published: 6/2011
UPC: 760137521624
Publisher: PM Press
ISBN: 9781604864984
Subjects: Music-Folk
---
Praise
"Some of the most literate and well-made songs now being written."
—New York Times
"His songs are fierce, funny, cynical, outraged, blasphemous, challenging and anarchic. And the tunes are good, too."
—Guardian (UK)
"With dazzling lyrical technique, deftly woven inter-rhymes, a powerful understanding of image, irony and narrative verse, he paints vivid portraits of sadly displaced lives, fools in high places, the absurdities and the occasional graces of modern life."
—Boston Globe
"A highly subversive pairing of two of the left's most eloquent songwriters."
—The Daily Telegraph
"Rosselson's songs are teeming with colorful characters, wonderfully descriptive passages and witty observations."
—Washington Post
"Robb Johnson is Britain's finest songwriter since Richard Thompson"
—Venue
---
Book Events
---
Reviews
---
Interviews
---
Mentions
---
Blog