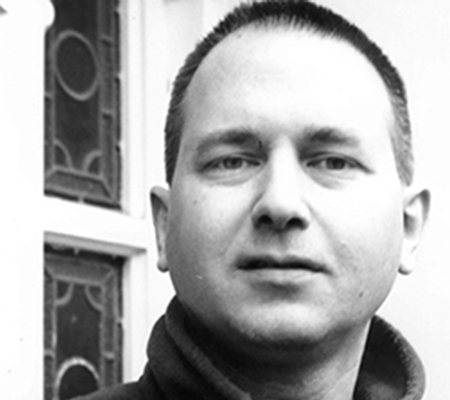 John King is the author of eight novels to date. His first, The Football Factory, was an immediate word-of-mouth success that was subsequently turned into a successful play and high-profile film. Headhunters, England Away, Human Punk, White Trash, Skinheads,The Prison House, and The Liberal Politics of Adolf Hitler followed. His stories reflect his cultural interests – particularly music, pubs and youth cultures – while challenging a range of stereotypes that are often accepted by the established political factions. Common themes are powerlessness and enemy-creation, the contradictions found in every walk of life. Influences include the authors George Orwell and Alan Sillitoe, punk bands The Sex Pistols and Clash, as well as David Bowie's early albums. His novels have been widely translated abroad.
King has written for various fanzines and alternative publications over the years and has contributed to The New Statesman in the UK, Le Monde in France and La Repubblica in Italy. He co-owns the independent publisher London Books and edits its London Classics list – the mission to highlight the city's forgotten/marginalised tradition of vibrant, socially-aware, working-class fiction. Other interests include a Human Punk night at London's 100 Club, with Sham 69 and the Cockney Rejects among the featured bands. He is currently working on an animal-rights story, Slaughterhouse Prayer. He lives in London.
Check out his website HERE.
---
Headhunters
SKU: 9781629632261
Author: John King
Publisher: PM Press
ISBN: 9781629632261
Published: 11/2016
Format: Paperback, ePub, PDF, mobi
Size: 5.5 x 8
Page count: 320
Subjects: Fiction
Praise
"John King is the authentic voice of contemporary London."
—Michael Moorcock
"Brutal, honest and poetic in the way that only a tough guy can be, King loads the gun and shoots us into the lager-filled, lust-fueled lives of five London lads. Headhunters is sexy, dirty, violent, sad and funny; in fact it has just about everything you could want from a book on contemporary working-class life in London."
—Big Issue
"King loads his characters up with enough interior life, but it's the raw energy of their interactions—the beano to Blackpool, the punch-ups, the casual fucks, the family skeletons and the unburied fantasies—that make this excellent book run."
—Steve Grant, Time Out
"Headhunters is an odyssey into southern English blue-collar manners as King deconstructs the stereotype of Essex Man and his outer London contemporaries and finds rather more complex attitudes towards gender and class than the tabloid image suggests."
—Teddy Jamieson, The List
"King's achievement since his debut has been enormous: creating a modern, proletarian English literature at once genuinely modern, genuinely proletarian, genuinely English and genuinely literature."
—Charles Shaar Murray
---
White Trash
SKU: 9781629632278
Author: John King
Publisher: PM Press
ISBN: 9781629632278
Publisher: 11/2016
Format: Paperback, ePub, PDF, mobi
Size: 5.5 x 8
Page count: 288
Subjects: Fiction
Praise
"Complete and unique, all stitched up and marvellous, the two sides of the equation brought together, realistic yet philosophical."
—Alan Sillitoe, author of Saturday Night and Sunday Morning
"There are no white trash—that's the point of the title. . . . The cumulative effect of King's style is astonishingly powerful in its detail and depth. A quarter of a century after punk rock, the core punk ethos—of a robust and adaptable form of resistance, based on inclusive, DIY community-making and a concentration on immediacy—is still inspiring some of our most vital writers. An immensely timely and necessary book: stylish, witty, and passionate. It's about time someone slapped the smugness from the face of broadsheet Britain."
—Mat Coward, The Independent
"King is a writer who adeptly avoids cliche and caricature and is one of the most accomplished chroniclers of contemporary life. White Trash is very much a state of the nation book."
—Big Issue North
"The sharpest commentator on modern times is back, with a plot running so close to the bone it's almost skeletal."
—The List
"White Trash tones down the severe language of King's football hooligan trilogy, but his themes—rich versus poor, state versus individual—remain as explicit as ever."
—GQ
---
Human Punk
SKU: 9781629631158
Author: John King
Publisher: PM Press
ISBN: 9781629631158
Published: 11/2015
Format: Paperback, ePub, PDF, mobi
Size: 5.5 x 8
Page count: 368
Subjects: Fiction
Praise
"In its ambition and exuberance, Human Punk is a league ahead of much contemporary English fiction."
—New Statesman
"The long sentences and paragraphs build up cumulatively, with the sequences describing an end-of-term punch-up and the final canal visit just two virtuoso examples. These passages come close to matching the coiled energy of Hubert Selby's prose, one of King's keynote influences… In the resolution of the novel's central, devastating act, there is an almost Shakespearean sense of a brief restoration of balance after the necessary bloodletting."
—Gareth Evans, The Independent
"King's eye for detail is as sharp as his characters' tongues, and his creations are eminently three-dimensional: insightful and funny one minute, bigoted and fucked up the next. Like real people, then."
—The Face
"Unique and brutal fiction. King is a master of idiom and street slang. He appears with a voice that appears to be the true expression of disaffected white British youth."
—The Times
"A novel dedicated to good literature lovers. Rough, violent, scary, visionary, true, political, raw, aggressive, totally moving, this novel has got the anger of the Sex Pistols, the energy of the Clash and the pumping lines of the best dub courtesy of King Tubby."
—Pop Culture Detox
---
The Football Factory
SKU: 9781629631165
Author: John King
Publisher: PM Press
ISBN: 9781629631165
Published: 11/2015
Format: Paperback, ePub, PDF, mobi
Size: 5.5 x 8
Page count: 296
Subjects: Fiction
Praise
"Only a phenomenally talented and empathetic writer working from within his own culture can achieve the power and authenticity this book pulses with. Buy, steal or borrow a copy now, because in a short time anyone who hasn't read it won't be worth talking to."
—Irvine Welsh, author of Trainspotting
"King's novel is not only an outstanding read, but also an important social document…. This book should be compulsory reading for all those who believe in the existence, or even the attainability, of a classless society."
—Paul Howard, Sunday Tribune
"Bleak, thought-provoking and brutal, The Football Factory has all the hallmarks of a cult novel."
—Dominic Bradbury, The Literary Review
"Powerfully written and tells you more about the mentality of those who disrupt football matches than all the theses of the sociologist academics put together."
—Ian Wooldridge, The Daily Mail
"This is a chronicle of a lost tribe—the white, Anglo-Saxon heterosexual who is fed up with being told he is crap. It is the story of a flight from fear by a group of Londoners who have seen the present and know it does not work. . . . King writes powerfully with a raw realism and clear grasp of a culture which has been denied but cannot be ignored."
—Hugh MacDonald, Glasgow Herald
---
Book Events
---
Reviews
---
Interviews
---
Mentions
---
Blog