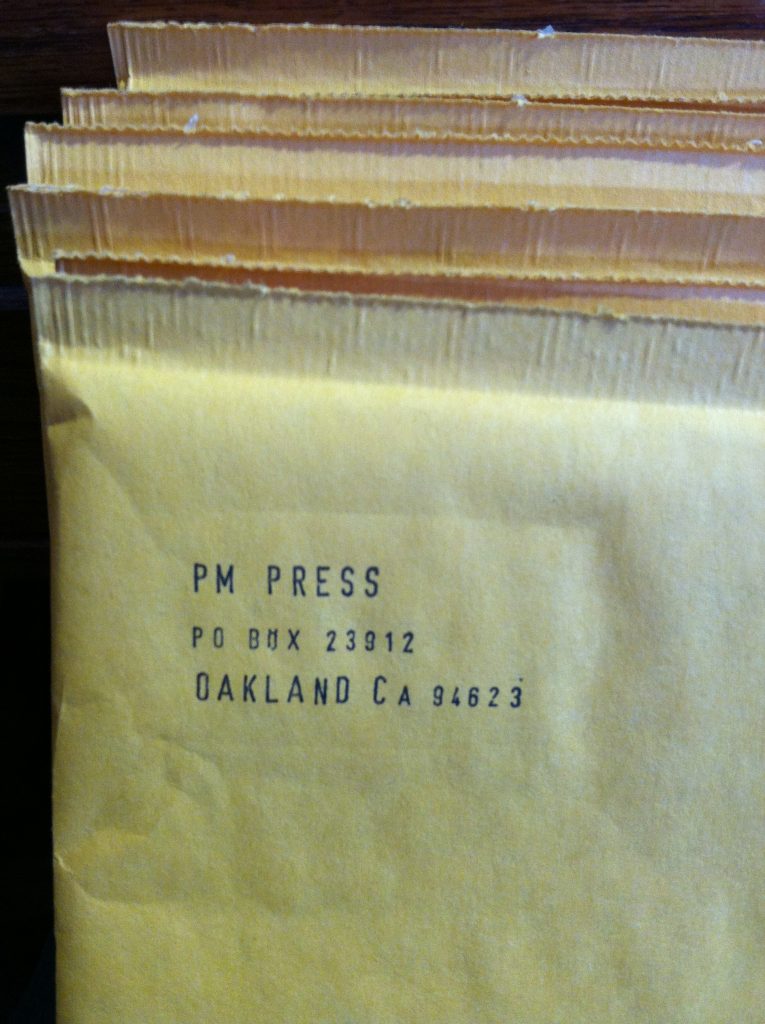 e-Books
Placing and Paying for Orders
Shipping
Delivery
---
How do I get that discount you advertised in your email, social media post, etc?
Once you've put the items you're interested in into your cart, click on link "View Cart".
Inside your cart you will see an area titled: "Coupon Code".
Enter the code from the promotion you are trying to activate, and click "Apply Coupon".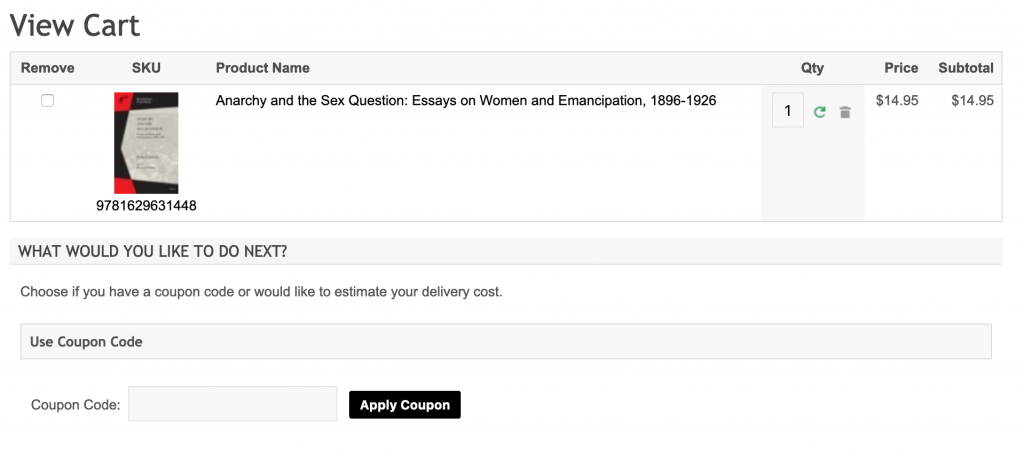 How do I get the Friends of PM 50% off discount?
First, thanks for being a Friend of PM Press! As a friend, you receive 50% off of EVERYTHING that we do. That means all books, media, and merch are available to you at wholesale cost—all the time! If you cannot find your welcome email with your information in it, please contact [email protected] and we'll make sure to walk you through the process of getting your incredible discount.
Can I get a discount for ordering in bulk for my trade union, book club, tabling event, etc?
Absolutely! Our goal is to get our works into hands that will use them! For bulk ordering discounts contact [email protected].
Can I change my order once it's been submitted?
Orders are typically filled within 24 hours of placing them. If you notice a problem or would like to change something about your order, please do email us immediately at [email protected] with your order number, and we'll do what we can.
Can I order by phone?
Absolutely. To reach us via phone, call: 510-658-3906

There are benefits to ordering online if you can. Specifically, this will give you access to the free e-Book (if you order a print book) that comes bundled with your purchase as part of our Paperback Plus program. The e-Book only comes bundled if you order online because you need to have a customer account to download it from. The customer account only exists if you order online.
Can I pay via a purchase order?
Yes, but only if you have an established working relationship with PM and have previously put in an order with us. For first-time purchase orders or questions about POs email [email protected].
Why am I having PayPal payment problems?
This frequently seems to be a browser issue. Some browsers do not immediately return you to the merchant's website after completing your PayPal transaction. To fix this, after finishing your Paypal transaction, please hit the button that says "Return To Merchant." Otherwise the payment & order often do not transmit to the merchant (us) as complete. When this step does not happen PayPal still lists the status as "Awaiting Payment" and we do not ship the order.
---
What are your shipping options and rates?
Of course these prices change based on the weight of the package, but generally for a single item shipment (not dependent on the number of items in the shipment) under 12 oz. and shipping within the domestic U.S. the following shipping options and rates apply:
| | | |
| --- | --- | --- |
| Type | Shipping Time | $ |
| USPS Media Mail | 5 – 10 days | $3.75 |
| USPS Priority Mail | 1 – 3 days | $8.00 |
| UPS Ground (Continental U.S. Only) | 1 – 7 days | $12.50 |
| USPS Priority Mail Express | 2 day | $26.60 |
International orders are shipped via airmail and are delivered by the postal service in the destination country. Prices are high and are determined by weight.
When will my order ship?
Most books that are not marked as 'Pre-Order' on the website usually ship within three business days. If you do not receive a shipping confirmation in this timeframe, please contact us at [email protected].
When will my order arrive?
Most domestic US orders will arrive between 5-10 days after shipping.
International postage costs are steep! Is there any way around this?
Sadly, no. We ship internationally via the US postal service, and have no control (alas) over their pricing schedules. We charge you only what we are charged for the shipping. The US postal service abolished all of the cheaper/surface shipping options several years ago. The cheapest way to send orders is via airmail, and over four pounds, via priority airmail. This makes shipping outside of the United States considerably faster, and considerably more expensive. Customers in the UK and Europe will undoubtedly find it much cheaper to order from PM in the UK.
How do customs/duties work for international orders?
We don't know. We have no control over these things and cannot predict them. Customs policies vary widely from country to country, so you should contact your local customs office for further information.
---
Can I track my order?
Absolutely! Check your shipping confirmation email for the tracking number for your shipment.
I didn't get my order, but it says it was delivered.
We cannot control anything that happens to your shipment once it leaves our warehouse with its tracking number on it. Feel free to contact us to let us know what happened, but alas, we have no control over the USPS, UPS, or whatever third-party.
My order was not delivered!
We're sorry to hear that, but as with all online purchases, individuals assume the risk of shopping online. We recommend always ordering your packages with insurance coverage at checkout. The only shipping option we have that includes insurance is Priority Mail, which has coverage up to $50.00.