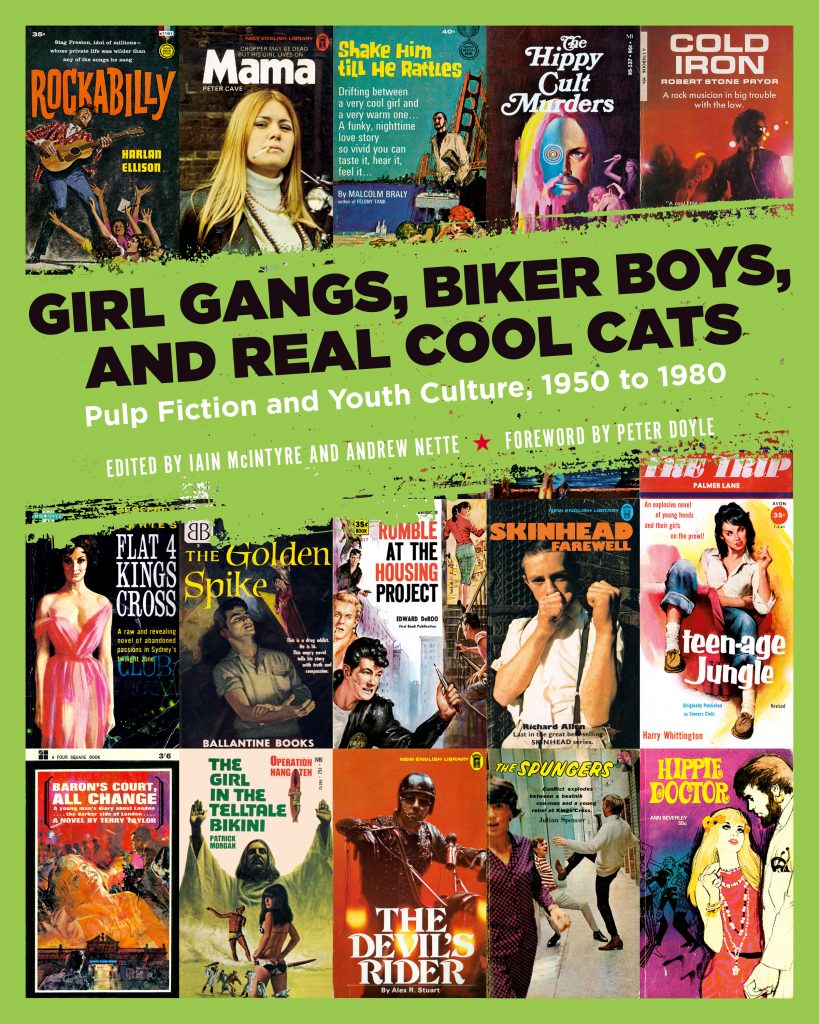 By Steve Holland
Bear Alley
January 22nd, 2018
Subtitled "Pulp Fiction and Youth Culture, 1950 to 1980", Girl Gangs, Biker Boys, and Real Cool Cats edited by Iain McIntyre and Andrew Nette covers that period of paperback fiction that I've always found fascinating. Paperback sales in Britain blossomed in 1950 when paper became more readily available to publishers and the decade following saw the growth of Penguin, Pan, Corgi, Panther and others.

By the end of the decade the UK paperback market faced the twin attacks of the rising popularity of TV and the market being swamped by cheap American paperbacks, with unsold copies brought over from the States for distribution to newsagents' spinner racks and dump bins in Woolworths.


While larger companies can weather such changes, smaller companies had to find ways to survive, and that usually involves one of two ways: to go sleazier or to go more niche… even better if you can do both at the same time. This is why a company like Edwin Self's Pedigree Books managed to survive against the odds, with reprints of Hal Ellson's youthspoitation classics Duke and Reefer Boy, books about the occult and startling original works like R. A. Norton's Through Beatnik Eyeballs.

The growth of youth culture in the 1950s was exploited mercilessly by publishers in the US, who played on fears of juvenile delinquents, hot-rodders and biker gangs to sell books; here in the UK we had a similar explosion of books following the success of Skinhead by Richard Allen, New English Library and other paperback publishers discovering that every tabloid headline was a potential novel, from stoned hippies to soccer hooligans and from cult murderers to hell's angels.


Girl Gangs, Biker Boys, and Real Cool Cats isn't a straight telling of history, but a jigsaw that builds up into a widescreen picture of its subjects, using essays about juvenile delinquency, youthsploitation, beats, bikers and bohemians as a starting point; the reader is then treated to reviews of some of the key novels in each of seven sections and interviews with some of those involved, including Ann Bannon, Floyd Salas, Sharon Rudahl, Brad Lang, Marijane Meaker and George Snyder. With my main interest being British paperbacks, it was a real pleasure to see Laurence James interviewed (he authored the Mick Norman Hells Angels books, amongst many, many others) by Stewart Home, one of 23 contributors.

Sections on teens on the rampage and super spies are probably my favourites; a huge plus for me is that these titles usually had fantastic painted covers, quite a few of which (especially the Australian pulp titles) I've never seen before. The whole book is incredibly well illustrated and is a great book to dip into thanks to the dozens of reviews. How many of these old books do you remember?

At the back of the book there's an advert for an upcoming title from the same editors: Sticking It To The Man. Put me down for a copy, because on the basis of Girl Gangs it's going to be well worth getting your hands on a copy.

Girl Gangs, Biker Boys, and Real Cool Cats edited by Iain McIntyre and Andrew Nette. PM Press ISBN 978-162963438-8, 2017, 334pp, $29.95. Available in the UK via Amazon.
Back to Iain McIntyre's Author Page | Back to Andrew Nette's Author Page