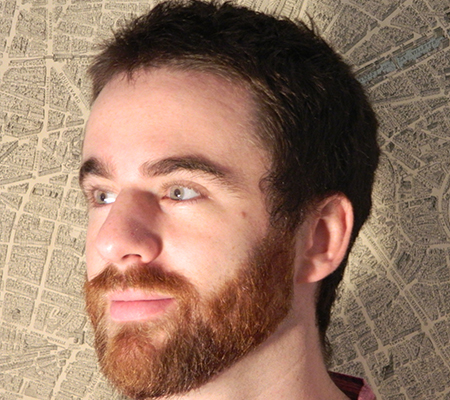 Quincy Saul is a writer, organizer and musician. He is a columnist for The Africa Report and for Capitalism Nature Socialism, where he is also a senior editor. He is the author of "Reflections of Crisis: The Great Depression and the 21st Century." More of his writings can be found on his blog, "Yo No Me Callo." After a decade of participation in different social justice movements, he is most recently a co-founder of Ecosocialist Horizons, for which he is an organizer.

As a musician, he is a composer and performer on the clarinet, specializing in improvisation and fusion. He is the co-producer of "The Music of Cal Massey," featuring a debut full recording of the historic "Black Liberation Movement Suite".

He studied political economy, history, and music at Hampshire College, graduating in 2010. He also holds a graduate certificate in labor studies from the City University of New York.

A member of Scientific Soul Sessions, he now resides in the occupied territories of the United States.


Check out photos from the Maroon the Implacable National Book Tour 2013!
---
Maroon Comix: Origins and Destinies
SKU: 9781629635712
Editor: Quincy Saul • Illustrators: Seth Tobocman, Mac McGill, and Songe Riddle
Publisher: PM Press
ISBN: 9781629635712
Published: 8/2018
Format: Paperback, ePub, mobi, PDF
Size: 8.5 x 11
Page count: 72
Subjects: Art-Comics / Politics-Activism / History-African American
Praise
"The activist artists of Maroon Comix have combined and presented struggles past and present in a vivid, creative, graphic form, pointing a way toward an emancipated future."
—Marcus Rediker, coauthor of The Many-Headed Hydra: Sailors, Slaves, Commoners, and the Hidden History of the Revolutionary Atlantic
"With bold graphics and urgent prose, Maroon Comix provides a powerful antidote to toxic historical narratives. By showing us what was, Quincy Saul and his talented team allow us to see what's possible."
—James Sturm, author of The Golem's Mighty Swing
"The history and stories that the Maroons personified should inspire a whole new generation of abolitionists. This comic illustration can motivate all those looking to resist modern capitalism's twenty-first-century slavery and the neofascism we are facing today."
—Dhoruba Bin Wahad, Black Panther Party, New York Chapter, executive director of Community Change Africa
"Maroon Comix is breathtaking! I say that after decades of study and practice in that arena. One who is serious about resisting the dragons that threaten our very existence will use Maroon Comix to help fashion or reinforce their place within the hydra of twenty-first-century Maroons."
—Russell Maroon Shoatz, author of Maroon the Implacable
---
Maroon the Implacable: The Collected Writings of Russell Maroon Shoatz
SKU: 9781604860597
Author: Russell Maroon Shoatz • Editors: Fred Ho and Quincy Saul • Foreword by Chuck D • Afterword by Matt Meyer and Nozizwe Madlala-Routledge
Publisher: PM Press/Ecosocialist Horizons
ISBN: 9781604860597
Published: 4/2013
Format: Paperback, ePub, mobi, PDF
Size: 6 x 9
Page count: 312
Subjects: Politics-Activism, African American, Political Science
Praise
This book, Maroon the Implacable, is that very funky instruction manual on how to make revolution against Imperialist America."
—Amiri Baraka, former Poet Laureate of New Jersey
"If the Great Dismal Swamp is no longer a refuge, nevertheless the message of the Maroons lives on, and Russell Maroon Shoatz is today its untamed voice. Free Maroon the Implacable!"
—Hakim Bey, author of TAZ: The Temporary Autonomous Zone
"At the core of the book is the theme of marronage—the will to escape from conditions of enslavement at any cost. This is what Russell Maroon Shoatz has done, not physically, but in the world of ideas by escaping from the rigid patriarchal framework he inherited and revaluing and promoting the role of women in the history of liberation. This book is a document of this transformation carried out against tremendous odds and told with searing honesty."
—Silvia Federici, author of Revolution at Point Zero: Housework, Reproduction, and Feminist Struggle
 "Russell Maroon Shoats's life reads like fiction composed by Victor Hugo. But this Jean Valjean for our time is the living truth, and his writings are a beacon for a new, revolutionary age. What a treasure has here been uncovered!"
—Joel Kovel, author ofThe Enemy of Nature: The End of Capitalism or the End of the World
"Though he's been inside for forty of his sixty-nine years on earth, the problems he raises about the justice movement are amazingly up to date. Above all, he thinks organizationally… He is always trying to work out what to do. Where he looks for answers is the only sensible place: not in ideas but in the historical experience of the grassroots."
—Selma James, author of Sex, Race, and Class: The Perspective of Winning
"For twenty-seven years I visited four prisoners, one of whom was Russell Shoatz, who we called Maroon. From him I always got a lesson in politics that fortified me and made me understand just what was happening in our country and what I should be doing about it. He trusted the truth of 'power to the people,' and it kept him focused and hopeful. His body was incarcerated but his mind soared. My mentor!"
—Frances Goldin, publisher of Mumia Abu-Jamal, Barbara Kingsolver, and Adrienne Rich
---
Praise
Book Events
---
Reviews
---
Interviews
---
Mentions
---
Blog