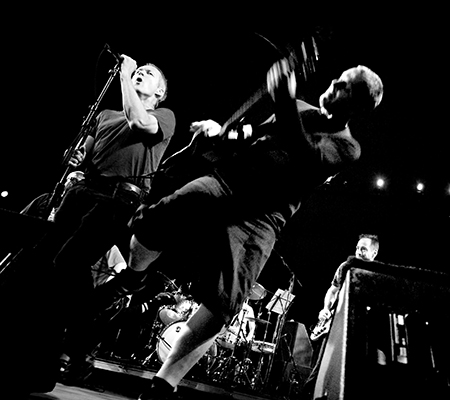 G.W. Sok was born in the Netherlands in 1979, when he co-founded the music-group The Ex, a group renowned for the bracing physicality of their songs and for their long-standing practice of calling out the world's wrongs and considering one's own complicity with them. Never afraid to venture outside the postpunk comfort zone, without ever growing soft or complacent.
Sok became their vocalist and lyricist, more or less by coincidence, since he'd written the occasional poem and nobody else wanted to sing. He also turned himself into a graphic artist, designing record-sleeves, posters and lyrics books. He wrote for various alternative Dutch DIY magazines, co-founded the independent music distribution company Konkurrent, played part-time for two years with Dutch band De Kift, and started his private Druxat publishing as an outlet for his Dutch prose and poetry. After 1,371 concerts in Holland and abroad, and about twenty-five record-albums later, he left The Ex at the end of 2008.
A Mix Of Bricks & Valentines consists of all the song-lyrics, written (mainly for The Ex) during his first thirty years of Sokness. Outspoken, poetic, and thought-provoking. At present he is working a.o. with the French group Cannibales & Vahinés and the (ex-No Means No/ex-Dog Faced Hermans) guitar-duo Two Pin Din.
---
A Mix of Bricks & Valentines: Lyrics 1979-2009
SKU: 9781604864991
Author: G.W. Sok • Foreword by John Robb
Publisher: PM Press
ISBN: 9781604864991
Published: 9/2011
Format: Paperback, ePub, PDF, mobi
Size: 5.25 x 7.5
Page count: 384
Subjects: Music-Punk, Poetry
Praise
"Lyrically, The Ex is also in a class of its own. This is rebel punk's finest hour."  —SF Weekly
"Deep intellectual analysis of geopolitics and fearless insertion of their socio-anarchist perspective is a bold, defining path drawn by The Ex. Few of their peers, either in their nascent days in the late '70s and early '80s, or now amidst all the emo-punk caterwaulers, have equaled this loud, defiant cry."  —Pop Matters
"There has always been space in The Ex's music, space filled by singer G.W. Sok with socially engaged lyrics, which, from the very start, transcend by far the sloganesque tongue of most of his punk peers."  —HUMO
"Lyrics with insightful socio-political standpoints. They are influential, provocative, creative, perceptive, and above all defy categorization. Everything punk & art intended to be from the start prior to being commodified."  —KJFC
---
Book Events
---
Reviews
---
Interviews
---
Mentions
---
Blog