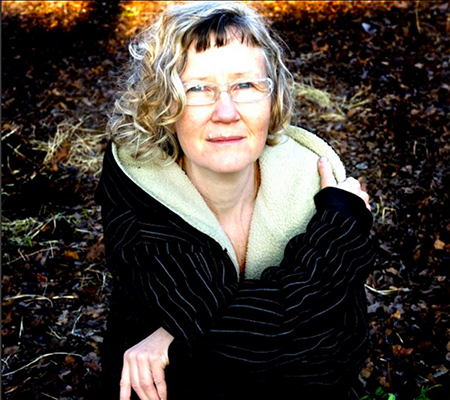 Ann Harkness is a photographer, artist, activist and former photo-stylist in advertising.
She uses her imaginative eye and compassionate view
documenting political events and people. Her work has appeared in the Austin Chronicle, Gambit Weekly, Southwest Cycling Magazine, and Robert King's book From the Bottom of the Heap. She regularly contributes photographic work to many organizations including ACLU, BikeTexas, Austin Cycling Assoc., Angola 3, and Austin Bike Zoo.
Ann spent many rowdy days disrupting corporate business through the Anarchist Sewing Club, and UPROAR (United People Resisting Oppression and Racism) in Dallas. Since moving to Austin she co-founded Treasure City Thrift, and the Deloney St. Community Garden. She is a longtime organizer with the Angola 3 Committee. In addition to co-producing the documentary Angola 3: Black Panthers and the L.S.P. she often helps Robert King behind the scenes with his Freelines candy business
For fun she is currently engaged in local farming practices that include gardens, goats, chickens, and compost on a small plot in the inner city with her longtime partner scott crow.
---
The Angola 3: Black Panthers and the Last Slave Plantation
SKU: 9781604860207
bJimmy O'Halligan • Produced by scott crow and Ann Harkness • Narrated by Mumia Abu-Jamal
Length: 109 Minutes
Aspect Ratio: 4:3
Language: English
Format: DVD (NTSC)
UPC: 022891476399
Published: 9/2008
ISBN: 9781604860207
Publisher: PM Press
Subjects: Documentary, Prison Abolition
About
Narrated by Mumia Abu-Jamal, The Angola 3 features interviews with former Panthers, political prisoners and revolutionaries, including the Angola 3 themselves, and Bo Brown, Geronimo (ji Jaga) Pratt, Malik Rahim, Yuri Kochiyama, David Hilliard, Rod Coronado, Noelle Hanrahan, Kiilu Nyasha, Marion Brown, Luis Talamantez, Gail Shaw and many others. Portions of the proceeds go to support the Angola 3. Features the music of Truth Universal written by Tajiri Kamau.
---
Book Events
---
Reviews
---
Interviews
---
Mentions
---
Blog