By Graeme Thomso
BBC
September 13th, 2023
Earlier this year, award-winning producer Ian Brennan visited the notorious Mississippi State Penitentiary, aka Parchman Farm, to record inmates singing. Graeme Thomson reports on the remarkable results.
"Oh listen you men, I don't mean no harm / Oh listen you men, I don't mean no harm / If you wanna do good, you better stay off ol' Parchman farm." – Bukka White, Parchman Farm Blues
On the morning of 5 February 2023, Grammy-winning producer Ian Brennan arrived at the gates of the notorious Mississippi State Penitentiary, better known as Parchman Farm. He had come to record the prison's most gifted singers at a specially convened chapel service, and had taken two flights and driven a further three hours to get there. Yet Brennan had no idea who or what he was about to hear.
"I had no samples – nothing," says the American, who has worked with Tuareg desert blues band Tinariwen and Bob Dylan's mentor Ramblin' Jack Elliott. "I was flying on blind faith."
There are multiple services at Parchman Farm on Sundays for different denominations, but the chaplains had set up a special one-off service for those they considered to be excellent singers.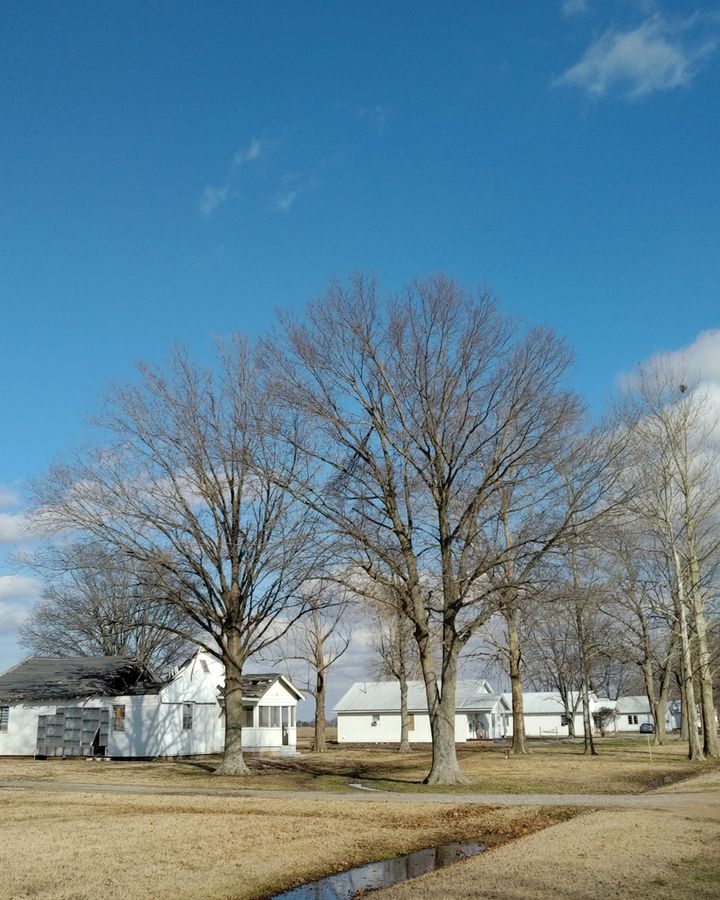 Parchman Farm, aka Mississippi Penitentiary, has become a focal point for discussion about the state of the US penal system (Credit: Courtesy of Glitterbeat Records)
The visit had taken three years to organise, and the rules were strict: no video, no photographs, no first names. All the vocalists were inmates, among them murderers, rapists and serial serious offenders. One after the other, they stood up to sing their pain and regret. At the end, Brennan packed up his recording gear and flew straight back home.
Seven months later, the fruits of those few hours are being released. Parchman Farm Prayer: Some Mississippi Sunday Morning features 14 performances recorded live in the chapel. They range from solo a capella gospels and traditional spirituals to a full band finale. One inmate freestyled a rap about the shame he feels for causing his mother such sorrow. Having started out sitting in small clusters or by themselves, by the final song everyone was singing and playing together. Even the chaplains joined in.
"They were incredible," says Brennan, who has also recorded in a prison in Malawi. "They exceeded my expectations by a million miles. I was happy if one person was compelling, but almost every voice was. They were singing for each other, and for themselves, more than for me. I'll remember for the rest of my life what we did that morning."
The history of Parchman Farm
Founded in 1901, Parchman Farm is one of the oldest and most infamous prisons in the United States. Situated in the Delta of the nation's poorest state, it occupies 28 square miles and houses nearly 5000 men of all categories, from minor criminals to those on Death Row.
https://bandcamp.com/EmbeddedPlayer/album=154859014/size=large/bgcol=ffffff/linkcol=0687f5/transparent=true/tracklist=false/tracks=814591751/esig=cb8bf02da47333002209b8dfe862c3ec/
The penitentiary has one of the highest prisoner mortality rates in the nation and has become a lightning rod for critics of America's penal system. In 2020, Jay-Z's Team Roc, the social justice arm of his company Roc Nation, filed a class action suit on behalf of the prisoners alleging that they were being held in "barbaric" conditions. In January 2023, Team Roc agreed to dismiss the claims after being pleased with improvements that had been made.
Brennan saw the music project as a way to help. "I had a faith that these voices needed to be heard. Many people have advocated for them, which is amazing and beautiful and great, but their own voices were oftentimes left out of that process."
https://emp.bbc.com/emp/SMPj/2.50.8/iframe.html
Why can people still escape from prison in 2023?
Parchman Farm has its troubles, but it also has a rich musical legacy. In 1940, bluesman Bukka White recorded Parchman Farm Blues, a tremulous lament reflecting on his time spent there for shooting and killing a man in 1938. Details of his crime are sketchy: White claimed he aimed for the thigh in self-defence and intended only to wound. He was sentenced to life but had his time commuted after only two years.
While at Parchman Farm, White formed a prison band and played for the state governor. He also recorded two songs for John and Alan Lomax, father-and-son ethnomusicologists who visited the jail in 1939 as part of their quest to document rural American music for the Library of Congress. Bluesman Son House – who also served time for murder – and Elvis Presley's father Vernon – jailed for cheque forgery – are other notable former residents. Though jazz musician Mose Allison wrote his own version of Parchman Farm Blues, simply called Parchman Farm, in 1957, his interest was purely observational; he never served jail time there or anywhere else.
The entire Delta region pulses with musical significance. Just down the road is the Delta Blues Museum in Clarksdale. Muddy Waters was raised close by. The prison is close to where Sam Cooke and Ike Turner were born and where Bessie Smith died. Legend has it that bluesman Robert Johnson sold his soul to the devil at the crossroads nearby.
"There's something very significant there historically," says Brennan, though he points out that the region is no longer a hotbed for the blues. "The idea that you're going to drive down the street and see somebody on a front porch playing the blues, that doesn't exist." The oral tradition continues through rap, but 11 of the 14 singers on the album grew up in rural Mississippi – for them, gospel is the through line. "Gospel music is the core of all American popular music, and to hear that continuation is an incredible thing," says Brennan. "There's a timelessness about what they're doing that's universal."
Prisons' relationship with music
Music and prison are no strangers. Johnny Cash rejuvenated his faltering career in 1968 with At Folsom Prison, recorded live in the Californian jail, followed the next year with an album taped in San Quentin prison – they came after several performances by Cash at prisons when his 1955 song Folsom Prison Blues became popular among inmates. Though he never spent time in jail himself, these explosive records cemented his image as a musical outlaw.
https://bandcamp.com/EmbeddedPlayer/album=154859014/size=large/bgcol=ffffff/linkcol=0687f5/transparent=true/tracklist=false/tracks=3017565302/esig=17a1ca65fc2188884291097b785b244c/
In 1970, BB King recorded his classic album Live in Cook County Jail in the Chicago penal institution, and came away deeply moved by the experience. King subsequently performed numerous free prison concerts, and co-established the Foundation for the Advancement of Inmate Rehabilitation and Recreation.
Other artists drew more closely from personal experience: singer-songwriter David Allan Coe wrote his 1970 debut album Penitentiary Blues while serving time in Ohio. It includes songs such as Cell #33, Oh Warden and Death Row. In more recent times, several rap artists have recorded albums while serving time in jail, including Drakeo the Ruler (2020's Thank U For Using GTL) and Shyne (2004's Godfather Buried Alive).
In 2007, Billy Bragg started Jail Guitar Doors, an initiative to help UK prisoners gain access to guitars. He has since been involved in numerous prison concerts and workshops. "I don't know if there's as much glamour as Johnny Cash or some rappers suggest!" he tells BBC Culture. "It's more social work than rock and roll glory, but incredibly worthwhile when people respond. I know bands that have done gigs in prison and just played murder songs and drug-taking songs, and that's really not what I want to do. The sort of thing I find goes over really well is something like Redemption Song by Bob Marley – that really connects with where they are."
That moment that the men shared recording, they were not looked at as an inmate. They were looked at as musicians – Ronald Olivier
"The point of this album is not to glorify prisoners," insists Ian Brennan. "The goal is to humanise and show people in their complexity, to show the potential for growth and redemption, forgiveness and regret."
Personal transformation is key to the value of making music in prison. "Playing music is a form of therapy," says Bragg. "It allows you to momentarily transcend your surroundings. It allows you to emotionally climb over the walls and go to a different place."
The team at Parchman Farm likewise recognise the powerful human effects of Brennan's visit. "That moment that the men shared recording, they were not looked at as an inmate," says chaplain Ronald Olivier. "They were looked at as musicians. They're used to being seen as just a number rather than somebody. They were so thankful for the opportunity. They kept telling me afterwards how grateful they were."
Olivier is part of a new management regime that took over Parchman Farm in 2020 and has strived to reform the prison. Brennan believes they viewed the musical project as a positive step. "They said, 'We really do want what's best for these men.' There's been a lot of negative press. I think they wanted to communicate: 'Look, we really are trying.'"
Nonetheless, access was tightly controlled. The full names of the singers are not listed on the album. None of them were available for interview and we will never see their faces. All that is shared are their voices. "That was the agreement, to make it happen after so long," says Brennan. "It reflects the ghostly nature of it all. It's [also] a balance of concern for the victims or victims' families." Any money raised from the projects will go to the prison's chaplain services.
Some Mississippi Sunday Morning ends with a raucous full-band jam of the traditional Lay My Burden Down. You can hear the thrill of the performers, and their reluctance to let the moment end. "People ended up hugging each other, smiling, laughing and high-fiving," says Brennan. "One of the chaplains was live streaming it to one of the heads of the prison. He told me later they were so happy to see this joy inside the prison. In that moment, I felt like, OK, this was a worthwhile endeavour."
If you liked this story, sign up for the weekly bbc.com features newsletter, called The Essential List. A handpicked selection of stories from BBC Future, Culture, Worklife and Travel, delivered to your inbox every Friday.
If you would like to comment on this story or anything else you have seen on BBC Culture, head over to our Facebook page or message us on Twitter.
---