By Jeremy Brecher
June 1st, 2023
While the Green New Deal started as a proposed national program, some of the most impressive implementations of its principles and policies are occurring at a municipal level. Part 1 of "The Green New Deal in the Cities" provides an extended account of the Boston Green New Deal, perhaps the most comprehensive effort so far to apply Green New Deal principles in a major city. Part 2 presents Green New Deal-style programs developing in Los Angeles and Seattle, and reviews the programs and policies being adapted in cities around the country to use climate protection as a vehicle for creating jobs and challenging injustice.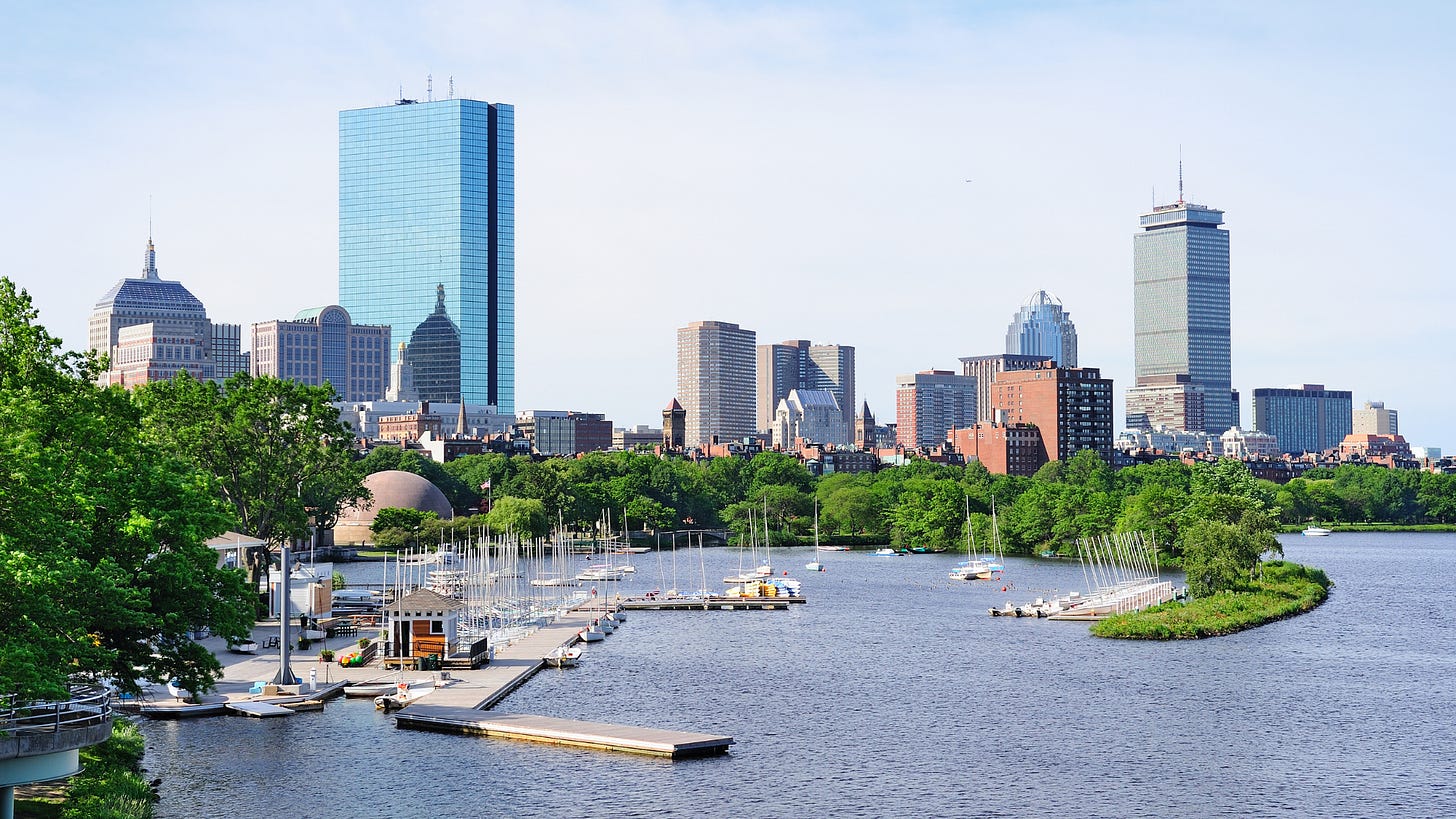 Cityscape of Boston. Photo credit: @rabbit75_cav, Canva Stock
Urban politics often seem to produce not so much benefit for the people as inequality, exclusion, and private gain for the wealthiest. Does it have to be that way? In cities throughout the US, new political formations, often under the banner of the Green New Deal, are creating a new form of urban politics. They pursue the Green New Deal's core objectives of fighting climate change in ways that produce good jobs and increase equality. They are based on coalitions of impoverished urban neighborhoods, disempowered racial and ethnic groups, organized labor, and advocates for climate and the environment. They involved widespread democratic mobilization. A case in point is the Boston Green New Deal.
Boston's Green New Deal
Mayor Wu announces critical actions to mitigate extreme heat in environmental justice communities | Credit: Boston Orange
According to a 2020 report, if global warming is not abated Boston could have 40 days above 90 degrees Fahrenheit by 2030; 90 such high-heat days – virtually the entire summer — by 2070; and 33 days reaching or exceeding 100 degrees.[1] Boston is the nation's third most gentrified city.[2] A nationwide survey shows Blacks consider Boston the least welcoming of eight major American cities. Only 4 percent of households earning $75,000 or more across Greater Boston are Black.[3]
In April 2019, shortly after Rep. Alexandria Ocasio-Cortez and Senator Ed Markey submitted their Green New Deal resolution to Congress, the Boston City Council passed 9-3 a resolution supporting it. Lead sponsor City Councilor Michelle Wu said, "The climate crisis is here now. We see it in Boston every single year."[4]
Wu also posed a question to the Boston climate community: "What could the city do in the vacuum of federal leadership?"[5] Her answer came in the form of the report "Planning for a Boston Green New Deal and Just Recovery."[6] It took 18 months to develop through local conversations and consultations with experts. Drawing on plans and programs from Seattle, Los Angeles, New York, Austin, Minneapolis, Madison, and Long Beach, it called for carbon neutrality by 2040; 100 percent sustainable electricity by 2035; net-zero municipal buildings by 2024; expanding the city's tree canopy; and establishing a youth Urban Climate Corps. It also included a "Blue New Deal" to connect local fishers to Boston restaurants and food distributors.
The plan emphasized the social justice dimension of the Green New Deal. Brad Campbell, president of the Conservation Law Foundation, said "it really covers a broader range of issues and much more explicitly ties the climate crisis to social justice issues." Nina Schlegel, a Boston climate activist on Wu's staff, said we want "policy change that also dismantles and rectifies past injustices." That means "looking at housing and displacement and looking at the proliferation of luxury development." It means "looking at unequal access to transit, and where our heat islands are located." The plan proposed comprehensive rezoning to increase neighborhood density; building cheap cooperative housing; adding parks; free-to-ride electric buses; and intersecting bike lanes and car-free walking districts. The plan included a "justice audit" of city programs and spending. Green bonds and taxes on predatory landlords would help fund it.[7]
The Boston Green New Deal built on more than a decade of research and grassroots organizing around climate and justice issues. It was also the program for Wu's anticipated run for Mayor of Boston.
The daughter of Taiwanese immigrants, Wu was the first nonwhite woman to serve as City Council president. She presents her concerns about both climate and social justice based on her personal experience. Climate change is "very personal"; we need to "draw people in by focusing on how every single person is deeply impacted." She tells people, "I'm a mom, and I have two boys, they're 3 and 5. I want more than a coin flip's chance for my two boys to be able to live on this planet and enjoy it."
A poll by Demos shortly before the election found strong support among Boston voters for a Green New Deal Agenda that would enable the Boston City Council to pursue policies to invest in green energy and promote clean air and water for residents. Boston voters support pursuing a Green New Deal Agenda by more than a 60-point margin — including Democrats by a more than an 85-point margin and Independents by more than a 34-point margin.[8]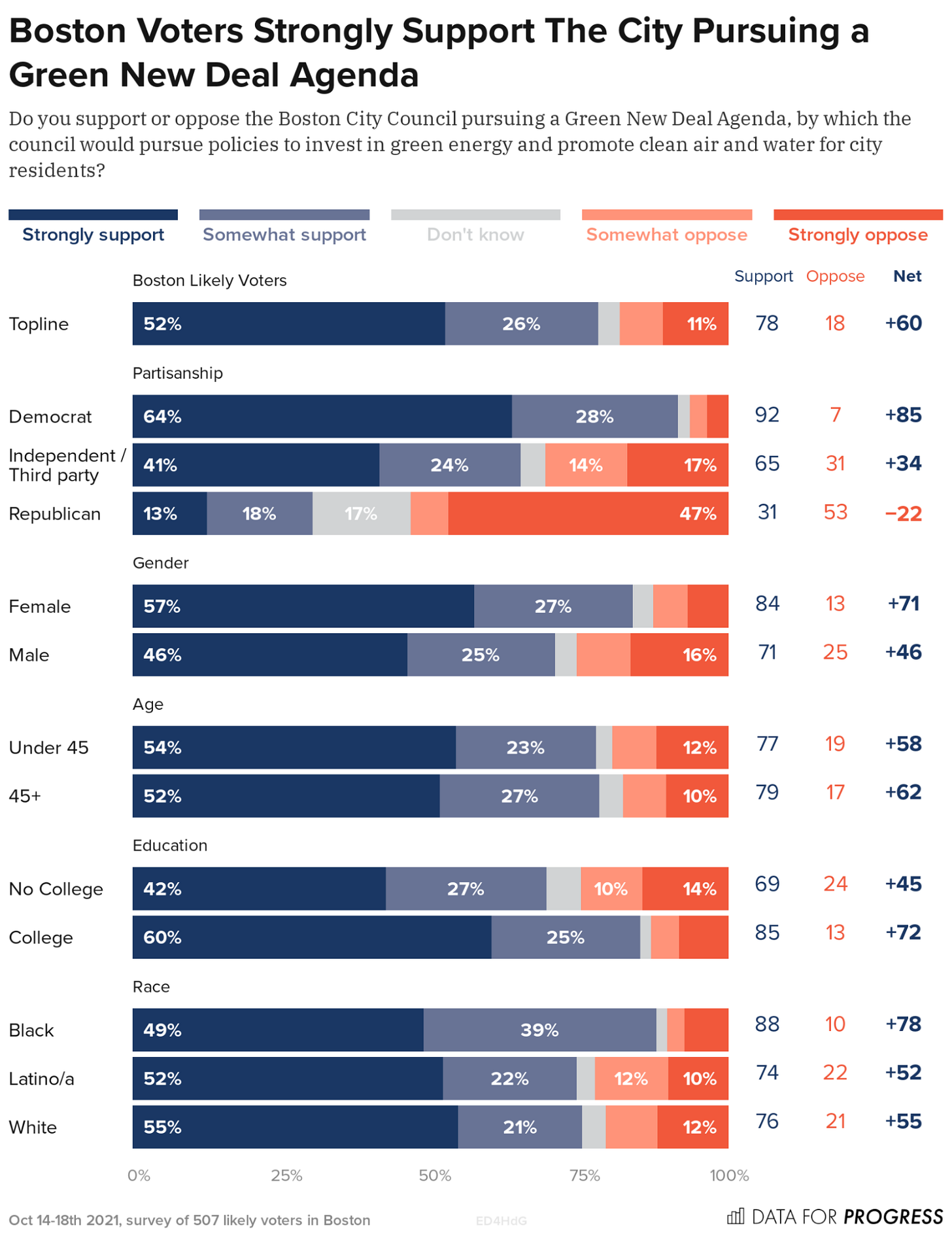 Wu explained her electoral strategy in an interview in The Nation:
In my time in City Hall, it has been less about shifting the odds of who can win and more about shifting the sense of what was possible. In Boston, from the very beginning of our campaign, my team and I decided we would run on big ideas and deep organizing and focus more on building community anywhere we went rather than trying to corral the numbers for a specific day and leave it there. So, we ran a campaign that put our resources toward distributed [grassroots] organizing and multilingual outreach. We had neighborhood organizing teams across every neighborhood in our city, and we had launched a campaign almost 14 months before Election Day, but many of our volunteers and neighborhood leaders were first-time campaign volunteers. We were lightly supporting and checking in with everyone, but our teams were running independently and designing their own activities.[9]
On election day Wu won 64% of the vote.
The Boston Green New Deal Hits the Ground Running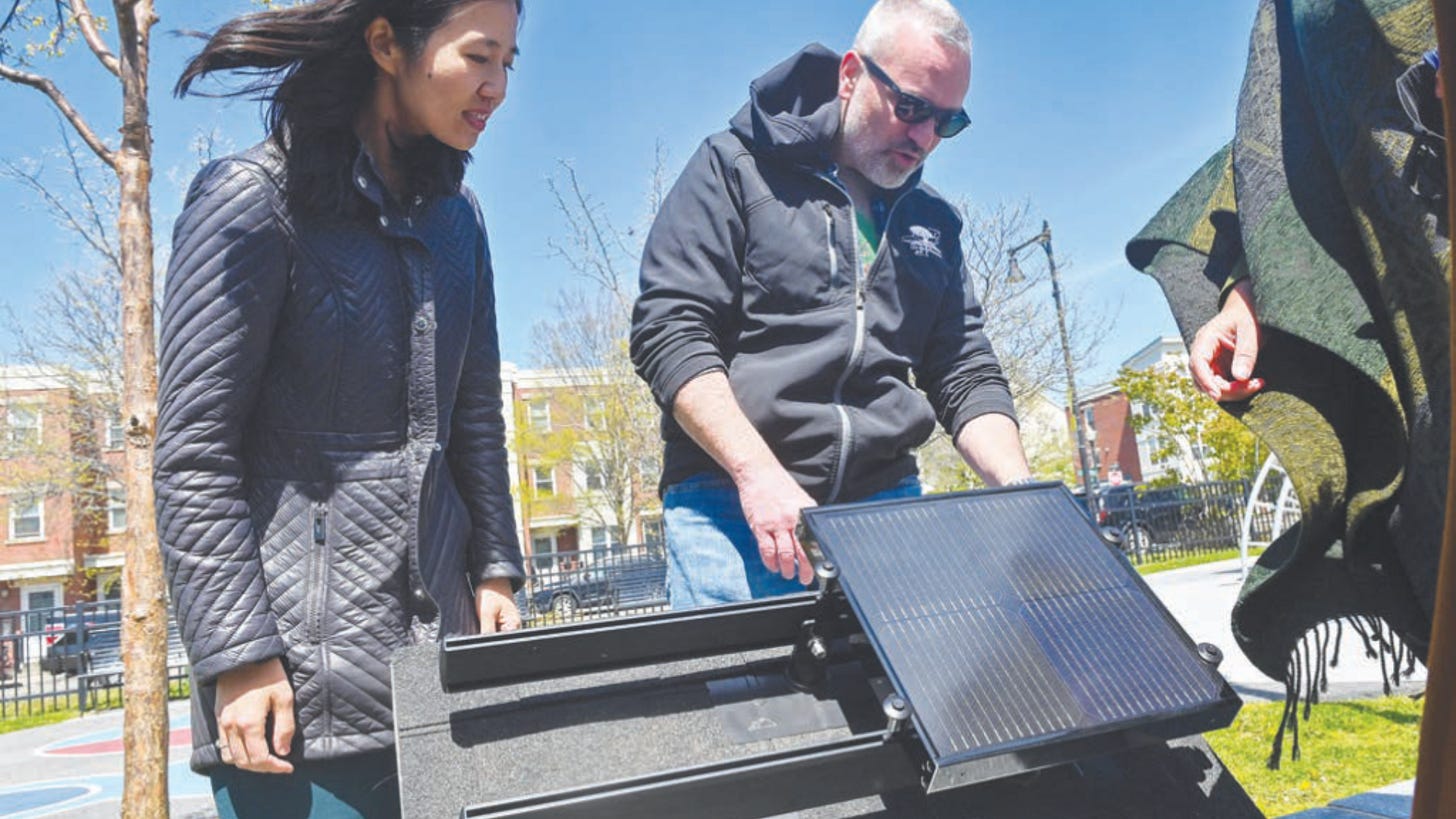 Wu Announces New Solar-Power Pilot Program in Eastie. Photo credit, Environment Boston, @BostonEnviro, Tweeter
A central plank of the Boston Green New Deal — embodying both climate and justice objectives –was free public transportation, aka "Free the T." On her first day in office, Mayor Wu announced a pilot fare-free bus program which set aside $8 million for lines serving environmental justice communities.
That was quickly followed by unanimous passage of an ordinance to divest Boston's $1.3 billion trust funds from fossil fuels, tobacco, and private prisons. Signing the ordinance as her first in office, Mayor Wu said, "In this closing window of time to act, Boston must lead by taking every possible step for climate justice. Divesting from harmful industries to invest in sustainable and healthy jobs is not only the pathway to a green and resilient future; it's also the most responsible stewardship of taxpayer dollars." She called it a "big step forward towards a Boston Green New Deal."[10]
Two weeks later Mayor Wu announced a new Fleet Utilization Policy to deploy electric vehicles for the city and add 78 EV charging stations by the end of 2022. The city also partnered with two community organizations to launch a community-based EV car share service in Roxbury called Good2Go which makes available EV cars for as little as $5 an hour.[11] The city subsequently launched an electric school bus pilot program, replacing 20 diesel buses with electric ones as a first step toward full electrification of the school bus fleet by 2030. The city also launched an electric vehicle "train the trainer" program under which the City's Central Fleet Management team will train students and City fleet managers in electric vehicle maintenance.[12]
The Boston Green New Deal moved rapidly to address the needs of historically poor and discriminated-against communities. In April Mayor Wu announced a Heat Plan focused on five environmental justice "hot spot" communities: Chinatown, Dorchester, East Boston, Mattapan, and Roxbury. The Heat Plan is a component of Climate Ready Boston, the City's initiative to prepare for the near- and long-term effects of climate change, including sea level rise, coastal storms, extreme precipitation, and extreme heat. Climate Ready Boston was based on a historical analysis that showed redlined areas are 7.5°F hotter in the day, 3.6°F hotter at night, and have 20% less parkland and 40% less tree canopy than areas designated as "A: Best." The Heat Plan is coordinated with an Urban Forest Plan which provides nature-based cooling solutions like tree protection and new tree plantings. The city also launched a Boston Extreme Temperatures Response Task Force to deal with heat emergencies and distributed 30 pop-up cooling kits, including a hose, misters, and a tent, to community organizations planning summer events.[13]
In May, the city launched a "Solarize Eastie" pilot program to expand neighborhood solar panel installation and onsite battery storage to the environmental justice community of East Boston. The program uses a group buying model to reduce costs by aggregating demand and securing a discounted price per watt. Boston's Chief of Environment, Energy and Open Space Reverend Mariama White-Hammond commented that such programs "allow us to bring energy benefits to environmental justice communities while helping us achieve our collective goal of decarbonization."[14]
A few months later the city announced another component of Climate Ready Boston designed to protect East Boston and Charlestown from coastal flooding from sea-level rise and storm surge through nature-based solutions. The plan aimed to preserve the essential functions and historic character of the East Boston and Charlestown waterfronts while undoing the harm of historic planning that put the communities at risk.[15]
Early in 2022 the Office of Budget Management, the Boston City Council, and the mayor began a series of listening sessions and a survey in 12 languages to help draw up the city budget. More than a thousand residents directly engaged in the process. The budget, unveiled in April, included such items as:
$206 million for housing stability, affordable homeownership and financial assistance to first-generation homebuyers;
$34 million for economic opportunity and inclusion, to grow BIPOC-owned businesses, further invest in Main Street business districts, expand tuition-free community college and workforce training programs, and create a commercial rental rebate program to support small business recovery and build wealth in Boston neighborhoods;
$31.5 million for climate-focused investments, including expanding the Green Youth Jobs program, creating walking and biking infrastructure, growing and preserving the urban tree canopy, strengthening local food systems, and supporting electrification of the City vehicle and school bus fleet;
$20 million for transformative arts and culture investments that will facilitate placemaking and strengthen both downtown and neighborhood communities. (Community arts and culture programs were among the most visible expressions of the original New Deal of the 1930s.)
The budget works in concert with $350 million in federal funding from the American Rescue Plan Act (ARPA) "to accelerate a Green New Deal for Boston."[16]
A month after releasing the budget, Boston announced a Green New Deal for Boston Public Schools. It included $2 billion to launch 14 new construction or major renovation projects and accelerate ongoing district-wide improvements, including energy and water efficiency upgrades, the installation of solar panels, renovations to bathrooms and kitchens, school yard improvements, and the installation of air conditioners and drinking water fountains. Jessica Tang, President of the Boston Teachers Union, said, "The BTU is thrilled to hear the announcement of much-needed upgrades to school facilities through a Green New Deal for Boston Public Schools."[17]
A critical part of Boston's Green New Deal strategy is to use the city's procurement powers to reshape its economy. It moved to establish a Contractor Opportunity Fund and to expand access to City contracts for minority- and women-owned business enterprises. And it is seeking to address the past and present effects of discrimination, disparities, obstacles, and barriers in its procurement process on minority-owned and women-owned businesses.
In 2022 the Boston Public Schools began providing free breakfast and lunch to its 50,000 students regardless of income. In May 2022 the City of Boston and Boston Public Schools (BPS) announced that City Fresh, a Roxbury-based employee- and Black-owned food service company, will provide breakfast, lunch, after-school meals, fresh snacks, and summer meals for the 50,000 students in the Boston Public Schools. All meals will be freshly made in City Fresh's Roxbury production facility with nutritious ingredients, including locally sourced food. With a projected value of over $17 million, this is the largest non-construction contract the City has awarded to a certified Black-owned business. BPS Superintendent Brenda Cassellius said, "Our new partnership with City Fresh ensures BPS students and staff have access to a wide range of culturally relevant, nutritious foods and keeps City dollars in our neighborhoods by supporting a black-owned business that represents the heart and soul of Roxbury." The program implements a City Council ordinance passed in 2019 setting goals for Boston's Good Food Purchasing Program, the local embodiment of a national program to align city food procurement with the goals of racial equity, environmental sustainability, and local economic development.[18]
Worker empowerment is an often underemphasized aspect of the Green New Deal. Toward the end of her first year as mayor, Michelle Wu established a Boston Cabinet for Worker Empowerment headed by a Chief of Worker Empowerment. While its mandate is so far rather vague, its focus includes "regulating, overseeing and improving workplace conditions and health for workers" and "expanding economic opportunity for workers through access to quality jobs, skills trainings and career pipelines."[19] The city also established a Chief People Officer and a Chief People Officer Operations Cabinet to oversee programs for city employees, including mental health supports and employee transit benefits.[20]
From the outset the Boston Green New Deal focused on a Youth Green Jobs program. According to Mayor Wu, "Boston's Youth Green Jobs Corps acts as a roadmap to provide livable wages, good benefits, and strong worker protections for our young people and returning citizens." Reverend Mariama White-Hammond, Chief of Environment, Energy and Open Space, said "The green jobs program serves the dual purpose of creating job opportunities for our young adults while protecting our city from the ravages of climate change and enhancing quality of life for all residents."[21] The green jobs corps is an "earn and learn" program which pays workers to participate in hands-on training while providing them with career readiness support and connections to employers in green industries. Priority populations include returning citizens, court-involved residents, youth who have experienced homelessness or housing instability, young people who have been in foster care, and other marginalized communities.
The program was inspired by the Philadelphia PowerCorpsPHL and supported by city funds and $9 million from the American Rescue Plan Act (ARPA).
In December, 2022 Boston graduated the first PowerCorpsBOS cohort. The 21 graduates had spent six months learning about various green industries and skill sets, such as native and invasive plant identification, environmental conservation, parks maintenance, general labor operations, OSHA safety certification, career readiness, and resume writing and interviewing. PowerCorpsBOS assisted 87 acres of public land, removed 284 bags of invasive material, worked with 18 service project partners, planted 61 trees, underwent 16 hours of tree climbing training, earned three college credits from UMass Mount Ida in Arboriculture, talked to 68 employees in private to public industry, worked with four different city departments, pruned 32 trees, attended International Society of Arboriculture New England chapter conference, participated in 12 hours of mock interviews, and completed 16 hours of financial literacy courses.[22]
In Boston as in many other cities, urban planning and development – aka "urban renewal" — has been a crucial factor in destroying communities and segregating cities by race and class – one that has been difficult for even progressive city administrations to reverse. According to Mayor Wu, the purpose of Boston's redevelopment agency from the time it was established 70 years ago was to "clear the way for new development, even if that meant displacing tens of thousands of working class, immigrant, and Black and brown residents."
The original Boston Green New Deal plan had proposed to address displacement, luxury development, and comprehensive rezoning. In her first State of the City report a year after her inauguration, Mayor Wu announced a dramatic step: shutting down the Boston Planning and Development Agency and replacing its urban renewal mission of eradicating so-called "blight and urban decay" with a new City Planning and Design Department to address "resiliency, affordability, and equity."[23] This will "restore planning as a central function of City government" rather than leaving it in the hands of private developers and a semi-autonomous urban development agency.
Racing Step by Step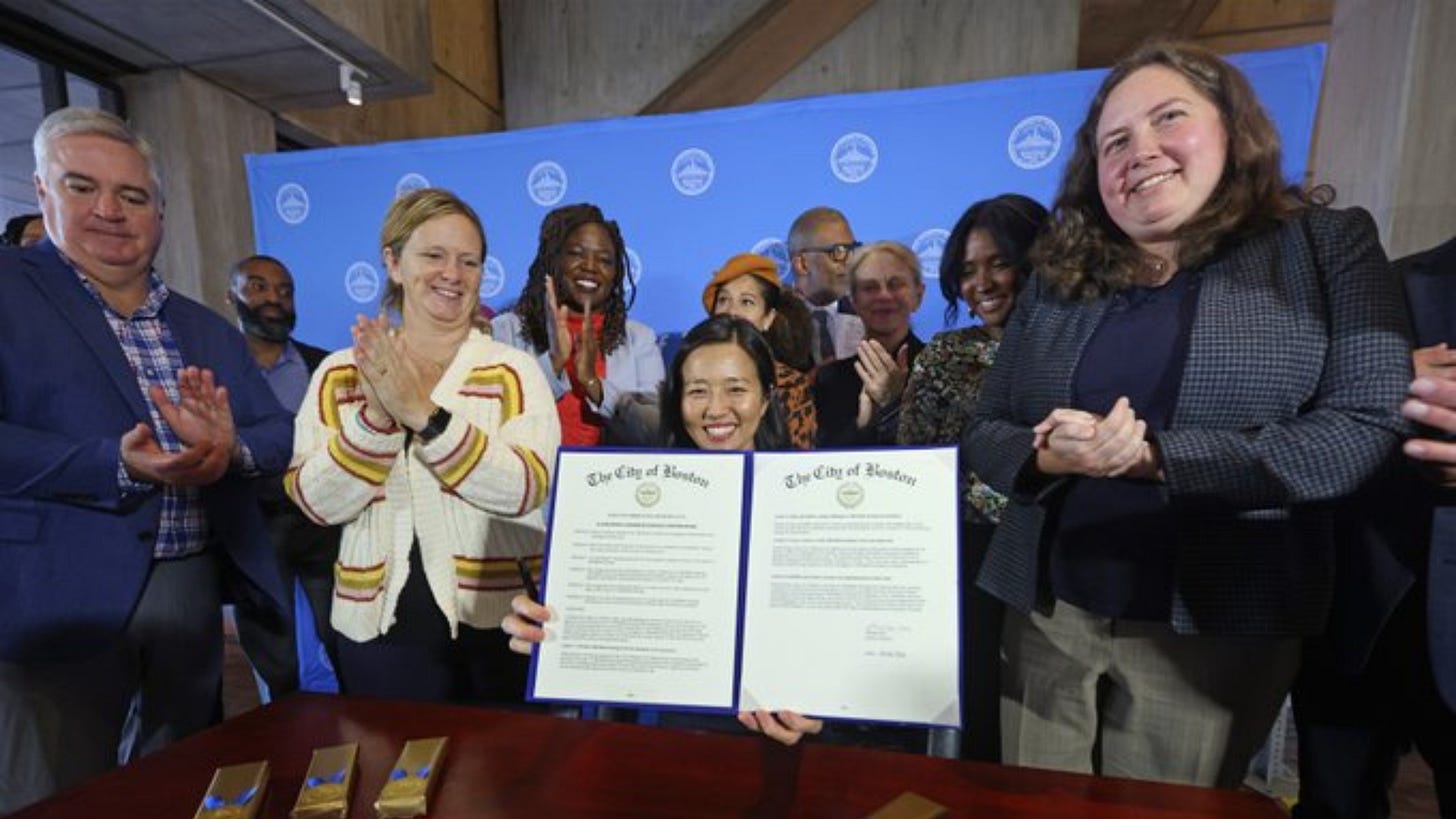 Building a Boston for everyone means moving faster on safe, affordable homes. Today's executive order will streamline & accelerate affordable housing approvals, keeping our city green & growing. Photo Credit: Mayor Michelle Wu Tweeter
While Mayor Wu strove to fully utilize the powers and visibility of a big-city mayor, the Boston Green New Deal drew on decades of work by community, labor, and other civic organizations and issue advocates. Many of these forces were brought together in the Boston New Deal Coalition which holds monthly meetings to report on and mobilize support for Green New Deal programs.[24]
While a review of the first year of the Boston Green New Deal reveals dozens of programs initiated at rapid fire speed, Mayor Wu herself was frustrated by what she considered its slow start and limited achievements. On the first anniversary of her inauguration, she complained to a radio interviewer that the slow-moving searches for top leaders to fill crucial cabinet posts and establishing new collective bargaining agreements with the city's unions commanded a large portion of her time.[25]
While the original Boston Green New Deal plan laid out big-picture climate and social justice objectives and broad policies to realize them, Mayor Wu's actions in her first year were primarily aimed at achieving immediate gains that would affect a wide range of constituencies and sectors and create momentum for realizing more. This involved understanding the powers and limits of municipal government and how they affect ordinary people. She told an interviewer:
City government is where a Green New Deal means doubling the number of street trees, so we are absorbing storm water, cleaning our air, and bringing beauty to our communities. It means converting our school bus fleet of about 300 diesel buses and another 400 fuel buses over to electric, which will not only get harmful pollution out of the lungs of our kids and out of our neighborhoods, but also tap into mobile charging stations that large electric buses can become in times of power outages.
For every big issue, we have a way to take immediate action at the city level. When we talk about our economic recovery and closing the racial wealth gap, we are focused immediately on how we're spending nearly $700 million every year of city contracting dollars through our procurement system, making sure those dollars are going to Black and brown businesses, to local Boston entrepreneurs, to keep dollars circulating within our neighborhoods. There's always a way to make an impact, day by day, at the city level.
The interlocking crises of the pandemic, climate change, and our day-to-day economic situation and racial injustices mean that if you're truly meeting people where they are, you have to move at the speed of families rather than the speed of government.
By combining urgency with small steps forward, the Boston Green New Deal aims to help lay the groundwork not only for local but for national transformation. According to Mayor Wu:
We can each be a proof point for how big change can happen day by day. And we can create the momentum for state and federal government to really show that we can put forward big changes that deliver immediate impact and draw more people into government.[26]
---
[1] "Planning for a Boston Green New Deal and Just Recovery," Office of Boston City Councilor Michelle Wu, August 2020. https://assets.ctfassets.net/1hf11j69ure4/B6NLxlOVxTVMNbHEvFaQE/700f4762bae92990f91327a7e01e2f09/Boston-Green-New-Deal-August-2020-FINAL.pdf
[2] "Boston Lawmaker, Eying A Mayoral Run, Maps Out A Nordic-Style Climate Haven," | HuffPost, August 17, 2020. https://www.huffpost.com/entry/boston-climate-michelle-wu_n_5f3715f9c5b6959911e48e07
[3] "Planning for a Boston Green New Deal," Ibid.
[4] Ellen Gerst, "Boston City Council Passes Resolution Supporting Green New Deal," Boston Magazine, April 11, 2019. https://www.bostonmagazine.com/news/2019/04/11/city-council-green-new-deal/
[5] Katelyn Weisbrod, "Boston Progressives Expand the Green New Deal to Include Justice Concerns and Pandemic Recovery," Inside Climate News, September 28, 2020. https://insideclimatenews.org/news/08092020/boston-progressives-green-new-deal-justice-health-michelle-wu/
[6] "Boston Lawmaker," Ibid.
[7] "Boston Lawmaker" Ibid.
[8] Ryan O'Donnell, Gustavo Sanchez, and Brian Burton, "Voters Want Michelle Wu to Be the Next Mayor of Boston," Data for Progress, October 21, 2021. https://www.dataforprogress.org/blog/2021/10/21/michelle-wu-leads-boston-mayoral-race
[9] John Nichols, "Michelle Wu: Cities Must Lead for the Green New Deal," The Nation, December 14, 2021. https://www.thenation.com/article/politics/qa-michelle-wu/ .
[10] "Mayor Wu signs ordinance to divest City funds from the fossil fuel industry," Boston.gov, December 1, 2021. https://www.boston.gov/news/mayor-wu-signs-ordinance-divest-city-funds-fossil-fuel-industry
[11] "New steps to reduce vehicle emissions in Boston," Boston.gov December 13, 2021. https://www.boston.gov/news/new-steps-reduce-vehicle-emissions-boston
[12] "Progress Made Toward Electrifying City of Boston Vehicle Fleet," | Boston.gov, April 6, 2022. https://www.boston.gov/news/progress-made-toward-electrifying-city-boston-vehicle-fleet
[13] Boston Orange 波士頓菊子: Mayor Wu Announces Critical Action to Mitigate Extreme Heat in Environmental Justice Communities," Boston Orange, April 22, 2022. https://www.bostonorange.com/2022/04/mayor-wu-announces-critical-actions-to.html
[14] John Lynds, "Wu Announces New Solar-Power Pilot Program in Eastie," East Boston Times-Free Press, May 11, 2022. https://eastietimes.com/2022/05/11/wu-announces-new-solar-power-pilot-program-in-eastie/
[15] "Mayor Wu announces strategies to enhance coastal resilience in East Boston and Charlestown," Boston.gov, August 23, 2022. https://pier5.org/2022/08/23/mayor-wu-announces-strategies-to-enhance-coastal-resilience-in-east-boston-and-charlestown-boston-gov/
[16] "Mayor Wu Unveils First City Budget and $350 Million Federal Spending Plan," Boston.gov April 13, 2022. https://www.boston.gov/news/mayor-wu-unveils-first-city-budget-and-350-million-federal-spending-plan
[17] "Green New Deal for Boston Public Schools Launched," Boston.gov May 12, 2022. https://www.boston.gov/news/green-new-deal-boston-public-schools-launched
[18] $17 Million BPS Food Service Contract Announced with Roxbury-Based, Black-Owned Business, Boston.gov, May 18, 2022. https://www.boston.gov/news/17-million-bps-food-service-contract-announced-roxbury-based-black-owned-business For Boston's Good Food Purchasing Program, see https://goodfoodcities.org/portfolio/boston/
[19] "Wu Announces Cabinet for Worker Empowerment," Beacon Hill Times, September 8, 2022. https://www.boston.gov/news/17-million-bps-food-service-contract-announced-roxbury-based-black-owned-business and https://beaconhilltimes.com/2022/09/08/wu-announces-cabinet-for-worker-empowerment/
[20] "Alex Lawrence named Chief People Officer; Ashley Groffenberger appointed Chief Financial Officer," Boston.gov, June 13, 2022. https://www.boston.gov/news/alex-lawrence-named-chief-people-officer-ashley-groffenberger-appointed-chief-financial
[21] "Executive Director of Youth Green Jobs Initiative Named," Boston.gov February 14, 2022. https://www.boston.gov/news/executive-director-youth-green-jobs-initiative-named
[22] "Graduation of Boston's Inaugural PowerCorpsBOS Cohort Celebrated," Boston.gov, December 23, 2022. https://www.boston.gov/news/graduation-bostons-inaugural-powercorpsbos-cohort-celebrated
[23] Roberto Scalese and Walter Wuthmann, "Wu sets sights on housing, schools in first State of the City address, WBUR News, January 25, 2023. https://www.wbur.org/news/2023/01/25/boston-mayor-michelle-wu-state-of-the-city and READ: Boston Mayor Michelle Wu's first State of the City address," WBUR Newsroom, January 25, 2023.
[24] Boston Green New Deal Coalition,https://www.bostongndcoalition.org/
[25] Saraya Wintersmith, "Mayor Wu says staffing and contract talks consumed a lot of her first year," WGBH, November 16, 2022. https://www.wgbh.org/news/politics/2022/11/16/mayor-wu-says-staffing-and-contract-talks-consumed-a-lot-of-her-first-year
[26] John Nichols, "Michelle Wu: Cities Must Lead for the Green New Deal," The Nation, December 14, 2021. https://www.thenation.com/article/politics/qa-michelle-wu/.