THE POP CULTURE EXPLOSION BUNDLE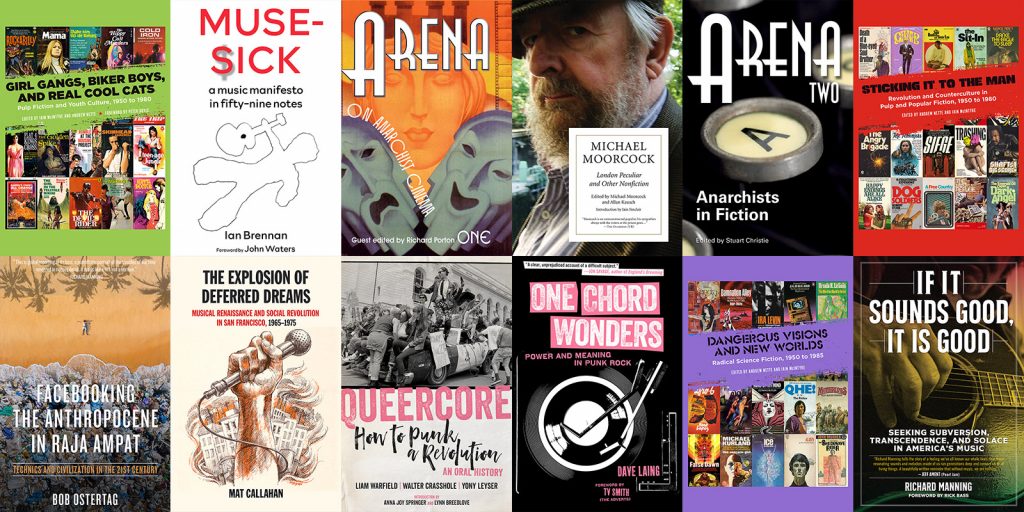 The Pop Culture Explosion Bundle – Curated by Nick Mamatas
There are five major publishers in the United States, and soon there may well be four. There are five major movie studios. There are three major record labels. A vanishingly small number of people—you could fit them all into a convention center in any major city—control what goes into your eyeholes and earholes, and ultimately what settles into your brain.
That is popular culture.
But pop culture wasn't always like this. The technological and social revolutions of the twentieth century put everything from Super-8 film cameras to cheap multi-track recording systems into the hands of freaks, weirdoes, writers, artists, and musicians ready to book their own lives and tell their own stories.
The pop culture explosion is still reverberating today, even as so many so-called "indie" creators are just offering warmed-over extruded content. This bundle covers it all: the midblowing paperbacks of the postwar era, the passion of punk, the rise of queer voices, and warnings about the coming corporate monoculture.
The bundle includes the Locus Award winner and Hugo Award nominee Dangerous Visions and New Worlds: Radical Science Fiction, 1950 to 1985, the seminal examination of British punk One-Chord Wonders, Michael Moorcock's provocative essay collection London Peculiar, and much more. Many of these titles are available as ebooks for the first time, and exclusively for this bundle!
Are you ready to have your mind blown? Are you prepared to arm yourself in the war against the entertainment-industrial complex? Are you excited to pick up a little round bomb and become part of the pop culture explosion? Of course you are! (The ebook bundle is goin' cheap, after all.)
And you'll be helping: a portion of the proceeds is going to The Mad Housers, a non-profit corporation that for twenty years has radicalized DIY by providing shelter for unhoused individuals via the creation and deployment of prefabricated huts and low-ride sleeping units around the greater Atlanta, Georgia area. And you can download the blueprints for these shelters from their website and help your local unsheltered community! – Nick Mamatas
* * *
For StoryBundle, you decide what price you want to pay. For $5 (or more, if you're feeling generous), you'll get the basic bundle of four books in any ebook format—WORLDWIDE.
Muse Sick by Ian Brennan
London Peculiar and Other Nonfiction by Michael Moorcock
Arena One: On Anarchist Cinema by Richard Porton
Girl Gangs, Biker Boys, and Real Cool Cats edited by Iain McIntyre and Andrew Nette
If you pay at least the bonus price of just $20, you get all four of the regular books, plus eight more books for a total of 12!
Sticking It to the Man by Andrew Nette and Iain McIntyre
Queercore: How to Punk a Revolution: An Oral History by Liam Warfield, Walter Crasshole and Yony Leyser
One Chord Wonders: Power and Meaning in Punk Rock by Dave Laing
If It Sounds Good, It Is Good by Richard Manning
Facebooking the Anthropocene in Raja Ampat by Bob Ostertag
The Explosion of Deferred Dreams by Mat Callahan
Dangerous Visions and New Worlds: Radical Science Fiction, 1950 to 1985 edited by Iain McIntyre and Andrew Nette
Arena Two: Anarchists in Fiction by Stuart Christie
This bundle is available only for a limited time via http://www.storybundle.com. It allows easy reading on computers, smartphones, and tablets as well as Kindle and other ereaders via file transfer, email, and other methods. You get multiple DRM-free formats (.epub, .mobi) for all books!
It's also super easy to give the gift of reading with StoryBundle, thanks to our gift cards – which allow you to send someone a code that they can redeem for any future StoryBundle bundle – and timed delivery, which allows you to control exactly when your recipient will get the gift of StoryBundle.
Why StoryBundle? Here are just a few benefits StoryBundle provides.
Get quality reads: We've chosen works from excellent authors to bundle together in one convenient package.
Pay what you want (minimum $5): You decide how much these fantastic books are worth. If you can only spare a little, that's fine! You'll still get access to a batch of exceptional titles.
Support authors who support DRM-free books: StoryBundle is a platform for authors to get exposure for their works, both for the titles featured in the bundle and for the rest of their catalog. Supporting authors who let you read their books on any device you want—restriction free—will show everyone there's nothing wrong with ditching DRM.
Give to worthy causes: Bundle buyers have a chance to donate a portion of their proceeds to The Mad Housers!
Receive extra books: If you beat the bonus price, you'll get the bonus books!
StoryBundle was created to give a platform for independent authors to showcase their work, and a source of quality titles for thirsty readers. StoryBundle works with authors to create bundles of ebooks that can be purchased by readers at their desired price. Before starting StoryBundle, Founder Jason Chen covered technology and software as an editor for Gizmodo.com and Lifehacker.com.
For more information, visit our website at storybundle.com, tweet us at @storybundle and like us on Facebook. For press inquiries, please email [email protected].