By Bob Boilen
NPR Tiny Desk (Home) Concert
September 29th, 2020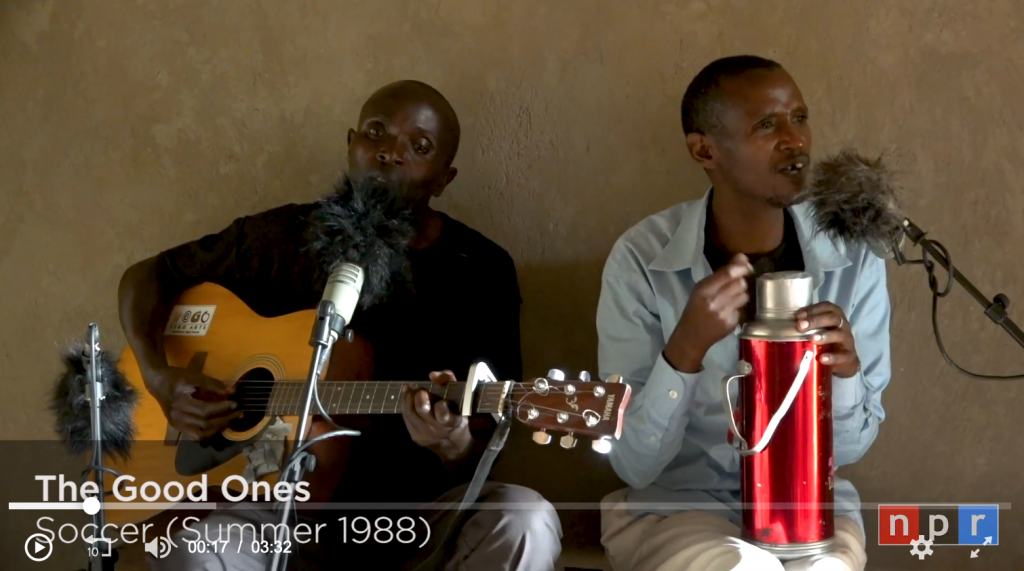 Credit: Courtesy of the Artist
The Tiny Desk is working from home for the foreseeable future. Introducing NPR Music's Tiny Desk (home) concerts, bringing you performances from across the country and the world. It's the same spirit — stripped-down sets, an intimate setting — just a different space.
---
This is the tiniest of Tiny Desk (home) concerts, a single song, recorded in Rwanda by The Good Ones. In 2019, the band's album RWANDA, you should be loved was one of my top 10 albums. They were to play a Tiny Desk concert in May of this year, but the world had other plans.
Adrien Kazigira and Janvier Havugimana know endless hardships. The night before this recording was made, a flood in Rwanda killed more than a dozen people and destroyed homes. Muddied water was more than waist high in Janvier's one-room hut. That next morning, Grammy-winning producer Ian Brennan and photographer Marilena Umuhoza Delli showed up to record the duo; she had the camera and he handled the audio. And though Janvier had been up all night dealing with the mud, they all took a two-hour drive to Adrien's hilltop farm. Janvier tapped out the rhythm with a key on a thermos; the jug was filled with milk — milk from a cow Adrien was able to purchase courtesy of a 2019 U.S. tour.
The performance is a song they'd just learned to play together: "Soccer (Summer 1988)." It's a nostalgic tune of a favorite soccer team, Rayon Sports F.C., from the days before the genocide in Rwanda took too many lives nearly a quarter of a century ago. Support means a great deal to these people, and if you like what you hear, their Bandcamp page is a good way to help The Good Ones.
SET LIST
MUSICIANS
Adrien Kazigira: vocals, guitar
Janvier Havugimana: vocals, percussion
CREDITS
Video By: Marilena Umuhoza Delli
Audio By: Ian Brennan
Producer: Bob Boilen
Audio Mastering Engineer: Josh Rogosin
Video Producer: Morgan Noelle Smith
Associate Producer: Bobby Carter
Executive Producer: Lauren Onkey
Senior VP, Programming: Anya Grundmann
---
Ian Brennan is a Grammy-winning music producer who has produced three other Grammy-nominated albums. He is the author of four books and has worked with the likes of filmmaker John Waters, Merle Haggard, and Green Day, among others. His work with international artists such as the Zomba Prison Project, Tanzania Albinism Collective, and Khmer Rouge Survivors, has been featured on the front page of the New York Times and on an Emmy-winning 60 Minutes segment with Anderson Cooper reporting. Since 1993 he has taught violence prevention and conflict resolution around the world for such prestigious organizations as the Smithsonian, New York's New School, Berklee College of Music, the University of London, the University of California–Berkeley, and the National Accademia of Science (Rome).