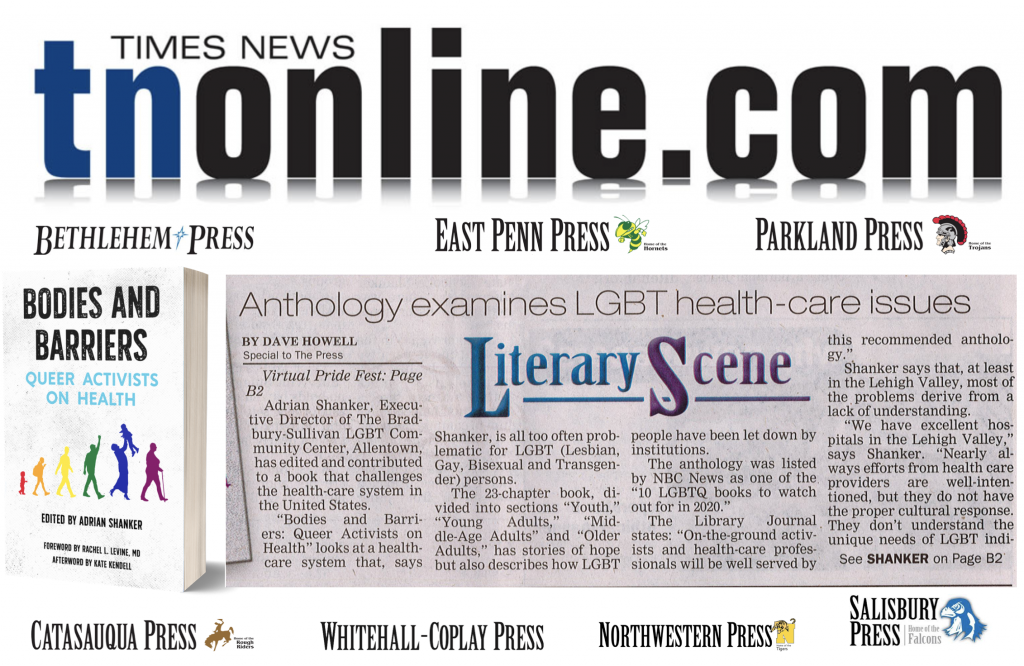 By Dave Howell
Times News Online/ Lehigh Valley Press
August 10th, 2020
Adrian Shanker, Executive Director of The Bradbury-Sullivan LGBT Community Center, Allentown, has edited and contributed to a book that challenges the health-care system in the United States.
"Bodies and Barriers: Queer Activists on Health" looks at a health-care system that, says Shanker, is all too often problematic for LGBT (Lesbian, Gay, Bisexual and Transgender) persons.
The 23-chapter book, divided into sections "Youth," "Young Adults," "Middle-Age Adults" and "Older Adults," has stories of hope but also describes how LGBT people have been let down by institutions.
The anthology was listed by NBC News as one of the "10 LGBTQ books to watch out for in 2020."
The Library Journal states: "On-the-ground activists and health-care professionals will be well served by this recommended anthology."
Shanker says that, at least in the Lehigh Valley, most of the problems derive from a lack of understanding.
"We have excellent hospitals in the Lehigh Valley," says Shanker. "Nearly always efforts from health care providers are well-intentioned, but they do not have the proper cultural response. They don't understand the unique needs of LGBT individuals.
"There are LGBT health-care needs that are not met in the region. There are barriers to care from insurance and health networks, and services that are not offered anywhere in the Lehigh Valley.
"There are gaps, and people are being left behind. There are not specialists for every health-care need, such as transgender and gender confirmation surgeries.
"And we need health-care professionals who can help answer questions patients can have. On average, in medical school, only four lecture hours are devoted to LGBT issues."
Negative reactions and situations like bullying make disclosure difficult for many. "They carry their experiences with them," says Shanker. "Over 50 percent of LGB and 75 percent of T [Transgender] people fear going to health-care providers."
While he was studying for a certificate for health policy in graduate school, Shanker discovered, "There was nothing by us or about us."
Shanker writes in the book about a negative experience he had at a dermatologist's office getting a cancer screening, which helped move him to compile the book.
"Every step of the way, I saw that the experience was not for patients like me. I looked for stories from other LGBT people, as well. We want to fix our broken health-care system and make it work for all of us.
"Some of the authors I knew personally, and some I knew as activists. Others were refereed by other activists. And in some cases, I was looking for specific topics and I asked around."
The book covers numerous topics, including navigation of social services and pediatric care, Internet communication, family planning. addiction and recovery, caregiving, housing for older adults, and bereavement support groups.
Contributing authors include Alisa Bowman, Liz Bradbury and Annemarie Shankweiler.
Tyler Titus's chapter, "Surviving Suicide," is a no-holds-barred description of how self-loathing and bullying led him to make a nearly fatal decision.
Says Shanker, "We are not addressing the needs of LGBT youth. They don't know where to turn to. The suicide rate is very high with them, which does go way down if they have family support."
Pennsylvania Secretary of Health Rachel Levine, who wrote the book's forward, states that nearly 40 percent of transgender individuals have attempted suicide in their lifetime, nine times the national average.
The book can be seen as an extension of the work done by the Bradbury-Sullivan Center, which offers health programs, including screening, testing and collecting health data.
Of particular interest to Shanker is smoking prevention, which he writes about in a chapter in the book. The Centers for Disease Control and Prevention report that more than 20 percent of LGB people smoke, compared to about 15 per cent of straight people.
"We have to be our own health advocates," says Shanker. "We need to provide continuing education for LGBT issues and provide clinical settings that are welcoming for LGBT individuals."
"Bodies and Barriers: Queer Activists on Health" is available for purchase at local independent bookstores, www.Bookshop.org, IndieBound, Barnes and Noble, Amazon, Books A Million, PM Press and the Bradbury-Sullivan LGBT Community Center, www.bradburysullivancenter.org.
---
Adrian Shanker is an award-winning activist and organizer whose career has centered on advancing progress for the LGBT community. He has worked as an arts fundraiser, labor organizer, marketing manager, and served as President of Equality Pennsylvania for three years before founding Bradbury-Sullivan LGBT Community Center in Allentown, PA, where he serves as executive director. An accomplished organizer, Adrian has led numerous successful campaigns to advance LGBT progress through municipal nondiscrimination and relationship recognition laws and laws to protect LGBT youth from conversion therapy. A specialist in LGBT health policy, he has developed leading-edge health promotion campaigns to advance health equity through behavioral, clinical, and policy changes.