By Dani Burlison
March 26th, 2020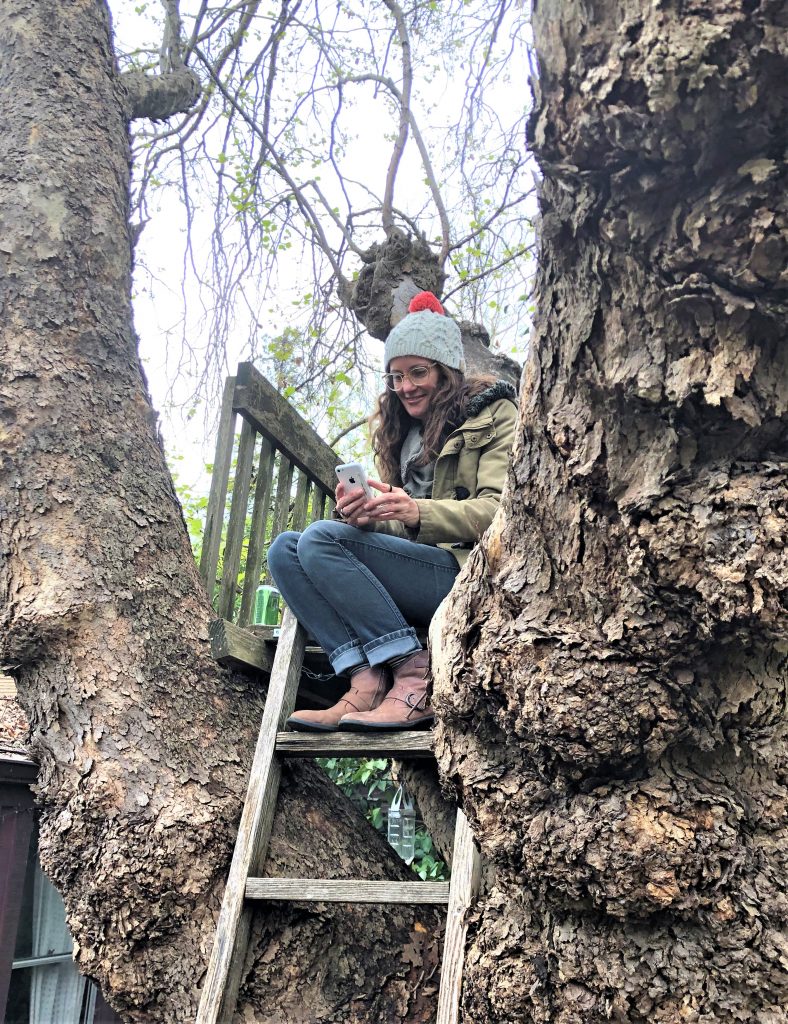 I'm writing this from my living room in my small long-term rental home in Santa Rosa, California. Spring Equinox came and went while most of us in California were stuck inside, our entire state grinding down to a low thud of a halt. We watched—online—as our friends' small businesses shuttered, fellow teachers were sent home to crank out online lesson plans for the remainder of the semester, and restaurant and other service industry workers worried about how they'd pay rent with most workers laid off (though some restaurants continue to provide takeout meals to an increasingly isolated community). Grocery stores are open, their shelves mostly bare, while clerks risk their emotional and physical wellbeing for low wages. My nurse friends are being worked to exhaustion without inadequate protective gear as many sick patients get turned away from testing.
Sonoma County is usually ready for emergencies, but this time is different.
After banding with community during the October 2017 firestorm in Sonoma County—and the fires and mass evacuations in 2019—many of us feel fairly prepared for disasters. We know where the evacuation centers are, we know which backroads will get us out of harm's way the quickest, we know which friends we can rely on for help. We have bags packed in our homes and in the trunks of our cars. We have our cabinets stocked with mullein and licorice root to help get through the weeks of smoke inhalation. Most of us with cars never let our gas tanks dip below half full. Many of us keep an N95 respirator mask or two on hand for when the smoke from local or regional fires fills the air each summer and fall, and store extra bottled water and canned food in case the big earthquake is still on its way.
We usually gather, share meals, cry on one another's shoulders. We get through these disasters together—physically together—and come out stronger every time. But here we are now, all packed up with our important papers and pet food in our evacuation bags. But this time we aren't evacuating. This time—at least for most of us—there is nowhere to go.
So what happens to those of us who were dealing with trauma or anxiety or depression before the shelter-in-place orders were announced, whether it was related to our regional climate disasters or something more personal? How do those of us so connected to our communities, who we often rely on for collaboration and care, process this collective global trauma while also working through our own painful personal grief and emotional wounds? How do we maintain those deep connections, or forge new ones, when we can't be together?
I'm not gonna lie. I wasn't doing so great before this all happened. The months leading up to the pandemic, I was struggling profoundly with freshly resurfaced deep trauma (and left/ghosted by an emotionally inept cheating partner while working through said trauma), grieving the death of a loved one, and dealing with a family crisis, among other things. My tendency is to isolate into my depression and overwhelm. This time I felt like I could overcome these challenges through regular contact with loved ones and promised myself, my therapist, and all of my close friends, that I would stay connected with people who love me, that I would spend quality time with my young adult kids and my friends, that I'd mix up my lesson plans for the classes I teach and pitch all of the longform articles I'd been wanting to write, that I'd hit the gym regularly, start cycling again, that I'd keep visiting my state and county parks a few times a week to ground into nature.
Now all of these things have been stripped away—I can't see my friends, my teaching job has been put on hold, my gym is closed, and my regional parks shut down in order to enforce the state wide shelter-in-place orders. Now I'm at home sorting through the murk of my personal trauma (and loss of most of my freelance and side-teaching income) while trying to comprehend and process the new reality we're all living in.
And I know I am not "alone" in this (although we should all be physically alone and only seeing people we actually live with). I know so many of us are struggling and that the issues we were working through before didn't go away when the pandemic arrived on our doorsteps. It instead brought a new level of anxiety to salt our wounds. Being isolated with personal and collective trauma (with record low rainfall this year, California was already anxious about the upcoming fire season) is difficult to navigate.

So how can we do it? How can we get through the hard work and pain of healing ourselves and our communities while isolated from each other? How do we stay healthy and creative and whole so we can rebuild a better world on the other side of this?
I'm far from perfect and don't always check the boxes on my daily self-care to do list, but here are some things that I find helpful. I hope that you can find something helpful in here, too:
Regular tea dates and happy hours with friends over Zoom:
In the last two weeks I've had a group coffee date with my two oldest friends (who live in different parts of the country), planned happy hours and one on one video dates with friends, and used Facetime to check in with loved ones. Seeing the people I love on a screen in real time is so much better than texting. In a recent interview, former Surgeon General Dr. Vivek Murphy said that connecting with loved ones for even 15 minutes per day can increase the quality of our lives. Call your grandparents or parents, Facetime your friends, plan a Zoom dinner date with loved ones in other countries.
Online therapy appointments/therapy apps
I have the best cognitive behavioral therapist ever and I am so lucky to be able to talk to her every week from the comfort of my bedroom. Something that I've found helpful as a trauma survivor, and that she helps me to remember, is that I am currently safe. I have a home to live in, I am not infected with the virus, no one is actively trying to physically hurt me. This can be hard to remember when our collective fear is so powerful, but it is a tool that can help immensely. For folks who don't have access to one on one therapy, apps like Youper have different levels, including a free basic daily check in to help you track your mental and emotional wellbeing. I also have this Complex PTSD Workbook that is helpful when I feel like I am completely unraveling.
Daily walks around my neighborhood
While it is a little sad to walk around my neighborhood and through the part of town I live in and see my frequent haunts shuttered, the quiet streets are amazing. I'm noticing new things, like planter boxes with green sprouting up and blossoms floating down onto sidewalks. For folks that can't leave home because of mobility or other health issues, opening a window, looking outside at the sunrise or sunset, and watching the clouds and birds can also bring moments of clarity and peace.
Online community/creative gatherings
So far I've hosted one online literary reading and attended others. It isn't quite the same as being in a crowded book store or café, but there was something lovely about sitting in my living room, listening to poets I adore reading their work. Staying connected to my writing community feels crucial right now. I'm also hosting weekly drop-in writing groups and have joined others as well. In the coming weeks, I'm joining online movie viewing watch parties, a couple of live concerts, an art studio tour, and more. I also halfway committed to reading War & Peace as a part of an online book club, even though I have so many gripes about Tolstoy and how he treated his wife (and how she is responsible for getting that damn book in the world), but that is a petty rant for another time. There are SO MANY online opportunities to connect with our creative communities! If you have the means: buy art and music and books and jewelry from friends.
Connecting with neighbors from across the fence:
Most days at 5pm (if it isn't raining), I climb into the treehouse in my backyard and chat with neighbors across the fence. I am fortunate to have a rental house with a yard, in a neighborhood full of wonderful people. We check in, I share the latest news, we talk about what projects we're working on, or how homeschooling is going with their kids, how everyone's elderly parents are. We plan parties for "after." Sometimes I talk my neighbor Chris into playing his trumpet from his rooftop two doors down. I talk about teaching yoga classes for them from my "treesit," and we tell jokes before going back inside.
Naps and/or sleeping well at night
The information overload is off the fucking charts right now and it will not lighten up anytime soon. The daily emotional highs and lows are exhausting. We are all processing so much right now and rest is an essential part of taking care of our nervous systems. As someone whose trauma response often manifests in insomnia, I know this is easier said than done. I do know that when I get enough sleep and even indulge in naps when I can, that it is so much easier for me to focus and take care of myself through difficult situations. Again, I am fortunate that I have the ability to do this (my kids are grown), but if you work on nothing else, work on getting enough sleep.
Yoga /trauma informed yoga / meditation / movement
I know, I know.. there are so many arguments about yoga and cultural appropriation and privilege. But I will tell you this: yoga has literally saved my life. As a Trauma Informed yoga instructor, I can say that there is something incredibly powerful and calming and healing about moving fear and trauma out of your body, while building strength in your body at the same time. Mindfulness meditation can do the same (as an anxious/active person I personally prefer movement, but this is effective, too). Something as simple as paying attention to your breath, where feelings reside in your body, and noticing thoughts without judgment help me so so much. If yoga isn't your thing, dance or qi gong, or whatever movement you can do can help. I've seen several groups offering simultaneous dance parties and it is awesome. And you can do this for free from your own isolation chamber! I personally love Yoga with Adriene, and also find the Insight Timer app really helpful.
Good food and herbs and water
When I'm stressed I either can't eat or only want to eat sugary baked goods, and we all know this does not help us heal. I've hit to gluten free oreo bag a few times recently, but when I focus on making and eating healthy foods, my mood changes drastically. Simple pots of soup (this recipe has been my favorite thing over the last few weeks) and greens with brown rice are affordable and easy to make. Also, go for it and indulge in your favorite comfort food, even if it isn't something Gweneth Paltrow recommends. Just nourish yourself and stay alive.
If you have access to herbs like nervines and adaptogens, incorporate them into your meals or make pots of tea to sip through the days. Also: STAY HYDRATED and drink water! Dehydration sucks.
Standup comedy
Have you watched Wanda Sykes "Not Normal" or Fortune Feimster's "Sweet & Salty" specials on Netflix? You should. Comedians have helped me deal with having the orange monster in office and they're helping me now, too.
Make zines, read your friends' books
That zine about solo witchcraft or climate informed parenting or open spaces in your community where you can gather edible plants you've been wanting to make? NOW'S THE TIME! Print them out and send to your friends! If you can't focus on creating anything right now, read your friends' zines and books and articles as a way to stay connected.
Routine:
I still get up every morning, shower, and have my favorite tea and get dressed (OK I keep wearing old yoga pants and knee-high wool socks and torn cardigans, but I'm clean and comfortable). I also make daily lists and commit to checking a few things off each day, like organizing my home office, or finally recycling all of those plastic lids in my container drawer, or editing a chapter of my book in progress, or emailing friends to check in. Routines keep me focused and limit the amount of time I worry about the future.
Get Involved in Mutual Aid
I know we can't be physically together right now, but there are ways to support people if you have the ability. Volunteering to help food banks deliver food, collaborating on mutual aid projects like this awesome organization where I live, North Bay Organizing Project, who helped fire survivors with their Sanación del Pueblo clinics (now online!) and their collaborative Undocufund program that helps those left out of government aid. Find groups doing mutual aid where you live and reach out to see how you can get involved. You can also call your elderly neighbors or immune compromised friends and run errands for them if you are able to go out. Mutual Aid is simple and can be done from anywhere. And it makes our communities stronger.
Stop trying to be perfect and/or overly productive
Just like before, I have shitty days and OK days and some days that are a combination of both. I've never aimed to be positive all of the time, and right now is no exception. I'm afraid. I feel lonely. I'm angry and bitter toward rich people. Some days I get up and do yoga and water my plants and make herbal tea and sing and make art and organize my bookshelves and write. Other days I mope and watch violent British crime dramas and start drinking in the afternoon and hold grudges and write mean letters that I'll never send. I also know how to throw together a meal with scraps from my cupboards if it comes to that. I know how to make ends meet when the well starts running dry. I know how to communicate and set good boundaries when people are triggering or just bugging me with their financial security and family support and their refusal to follow the rules of social distancing. There is space for all of it: the optimism and the fear, the loneliness and the hope. None of us know how things will turn out, but I believe that all of us deserve something better than what we've had. These uncertain times are terrifying, and these growing pains hurt, and some of us won't be OK. But we should all stop trying to do this perfectly, and to produce artistic masterpieces and perfect homeschooling scenarios and allow some hope to balance us out. The world needs us and all of our gifts. Don't give up. xo
---
HOTLINES:
Disaster Distress Line: 1-800-985-5990
Trans Lifeline: US: 877-565-8860 / Canada: 877-330-6366
Suicide Prevention Line: 1-800-273-8255
Domestic Violence Hotline: 1-800-799-SAFE (7233)
NAMI (National Alliance on Mental Illness) helpline: 800-950-NAMI (6264)
Dani Burlison (she/her) is the author of Dendrophilia and Other Social Taboos: True Stories, a collection of essays that first appeared in her McSweeney's Internet Tendency column of the same name, and the Lady Parts zines. She has been a staff writer at a Bay Area alt-weekly, a book reviewer for Los Angeles Review, and a regular contributor at Chicago Tribune, KQED Arts, The Rumpus, and Made Local magazine. Her writing can also be found at Ms., Yes!, Earth Island Journal, Wired, Vice, Utne, Ploughshares, Hip Mama, Rad Dad, Spirituality & Health, Shareable, Tahoma Literary Review, Prick of the Spindle, and more. Her writing also appears in several anthologies. She lives, teaches, and writes with her two kids in Santa Rosa, CA.