Are scholars a security threat to the United States?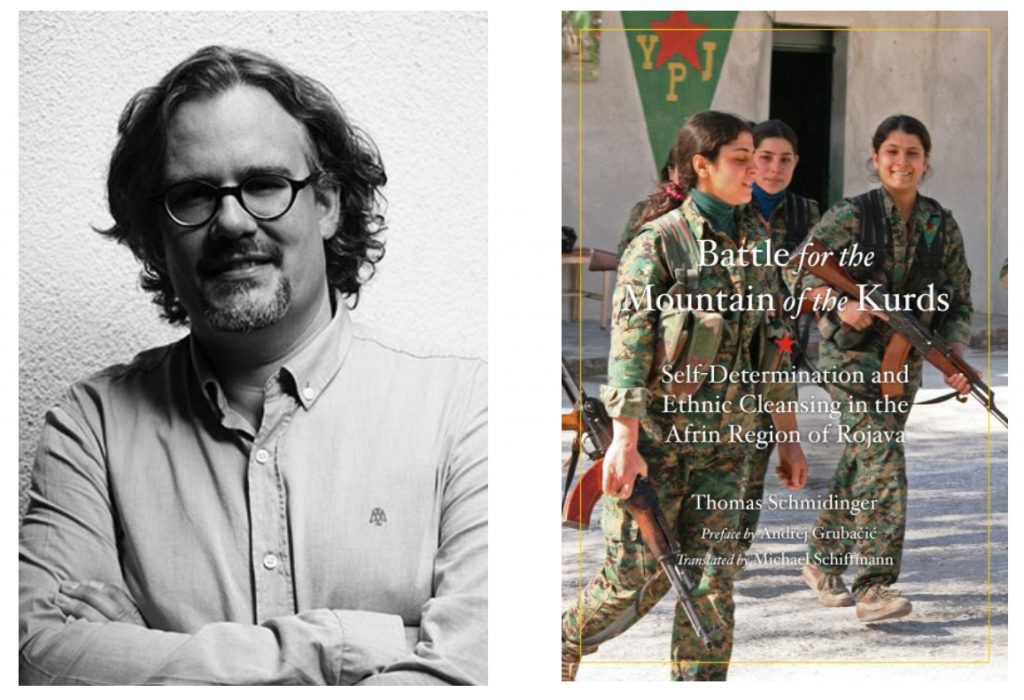 September 13th, 2019

Thomas Schmidinger teaches at the University of Vienna in Austria and is both secretary-general of the Austrian Society for the Promotion of Kurdology and coeditor of the Vienna Kurdish Studies Yearbook.

He is an expert on Syria, Iraq, and Iran and the author of a number of books on migration, cultural integration, and the Middle East, several of which have been translated by U.S. publishers.

Dr. Schmidinger was invited by multiple U.S. Universities, institutions, and bookstores to give a series of lectures this September on his newest book, The Battle for the Mountain of the Kurds: Self-Determination and Ethnic Cleansing in the Afrin Region of Rojava (PM Press, 2019). The organizers and publishers worked for months on the book tour, and he had all travel plans and papers in order. Everything was set, or so it seemed.

When Dr. Schmidinger arrived at the boarding area on Thursday September 12th, 2019 for the connecting flight from Amsterdam to Minneapolis, where he previously spent a year as a research fellow at the University of Minnesota, he was detained and questioned by airline security about his research in Syria, Iraq, and Iran and his travels to these countries. The security personnel expressed their assurances that he would be allowed to board, but they needed to get the go-ahead from Washington, D.C. Then, the unexpected happened.
His travel was denied with absolutely no explanation by the U.S. Department of Homeland Security. Dr.Schmidinger could not fly despite the U.S. Embassy in Vienna stating that there is no formal travel ban from the U.S. State Department against him and despite having a valid Ten Year Multiple Entry Visa granted recently for a conference in Rhode Island just last year in the U.S.
This is clearly a politically motivated action by the U.S. Department of Homeland Security who have banned many scholars and activists, as well as PM Press authors, from entering the country. Along with the reprehensible travel ban of people from six Mulslim-majority countries and growing crackdowns on immigrants and refugees, Homeland Security seems to be increasing their scrutiny of people who are critical of U.S. domestic and foreign policy. They are secretly placing them on the No-fly List without explanation. The problem is getting worse, and the political consequences are serious and disturbing.No-fly list. No-drive list. No-walk list. No-talk list. When will it end?

Dr. Schmidinger pondered these questions and more on his return trip to Vienna, "Does Homeland Security now prevent scholars on Iraq, Syria, Iran or Jihadism to enter the U.S.? Do they prevent other scholars on Kurdish Studies to enter the U.S.? Do they prevent people who work in deradicalisation and rehabilitation of Jihadis? Did they get some Turkish propaganda lies and follow instructions from Ankara? I really don't know, but I would be curious to find out. Until now, I just know that after years of traveling to the U.S., after living and working in Minnesota for a whole year, after being invited to 4th of July parties in the residence of the American ambassador, it seems that I am seen as an enemy and security threat now."
The Battle for the Mountain of the Kurds: Self-Determination and Ethnic Cleansing in the Afrin Region of Rojava appears to be the book Homeland Security does not want you to read – if you need another reason to buy it, read it, and share it.
– Statement by PM Press and Andrej Grubacic, editor of KAIROS book series and the Chair of the Anthropology and Social Change Department at the California Institute of Integral Studies in San Francisco, CA
_______
Thomas Schmidinger is a political scientist and a cultural and social anthropologist. He teaches at the University of Vienna and is both secretary-general of the Austrian Society for the Promotion of Kurdology and coeditor of the Vienna Kurdish Studies Yearbook. He is the author of a number of books on migration, cultural integration, the Middle East, and other topics, several of which have been translated. His previously translated book is Rojava: Revolution, War and the Future of Syria's Kurds was published by Pluto Press in 2018. His newest book is The Battle for the Mountain of the Kurds: Self-Determination and Ethnic Cleansing in the Afrin Region of Rojava (PM Press, 2019), part of the KAIROS series imprint of the Anthropology and Social Change Department at the California Institute of Integral Studies in San Francisco, CA.
_______
Thomas Schmidinger's book tour for The Battle for the Mountain of the Kurds was to be as follows:
Friday, September 13th at 12noon – Minneapolis, MN at the Institute for Global Studies at the University of Minnesota, Social Sciences Building 267 19th Avenue S, Room 710
Monday, September 16th at 7pm – Berkeley, CA at Books Inc., 1491 Shattuck Ave
Tuesday, September 17th at 7pm – San Francisco, CA at the California Institute of Integral Studies -First Floor Lobby, 1453 Mission St. Hosted by the Anthropology and Social Change Department and cosponsored by the Bay Area Mesopotamia Solidarity
Wednesday, September 18th at 7pm – Philadelphia, PA at The Wooden Shoe Books 704 South St. Cosponsored by Wooden Shoe Books and The Radical Education Department (RED)
Thursday, September 19th at 7pm – New York, NY at Bluestockings Books 172 Allen St, Sponsored by Rosa Luxemburg Stiftung—New York Office
More information at pmpress.org
More information about KAIROS at http://www.pmpress.org/content/article.php/Kairos
For press inquires, please contact:
Stephanie at PM Press – [email protected]
Steven at PM Press – [email protected]
Thomas Schmidinger – [email protected]