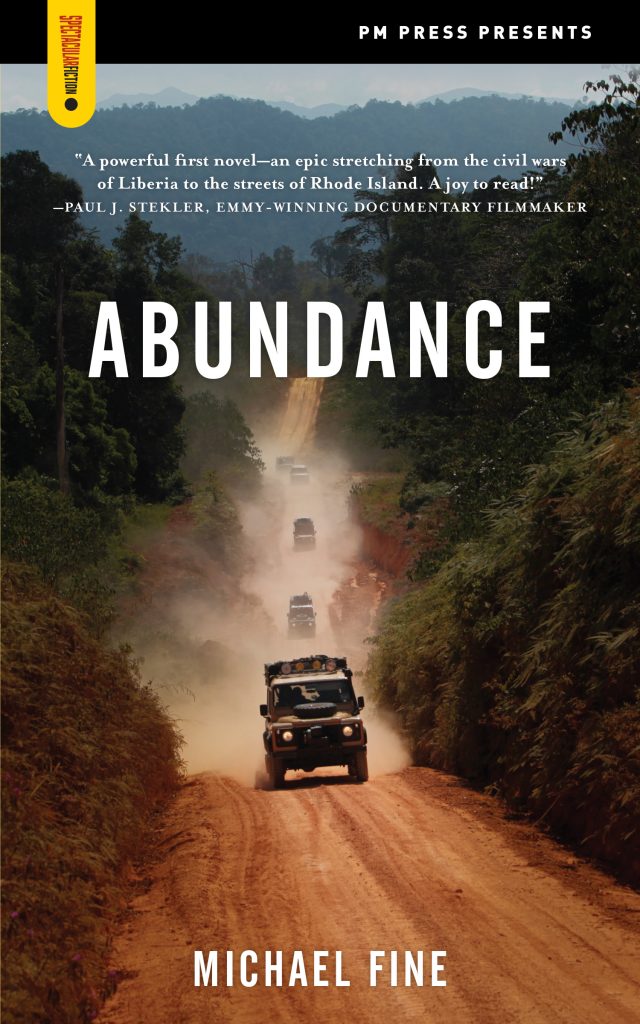 Michael Fine introduces readers to an 'Abundance' of characters in his latest novel.
By Abby Remer
MV Times
August 21st, 2019
"Abundance" by Michael Fine is at once a thriller and in a sense, a love story about the essence of love — for other people and for a country — in this case, Liberia, even though a bit of it occurs in Rhode Island. Three main characters are American expatriates, and the fourth is a Liberian unwillingly living in Rhode Island. The story unfolds within the context of the excruciatingly violent and chaotic Liberian civil war — which plays such a significant role in the tale that it becomes the driving character. Given his background as a community organizer, physician, and public health official, Fine's a natural for his choice of subject matter. Even better, he can add successful author to his long line of accomplishments.
The book revolves around a young American doctor who feels most at home in Liberia. Fine is masterful in developing a sense of people's inner thoughts: "Of all the places she loved and the ideas that moved her, the grand romantic notions about healing the world and making it a safe place for all its children, Julia Richmond loved the District #4 Health Center most … Liberia … was among the most desperate places Julia had been …. Julia loved desperate places, where there was nothing and where the people had no one, so they took her for who she was, as she was, and didn't ask her questions she couldn't answer for herself."
Julia is passionate about her work, trying, usually against all hope because of the dire circumstances, to save the young children whose mothers bring them to her in the blind desire that they might be healed. Julia's dedication is in direct odds with her lack of self-worth, and she pretty much shuts herself off from any meaningful relationships, except with an American NGO worker, Carl, with whom she sometimes hooks up.
Carl, an anguished man of color with a difficult childhood, finds strange solace in the war-torn country: "It was better for Carl Goldman to be in Africa … to fade into the background and let boundaries dissolve, better for him to become part of what is great and pulsing than to let the eyes of America cut Carl into a hundred thousand pieces."
Carl, virtually against his will, realizes how deeply Julia has touched him when being evacuated by U.S. Marines at the breaking point of the civil war. He discovers that she has been left behind, having been kidnapped by a cohort of brutal child soldiers. His determination to rescue her once stateside starts a harrowing tale entangled with the other two main characters.
One, William Levin, Julia's old mentor and friend, is an old '60s leftover who washed up in Providence, R.I., "after years of drifting from one demonstration to another, from one concert to the next, blown from place to place by pot smoke and unachievable dreams … When the organizing yielded nothing — no class consciousness, no new unions, and no revolution."
Carl reaches out to Levin and, through convoluted means, they embark on a harrowing journey to get Julia safely back to America.
Incongruently, a young thief, Terrance, becomes the linchpin to getting Carl and Levin into Liberia. Terrance, who at age 10 in Liberia had been snatched up and forced to be a child soldier, is now reluctantly with his mother in the United States, but cannot let go of the life he left behind: "When you live large, you do what you want when you want to do it … [and] are who you want to be. They don't tell you what you can't do, they tell you to do more and to take more, and they tell you ways to be bigger and stronger."
Once these three improbably land back in Liberia in search of Julia, they form a most unusual bond that could only make sense within the perilous situations where they continually find themselves. Their experience changes each of them in profound ways.
Carl connects with his deep tie to Julia. Levin discovers that being with Carl and Terrance feels like a family, not based on genealogy but relationships. And Terrance seems himself as a Liberian for the first time.
Fine's excellent characters bring the human cost of the Liberian civil war home. He makes it real. He makes it personal. And he writes a tale worth reading.
"Abundance" by Michael Fine. PM Press, Oakland, Calif. Available online. Fine will be reading from his novel at the Vineyard Haven library on Tuesday, August 27, at 7 pm.