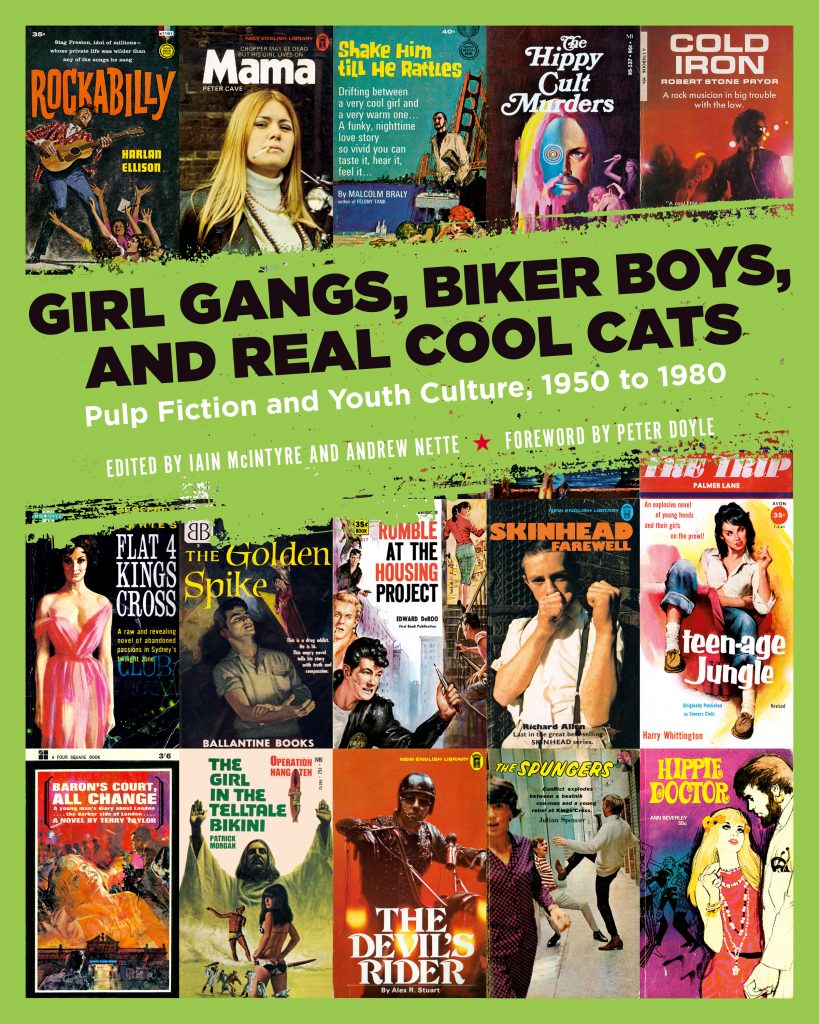 By David Cranmer
Criminalelelment.com
February 8th, 2018

Girl Gangs, Biker Boys, and Real Cool Cats: Pulp Fiction and Youth Culture, 1950 to 1980, edited by Iain McIntyre and Andrew Nette, is the first comprehensive account of how the rise of postwar youth culture was depicted in mass-market pulp fiction—a must-read for anyone interested in pulp fiction, lost literary history, retro and subcultural style, and the history of postwar youth culture.
I enjoy delving into a book that I previously would have thought I'd have no interest in sampling and then spending hours reading and rereading the passages. Understand, I love pulp, but teenage angst, women behind bars, and titles like The Hippy Cult Murders and Skinhead Farewell are not normally my preference. Actually, I had zero interest until Girl Gangs, Biker Boys, and Real Cool Cats: Pulp Fiction and Youth Culture, 1950 to 1980 landed in my lap.
I've known Andrew Nette for years now (he's a superb fiction writer himself), and I've appreciated the various pulp covers he posts on Twitter almost daily—how he can dig and unearth such lost treasures is quite admirable. And along with Iain McIntyre (who also collaborated on the forthcoming Sticking It to the Man: Revolution and Counterculture in Pulp and Popular Fiction), they have crammed a lot into 336 pages, ranging from the lost and forgotten authors to legends like Harlan Ellison, S. E. Hinton, and Salvatore A. Lombino, aka Evan Hunter. Hunter would find everlasting fame with his 87th Precinct series that became the modern blueprint for the police procedural, and he later penned the screenplay for Alfred Hitchcock's The Birds (1963). But first came The Blackboard Jungle.
A moral panic over teenage violence had created a market for juvenile delinquency stories. Hunter was one of the genre's earliest and most successful practitioners. The novel and film adaptation of The Blackboard Jungle appeared midway between The Wild One (1953) and Rebel Without a Cause (1955), films that enshrined the irresistible iconography of the delinquent in the popular imagination—Marlon Brando and James Dean, switchblades and bomber jackets.

Like almost everything else written or filmed within the JD genre, Hunter's work operated on the blurry border between moral condemnation of crime and lurid exploitation. The format in which Hunter's fiction was published—and sometimes republished under other names—largely determined its reception. It could be a serious 'sociological' look at a perceived social problem—or a contributor to the menace itself. The wily Hunter cashed in from both sides.
The highlight of this scintillating collection (of which there are many peaks) is the interview with Marijane Meaker, aka Vin Packer. Years ago, I was putting together a collection of pulp stories for BEAT to a PULP: Round Two and looked to bridge the gap between modern crime and mystery tales with the past. I believe it was Ed Gorman that directed me to Ms. Meaker, and she was kind enough to contribute a tale called "Far from Home." What a pleasure she was to work with, a class act of professionalism and kindness. In Girl Gangs, she talks about one of the many genres she is famed for:
I also wrote some 'confessions'. I was very good at them, because all you had to do was think of an interesting title that would pull the reader in, and then make sure that the story did not live up to the title. For example, the first story I sold was called 'I Lost My Baby at a Pot Party'. It was a story in which a woman had the Teflon pot people come to her house for a demonstration, and while this was going on her little child ran out the door.

The confession magazines like True Romances and True Confessions just love that sort of thing, because they weren't printing anything they had to defend yet were pulling in readers with those titles.
A terrific foreword by Peter Doyle sets everything in motion, followed by insightful contributors, to name a few, that include Mike Stax, James Cockington, Molly Grattan, and Criminal Element's very own hard-hitter, Brian Greene. What can I say? This is a must for fans of pulp fiction and youth culture. And the next time I'm doing my monthly browsing for something to read, I'm more than likely to look for covers featuring girl gangs, biker boys, or real cool cats. Dig it.
Back to Iain McIntyre's Author Page | Back to Andrew Nette's Author Page