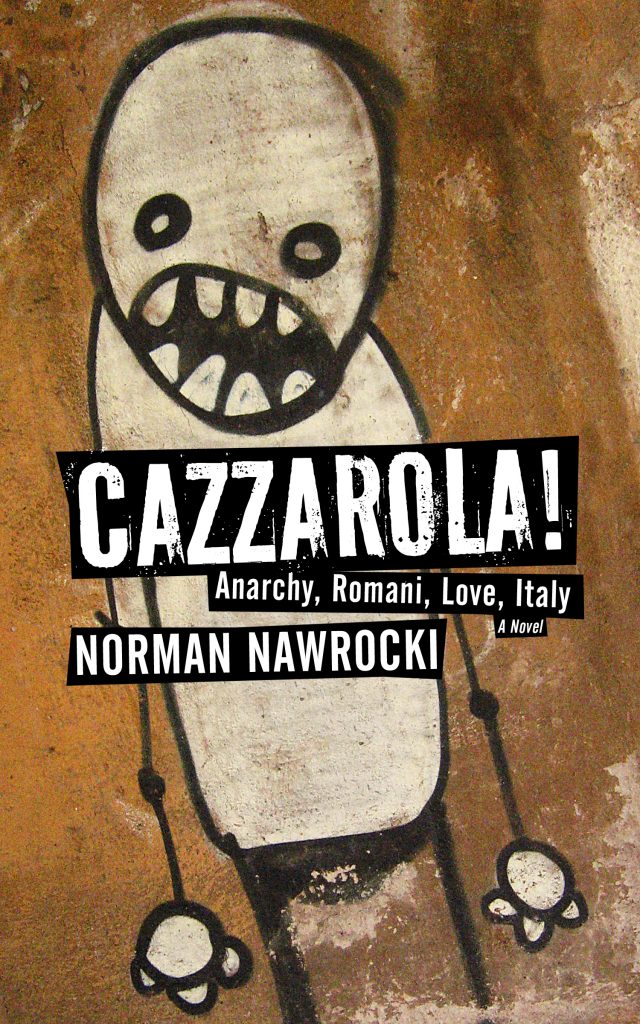 CBC Books
October 11th, 2013
Taking a page from the rock-and-roll handbook, writer and musician Norman Nawrocki is treating his latest book tour as a concert tour—complete with couch surfing, theatrics, beers, and groupies. If you see him passing the hat at the end of the show, consider dropping a dollar or two. This is a complete do-it-yourself road show.
1. You've always thought outside the box. When you decided to write your most recent book, did you have an idea of how you wanted to bring it to an audience?
First, I had no idea when I started to write CAZZAROLA! that this particular book would result. In fact, the book started as a collection of short stories based on my then, just completed book tour of Italy with a previous book. I realized as I wrote the short stories that there was a larger, more important story here that needed to be told. The CAZZAROLA! demons seized my typing fingers and directed that narrative. It came on its own. No force, no pushing, no directing. As CAZZAROLA! unfolded, I had no idea what to do with it. But I sensed early on that this book would take its time to be written, and that part of me desperately wanted to share the story sooner. So, I was inspired to write some dramatic monologues based on the story. I turned these into CAZZAROLA! the theatre piece. I performed a world premiere of the theatre piece at the Montreal International Anarchist Theatre Festival, as the opening act for the Bread and Puppet Theatre. I realized then that once the novel was completed, I already had a vehicle to help me bring it to a larger audience. Later, I was inspired to create the musical soundtrack, giving me a second tool to help share the story. Then, it was only natural, to embark on a 'rock 'n Cazzarol' national tour, combining the theatre piece with the cd and book launch for a triple bill presentation. This never occurred to me five years earlier.
2. You are also a musician. Your book tour looks much like a concert tour. What gave you the idea to treat it as such?
It's the only way I know how! Every new creation needs to be celebrated. I always tour my music, my 'sex' shows, and my books. And I like to drink in the company of others, old fans, new fans, and the curious of the world. It's also a way to keep in touch with the country. What are people really doing in Saskatoon these days? But also, I usually add live music to my book tours and do readings/performances that are theatrical. I'm also an actor. I don't draw lines. No boxes. No lines. I mix everything up. Again, it's how I live, how I create, how I like to share my work. I also want the tour to be fun for audiences and myself.
3. Do you expect book "groupies"?
Always. They will ask: "Is this a true story? Why didn't you kill off this character?" They will buy two copies of my book. They will bring my other books for me to sign. They will buy me beer. They will offer me places to stay. They will tell their family to check out my event, because, every book launch on this CAZZAROLA! CANADA TOUR is a triple threat: live theatre (with a soundtrack and visuals); live music (me on violin playing excerpts from the novel's soundtrack); and live me to answer all their questions about all of the above (and about how I make perogies).
4. The tour takes you across the country from east to west and visits a variety of places like bookstores, coffee houses, and music venues. How did you decide to choose the places for your launches?
Thankfully, I have a wonderful network of dear friends, and friends of friends, in each city who stepped forward to help me book the tour. They chose the venues based on affordability. This is a DIY tour. I am financing it myself. No Canada Council grant. No publisher support. I am performing free for people in small venues all across the country! So, we aimed for no-charge venues. I am just passing a hat between my performances to help defray my travel expenses. This is the reality of being an artist, a writer, a performer in Canada today.

5. There is also an original soundtrack to the book that will be out at the same time. Did you see the album as another way of interesting people in the book?
The CAZZAROLA! soundtrack came as an after-thought, but for me it was a natural one. I hatched it this year, and went back to Italy twice to research music and collaborative musicians. The CD is another way to lure people into the depths of my novel. It can also be listened to before, during, or after a reading of the book. It's a sonic complement, an aural context, a musical framework. It's also just some beautiful, moving and reflective music that you can enjoy with your next glass of Lemoncello.
6. There will also be a "live dramatic adaptation" of the book at the launches. What can people expect?
I will portray four characters from the book, from 1926 to today, delivering monologues excerpted from the book. There will be a soundtrack and projections. It's a 30 minute performance. Afterwards, I play live and sampled and looped violin extracts from the new CD.
7. Publishing continues to adapt to the changes happening in the world. How do you see the future of publishing?
As long as people hunger for stories, as long as writers have stories to tell, as long as we remain a literate society, as long as we continue to cultivate an appreciation for books – there is hope. There is an explosion of online publishing. There are readers groups; writers groups, online and off. This is heartening. With this tour, I am doing my little bit to keep books and the pleasure of discovery very much alive.