by Pete Craven
August 13th, 2014
Crossfire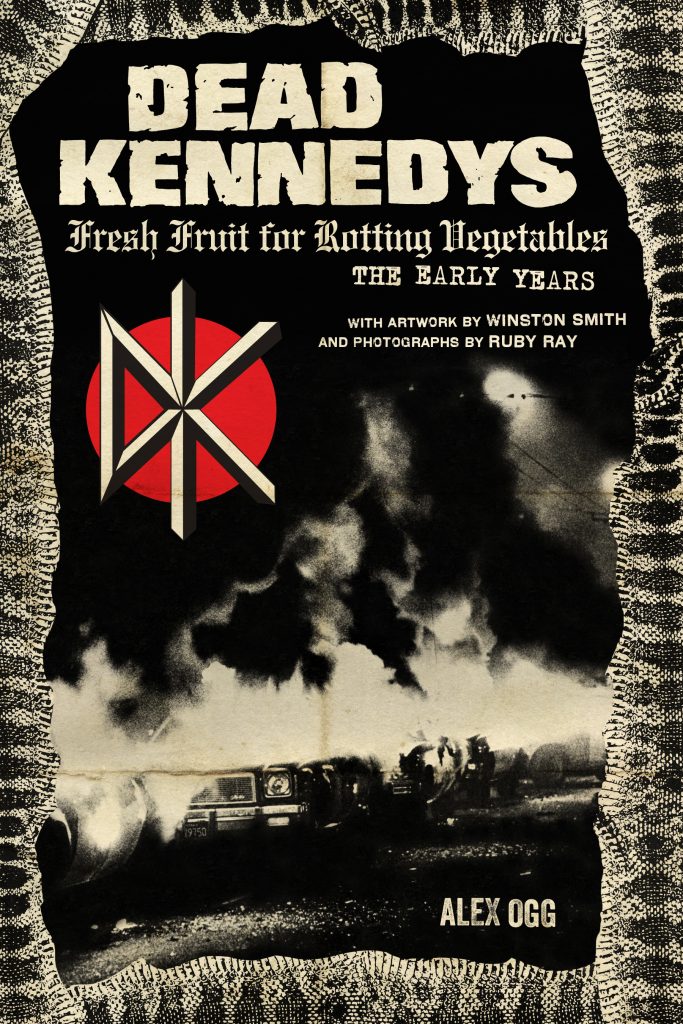 The Ramones' original drummer Tommy passed away recently, and whilst there's no argument his band majorly defined the blueprint of what would soon become known as Punk Rock, it was San Francisco's Dead Kennedys that can claim to have been the most important actual Punk group America produced. Their influence globally was massive.
I'll never forget hearing 'Holiday in Cambodia' on John Peel; the immediate impact on this 14 year old was seismic. I just had to get a copy! It wasn't released in the UK until a few months later and I kept badgering local record shops until, finally, in the summer of 1980, I laid my hands on one of the greatest seven inches ever. It was lifted from their debut album Fresh Fruit for Rotting Vegetables, a classic in its own right.
This book, as the title implies, covers those key initial years of the DKs, delving into the member's personal stories, their gravitation to San Francisco, and the subsequent formation of the band. Yeah, that's when the real fun starts! Theirs was, as the world was to discover, a memorable formula, fronted by Biafra's natural rebellious attitude, to take on and upset the establishment with pranks and mischief, and driven by uniquely powerful and penetrating music, awash with guitarist East Bay Ray's twisted dark surf guitars. Seriously, hang your head in shame if you've never had your ears exposed to Fresh Fruit….
So yeah, these were the DKs Golden Years. More records, tours, and controversy, followed, before they called it quits in '86. There's no denying the huge mark they left behind, but unfortunately the subsequent years of their history has been memorable for all the wrong reasons with singer Jello Biafra being sued by the other Kennedy's. The relationship between the 2 warring parties remains highly toxic, so credit to Alex Ogg for managing to pull together interviews with all original members (including Biafra) but, tellingly, even the author admits that at times the rancor and animosity is exasperating, to the point you imagine his working title for the book was "Fresh Beefs against Rotten Band Mates".
The dialogue exposes countless disputes and disparities between the band members; Biafra's stance is he (and he alone) injected the political vitriol that the DK's became so notorious for, and the rest of the group were just jobbing musicians that followed his lead down the path of underground righteousness. Or something like that! I accept, certainly lyrically and presentation-wise, Biafra orchestrated much of the menace they became so notorious for, but at the end of the day, it's a group effort to write songs, perform, and clearly the chemistry between them was tight enough for a time to produce so much musical gold. Jeez, even Johnny Rotten and Glen Matlock were able to bury the hatchet (albeit in the name of Cash from Chaos) but there's more chance of seeing Peace in The Middle East, that a reformed original line-up DKs (and you won't find me handing over my hard earned cash to go see the Jello-less line-up).
This book is an engaging read, and pretty much an essential pick-up for anyone with an iota of interest in the DKs and Punk in general. There are band photos, and reproductions of record sleeves, flyers, media clippings, and of course, lots of cool art by the wonderful Winston Smith. Highly recommended.
Back to Alex Ogg's Author Page | Back to Winston Smith's Illustrator Page | Back to Ruby Ray's Artist Page