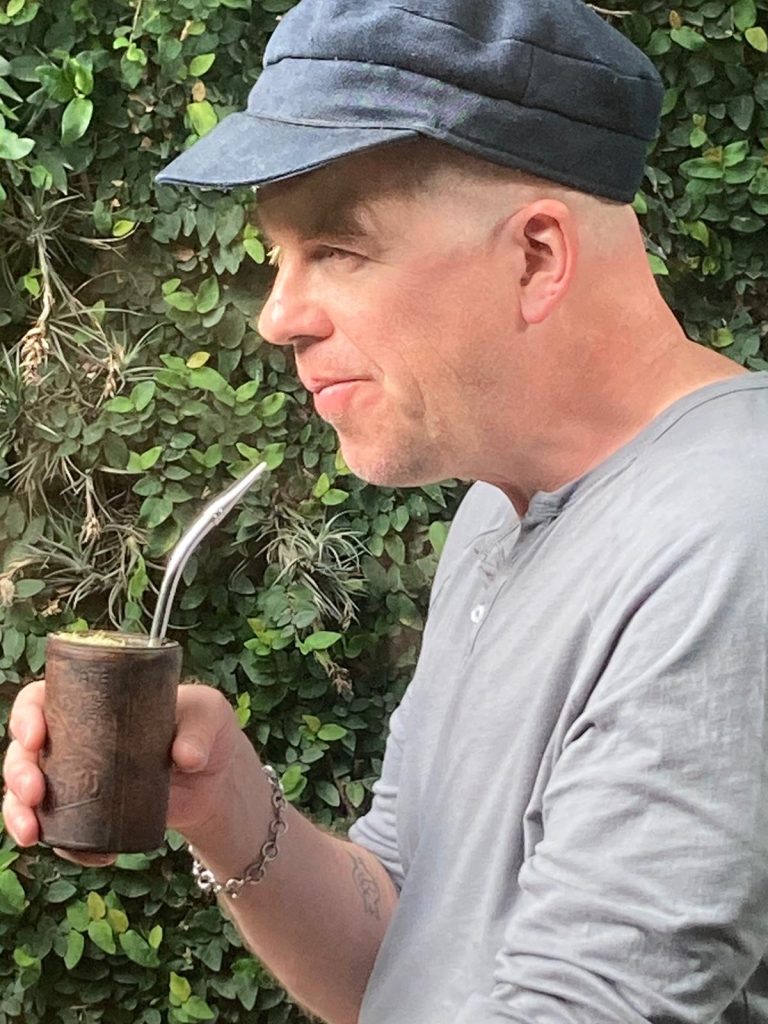 Sam Tracy began working as a bike mechanic in 1993 at Wheel and Sprocket in Milwaukee. After taking a BA in Political Science from the University of Wisconsin he moved to Arcata, CA to serve as Managing Editor for the Auto-Free Times, a small nonprofit magazine. San Francisco's Black Kettle Graphics published How to Rock and Roll: A City Rider's Repair Manual, his first bicycle repair manual, in 2001.
Returning to the midwest in the years just before bike share systems, Tracy spent four years running local fixture Calhoun Rentals in Minneapolis, a job that demanded a real commitment to identifying and using safe and effective low-cost repair techniques. Over the winters he also fixed bikes at Calhoun Cycles (now Perennial Cycles), then a recumbent specialty shop, where he immersed himself in the lively and experimental DIY frame-building culture for which the 'bent riders are known.
Tracy later moved to San Francisco, finding work at the Freewheel. His second book, Bicycle! A Repair Maintenance Manifesto, was published by Speck Press (CO) in 2006, the same year he married Kerri Spindler-Ranta. Speck went on to publish Roadside Bicycle Repair: A Pocket Manifesto two years later when Tracy was working for HomeStart Inc., a non-profit dedicated to ending homelessness in the Boston area.
Sam and Kerri then joined the Peace Corps, serving together in the Islamic Republic of Mauritania. Tracy's first and third books are out of print. PM Press released a new edition of his Manifesto in 2013. The pair have in recent years cycled through Riga, Latvia; Georgetown, Guyana; Washington, D.C., Pretoria, South Africa; and Montevideo, Uruguay — a journey lately brightened by their son Atticus, now aged 10.
---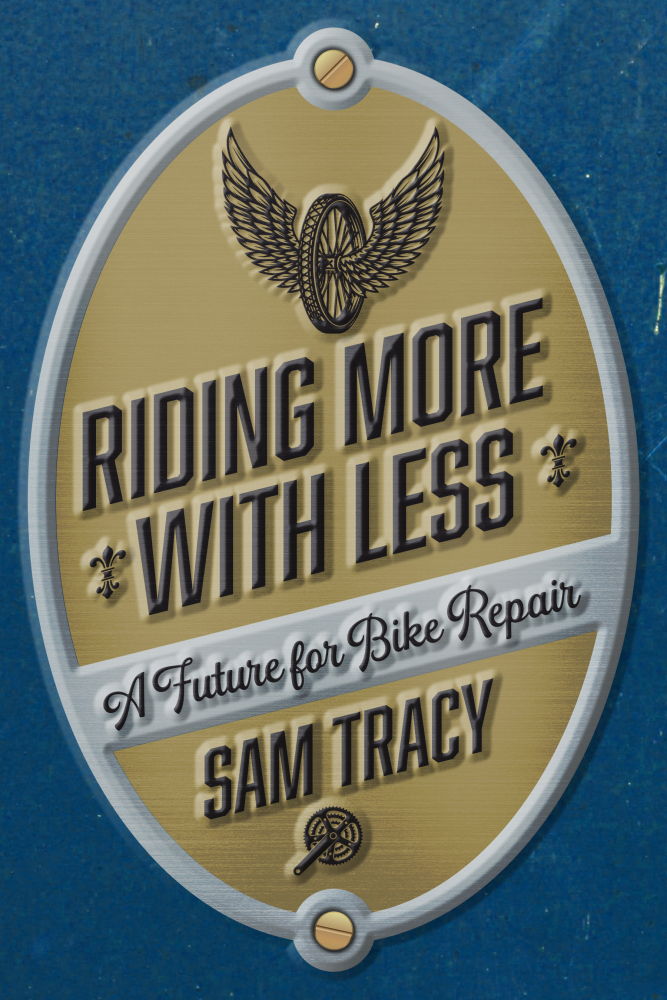 Riding More with Less: A Future for Bike Repair
SKU: 9798887440224
Author: Sam Tracy
Series: PM Press
ISBN: 9798887440224
Published: 01/23/2024
Format: Paperback
Size: 6 x 9
Pages: 352
Subjects: Transportation: Bicycles / Personal & Practical Guides
Praise
"What other maintenance manual observes 'the biggest barriers to riding bikes are capitalism, classism, sexism, and racism'? If your bicycle lies somewhere between the Tour de France and the local landfill, this book is for you. Seasoned wrench and rider Sam Tracy combines decades of personal experience with input from dedicated community bike shops thriving on low-cost or no-cost repairs. Even as bicycle transportation remains undervalued, cycling generates a sense of freedom that is hard to replicate yet begs to be shared. Some maintenance required."
—Craig O'Hara, Bike Den, State College, PA
For Bicycle! A Repair & Maintenance Manifesto (PM Press, 2013)
"Tracy's second edition boasts five years' worth of additional hands-on experience since his first, gained during his bicycling pursuits around the globe. He writes in a humorous, unintimidating tone, e.g., saying of bike frame creaks, 'they exist to mock us.' Maintenance, repair, and selecting the right type of bike are all covered, and, from headsets to wheels and brakes to drive trains, the mechanics are discussed. Additional helpful chapters include 'Winter Riding,' 'Boxing Bikes,' and 'Scavenging, Rust, and Security.' From seasoned bike builders to novice bike riders, everyone will find something of value in this manifesto. VERDICT: A smart buy for any library serving a bike culture."
—Library Journal
"Keeping a bike running can be done with anyone with a little ambition and know how. Bicycle! A Repair & Maintenance Manifesto is an educational manual from Sam Tracy, who advises readers on how to keep their bikes rolling for years to come, even when improvising on the go. With additional thoughts on those who want to build their own bikes, fighting rust, safety and security, and much more, Bicycle! is a fine addition to any collection focusing on practical bicycling wisdom."
—Midwest Book Review
"Sam isn't scared to tell you to use a hammer and duct tape when called for—this isn't the manual for those with plastic bikes and torque wrenches, this is more geared towards keeping your bike working in the real world, sometimes with scavenged parts, sometimes by forcing the issue to keep the wheels rolling. This book is more about low-cost and no-cost repairs than upgrades and weighing your bike. Make no mistake, Sam is an accomplished mechanic and his tech advice is spot on. An ideal book for novice mechanics put off by the tech jargon of other tech manuals, experienced wrenches will also find solid advice from his experience working in bicycle co-ops and in the less-than-ideal conditions of Mauritania."
—Urban Velo
"Sam Tracy, a bike mechanic and former bike messenger, also wrote Roadside Bicycle Repair: A Pocket Manifesto and How to Rock and Roll: A City Rider's Repair Manual. This third book in Tracy's bike-care trilogy has been updated to include low-cost and no-cost solutions he learned during his Peace Corps stint in Mauritania. It's geared toward people who are seriously into their bikes. Owning it is like having a bike mechanic to chat with while you undertake repairs yourself."
—Carbusters
"Lots of examples from the less sophisticated end of the spectrum of machines … Equally, Sam's at home with light-weight carbon and has plenty to say about that."
—Seven Day Cyclist
---
Bicycle! A Repair & Maintenance Manifesto, 2nd Edition
SKU: 9781604866407
Author: Sam Tracy
Publisher: PM Press
ISBN: 9781604866407
Published: 2/2013
Format: Paperback
Size: 10 x 7
Page count: 256
Subjects: Cycling/Transportation
About
Bicycle! written by a long-time bicycle mechanic, covers everything you need to know to feed and care for your ride. This book cuts through the obtuse techno-speak and delivers maintenance clarity with a touch of humor and radicalism, while categorically denying mechanistry's supposed dreariness. Bicycle! is about encouraging society to learn for themselves how to make their bikes work, not because they have to, but because they want to.
---
Book Events
---
Reviews
---
Interviews
---
Mentions
---
Blog