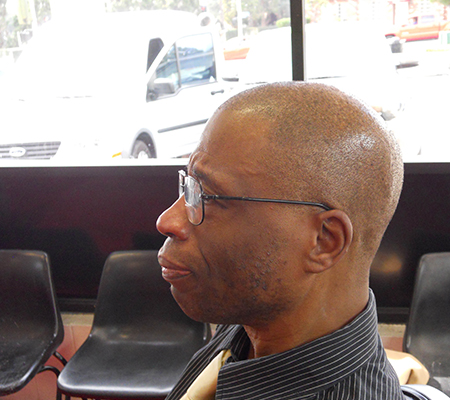 Born in 1962 in Mineola, N.Y. Milton Knight started drawing, painting, creating my own attempts at comic books and animation at age two. Always enthused about drawing and creating characters, so much that it became a life force.
I've never formed a barrier between fine art and cartooning. The art of expression was always the most important one to me, and growing up, I treasured Chinese watercolors, old poster art, Charlie Brown and Terrytoons equally. My very young childhood was during the era of "pop art", when fine artists were freely inspired by comics and other popular culture; I remember being captivated by these works during trips to museums and galleries in New York. Graduated from BOCES Cultural Arts Center (Syosset, N.Y.),then took classes in art at Hofstra and School of Visual Arts while beginning a freelance career.
Wrote and drew comic books and comic strips, illustrated, designed record covers, posters, candy and T-shirts, and exhibited paintings. My work has appeared in Heavy Metal, High Times, National Lampoon and Nickelodeon Magazine, and my comics titles include Hugo, Midnite the Rebel Skunk and Slug and Ginger. Came to the West Coast in 1991, working in animation as a designer, animator, and breaking in as a director on Felix the Cat.
My first Zora Neale Hurston adaptation, "Filling Station", appears in African American Classics from Eureka Productions (for whom I have been adapting the work of classic authors since 2002). I also continue work on a stream of independent projects; animation, writing, more comics.
My interest in every type of art I make is not in recapturing or approximating reality, but in creating new forms and abstractions and giving them their own unique life.

miltonknight.blogspot.com | miltonknight.net
---
The Young C.L.R. James: A Graphic Novelette
SKU: 9781629635149
Illustrated: Milton Knight • Edited by Paul Buhle and Lawrence Ware
Publisher: PM Press
ISBN: 9781629635149
Published: 4/2018
Format: Pamphlet, mobi, ePub, PDF
Size: 5.5 x 8.5
Page count: 48
Subjects: Comics-Biography/Black Studies
About
This unique comic by Milton Knight illuminates the early years of C.L.R. James (1901–1989), known in much later years as the "last great Pan-Africanist." The son of a provincial school administrator in British-governed Trinidad, James disappointed his family by embracing the culture and passions of the colonial underclass, Carnival and cricket. He joined the literary avant-garde of the island before leaving for Britain. In the UK, James swiftly became a beloved cricket journalist, playwright for his close friend Paul Robeson, and a pathbreaking scholar of black history with The Black Jacobins (1938), the first history of the Haitian revolt.
---
Book Events
---
Reviews
---
Interviews
---
Mentions
---
Blog