Michael Zweig is emeritus professor of economics and founding director of the
Center for Study of Working Class Life at the State University of New York at Stony Brook, where he received the SUNY Chancellor's Award for Excellence in Teaching.

His earlier books include The Working Class Majority: America's Best Kept Secret (Cornell University Press, 2000; 2nd edition 2012); What's Class Got to Do with It? American Society in the Twenty-first Century, Ed. (Cornell University Press, 2004); and Religion and Economic Justice, Ed. (Temple University Press, 1991).

Professor Zweig received his PhD in economics from the University of Michigan where he was a founding member of Students for a Democratic Society (SDS) and also helped found the Union for Radical Political Economics (URPE). He remains active in his union, United University Professions (Local 2190, American Federation of Teachers, AFL-CIO) and was a national co-convener of US Labor Against the War. In 2014 he received the Working Class Studies Association award for lifetime contributions to the field of working class studies.

Michael Zweig lives with his wife in New York City and on the North Fork of eastern Long Island, where for more than thirty years he has been a volunteer with the Southold Fire Department.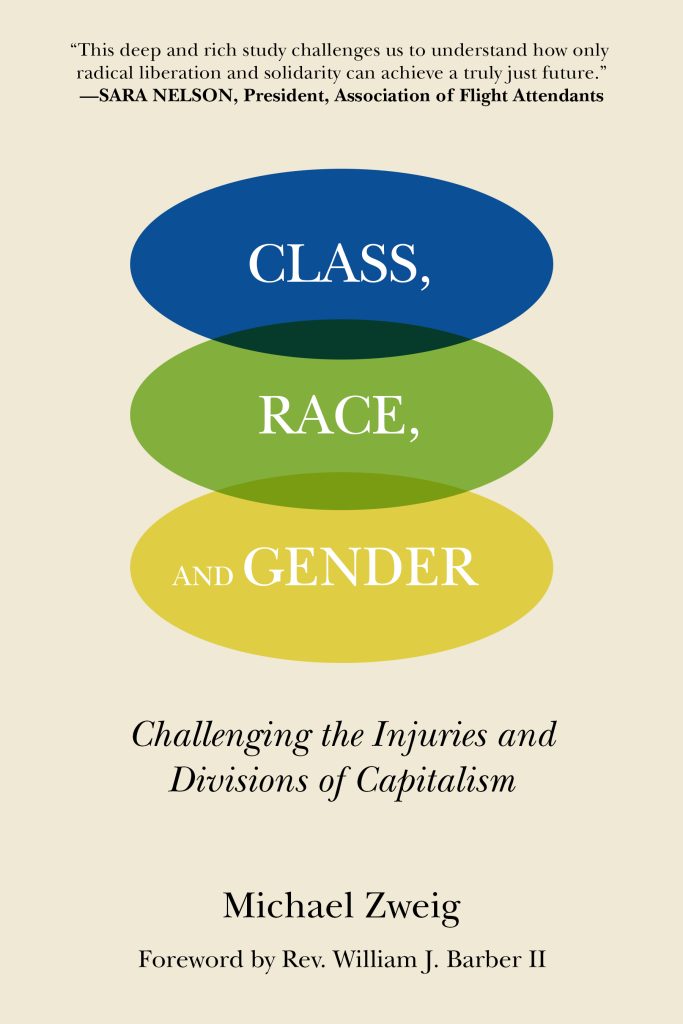 Class, Race, and Gender: Challenging the Injuries and Divisions of Capitalism
SKU: 9798887440125
Author: Michael Zweig • Foreword by Rev. William J. Barber, II
Series: PM Press
ISBN: 9798887440125
Published: 11/28/2023
Format: Paperback
Size: 6 x 9
Pages: 288
Subjects: Activism & Social Justice / Class & Labor
---
Advance Praise for Class, Race, and Gender

"In this deep and rich study, Michael Zweig shows how the capital class maintains power by seeding and exploiting division along lines of race, gender, nationality, religion and belief. In examining movements of the past and present, this work challenges us to understand how only radical liberation and solidarity can help us overcome the forces that treat us as "human capital stock" to achieve a truly just future."
—Sara Nelson, President, Association of Flight Attendants, Communications Workers of America

"Michael Zweig has produced an important educational resource for young labor, racial justice, and environmental activists by providing a clearly written, well documented account of the economic, political, and historical forces driving social events. His explanation of the interrelationships of class and race is especially welcome."
—Bill Fletcher, Jr, past president, TransAfrica; former education director of the AFL-CIO; consultant to union and racial justice strategic campaigns; Co-author of Solidarity Divided: The Crisis in Organized Labor and A New Path Toward Social Justice

"A new wave of activists against inequality, racism, patriarchy, environmental destruction, and homophobia is arising in America. But when mainstream economics informs these struggles, the cupboard is often bare, the issues seen, if at all, as exceptions. Michael Zweig presents the problems as parts of a whole that recognizes the centrality of the productive system and the reality of social class. Folks across the progressive spectrum should read this book."
—Everett Ehrlich, U.S. Under Secretary of Commerce for Economic Affairs (1994-1997)

"Class, Race, and Gender: Challenging the Injuries and Divisions of Capitalism is an excellent primer for new and young activists. It makes difficult concepts accessible and will be a great addition to the body of information available to folks trying to make sense of the world we live in and how they can change it."
—Roz Pelles, Senior Strategic Advisor to the Poor People's Campaign: A National Call for a Moral Revival and Vice President of Repairers of the Breach

"Class, Race, and Gender: Challenging the Injuries and Divisions of Capitalism addresses fundamental questions that have emerged front and center at this historic moment as thousands of young activists are constructing strategies to dramatically reshape our world. Michael Zweig's personal touch and extensive research combine with his decades of experience to produce an accessible and engaging reference book for radical social transformation."
—Gene Bruskin, strategic consultant to union campaigns

"This book has an accessible narrative style that will make it a valuable resource for movement makers. The book speaks to a need for intergenerational learning amongst the Left. It will go a long way as a very useful primer for grounding young activists."
—Heidi Hoechst, Education Lead – National Nurses United

"Michael Zweig brings decades of social struggle and teaching experiences to his remarkable book Class, Race, and Gender: Challenging the Injuries and Divisions of Capitalism. This is a work that distills rich lessons from the past so that new generations can go forward and carry on the struggle for democratic socialism."
—Peter Olney, Retired Organizing Director, International Longshore and Warehouse Union (ILWU)
---
Past praise for Michael Zweig's books

"Zweig's investigation [in The Working Class Majority] of politics goes beyond the electoral, focusing instead on how a broad working-class social movement (often in alliance with segments of the middle class) could reshape workplace and community power relations as well as national politics."
—The Nation

"What's Class Got to Do with It? promotes the study of working class life, an approach that is broader than labor studies, which tends to focus on unions. The book encompasses a number of important debates and discussions around issues of class – notably the impact of race, gender, globalization, and youth – and is unique in the breadth of the issues and problems addressed."
—Kim Moody, founder and long-time director of Labor Notes and author of An Injury to All and Workers in a Lean World

"This collection sheds new light on the challenges faced by the working class today, often from an activist perspective. The essays help us make sense of current conditions, ranging from declining living standards to changing race relations and new forms of organizing. What's Class Got to Do with It? is a useful tool for those interested in understanding the changing face of class in contemporary American society."
—Michele Lamont, Professor of Sociology and African-American Studies, Harvard University and author of The Dignity of Working Men: Morality and the Boundaries of Race, Class, and Immigrations

"Religion and Economic Justice seeks to effect a junction between religiously based and Marxist critiques of the present economy and represents usefully a significant strand of critical thought."
—Kenneth Arrow, Nobel Laureate in Economics, Stanford University

"[Religion and Economic Justice is] a superb book, containing some of the best work of highly distinguished figures in economics, religious ethics, and biblical studies. The very fact of Norman Gottwald, Gregory Baum, Michael Lerner, and the Bowles-Gintis duo together in one book is a formidable feat by Michael Zweig. His introduction sets a crucial framework for the book…. This book is timely, diverse yet coherent, excellent, and engaging."
—Cornel West, Union Theological Seminary

"What is best about the book [Religion and Economic Justice] is its focus on new developments between theology and economic life and its fresh thoughts on the changes in theory and policy that we need."
—Beverly Harrison, Union Theological Seminary

"You're one of my heroes, Mike. You still believe in the fight."
—Bill Moyers, veteran journalist and television interview host [April 26, 2010 email after fourth appearance on his show]

---
Book Events
---
Reviews
---
Interviews
---
Mentions
---
Blog