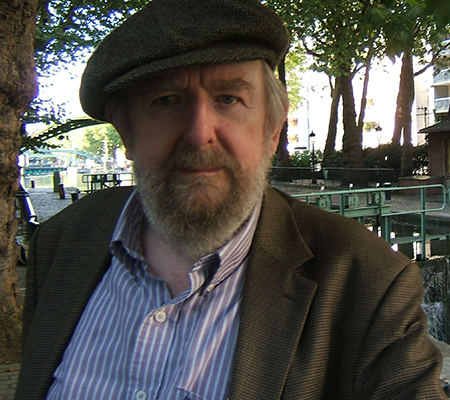 Voted by the London Times one of the best fifty writers since 1945, Michael Moorcock was shortlisted with Salman Rushdie and Bruce Chatwynd for the Whitbread Prize (Mother London) and won the Guardian Fiction Prize for The Condition of Muzak. He has won almost all major SF and Fantasy awards and several lifetime achievement awards including the 'Howie', the Prix Utopiales and the Stoker.

He received the BSFA award for his editorship of New Worlds magazine which blended genre and literary fiction, science and the arts. Best known in the USA for his rule-breaking SF and Fantasy, including the classic Elric and Hawkmoon series, Behold the Man, The Warlord of the Air, Gloriana and The Dancers at the End of Time, he is also the author of several graphic novels including Michael Moorcock's Multiverse and Elric: The Making of a Sorcerer. His political essay 'The Retreat from Liberty' predicted the manner of Margaret Thatcher's downfall.

He has written movies including the cult classic 'The Final Programme' and received a gold disc while with the British prog-rock band Hawkwind. Records with his own band The Deep Fix include The New Worlds Fair and The Brothel in Rosenstrasse (also a novel). He played on a variety of records including the Eno-produced Robert Calvert masterpiece Lucky Leif and the Longships. He wrote the novel accompanying the Sex Pistols movie The Great Rock 'n' Roll Swindle.

Moorcock's 'Colonel Pyat' quartet has been described as an authentic masterpiece of the 20th and 21st centuries. He is currently working on a new album Live from the Terminal Café for the Spirits Burning label and a novel The Whispering Swarm, combining autobiography and fantasy. His journalism appears in The Spectator, The Guardian, The Financial Times and The L.A.Times. His latest novel is an SF comedy featuring Dr Who, The Coming of the Terraphiles.

Born in London, Moorcock now divides his time between Paris, France, and Austin, Texas. He is married to Linda Steele and has three children by his previous marriage.
---
Byzantium Endures: The First Volume of the Colonel Pyat Quartet
SKU: 9781604864915
Author: Michael Moorcock • Introduction by: Alan Wall
Publisher: PM Press
IBSN: 9781604864915
Published: 5/2012
Format: Paperback, ePub, mobi, PDF
Size: 9 x 6
Page count: 416
Subjects: Fiction
Praise
"What is extraordinary about this novel…is the largeness of the design. Moorcock has the bravura of a nineteeth-century novelist: he takes risks, he uses fiction as if it were a divining rod for the age's most significant concerns. Here, in Byzantium Endures, he has taken possession of the early twentieth century, of a strange, dead civilization and recast them in a form which is highly charged without ceasing to be credible." —Peter Ackroyd, Sunday Times
"A tour de force, and an extraordinary one. Mr. Moorcock has created in Pyatnitski a wholly sympathetic and highly complicated rogue… There is much vigorous action here, along with a depth and an intellectuality, and humor and color and wit as well." —The New Yorker
"Clearly the foundation on which a gigantic literary edifice will, in due course, be erected. While others build fictional molehills, Mr. Moorcock makes plans for great shimmering pyramids. But the footings of this particular edifice are intriguing and audacious enough to leave one hungry for more." —John Naughton, Listener
---
The Laughter of Carthage: The Second Volume of the Colonel Pyat Quartet
SKU: 9781604864922
Author: Michael Moorcock • Introduction by Alan Wall
Publisher: PM Press
ISBN: 9781604864922
Published: 9/2012
Format: Paperback, ePub, mobi, PDF
Size: 6 x 9
Page count: 552
Subjects: Fiction
Praise
"Michael Moorcock is an absolute wizard of a storyteller. I can think of no writer like him, not here, not America. He is a wonder…it is marvelous to meet a novelist who has the energy for the epic. It is not simply a case of energy, Mr. Moorcock is also a storyteller, an old-fashioned button-holing, nineteenth-century storyteller."
—Stanley Reynolds, Punch
"This is a rich, ambitious and erudite book.… If one purpose of fiction is to lead us into different worlds and, as Virginia Woolf says, to make of them 'some kind of whole,' then Michael Moorcock succeeds brilliantly."
—Carolyn Slaughter, The Guardian
"The Laughter of Carthage and its companion volumes will be seen…as an imaginative record of our own time rather than as a simple reconstruction of that which has gone."
—Peter Ackroyd, The Sunday Times
---
Jerusalem Commands: The Third Volume of the Colonel Pyat Quartet
SKU: 9781604864939
Author: Michael Moorcock • Introduction by Alan Wall
Publisher: PM Press
ISBN: 9781604864939
Published: 6/2013
Format: Paperback, ePub, mobi, PDF
Size: 6 x 9
Page count: 496
Subjects: Fiction
Praise
"Ostensibly, Pyat's voyages from California to Casablanca and Cairo are those of any picaresque hero, plunging into adventure, danger and miraculous escape, without any purpose except the next step of the journey. But it is also a journey through the prejudices of the 1920s, from the subliminal racism of the British empire and the suppressed antisemitism of Hollywood to the dawning supermanship of fascism."
—Andro Linklater, Sunday Times (UK)
"There is a feast in store for those who have never been dazzled and disturbed by Michael Moorcock's eye for the absurd and gift for fantasy, and confirmation for those familiar with his work, that he is one of the most original authors of our time."
—Sunday Telegraph (UK)
"Moorcock's powers of description—especially when focused on the sights and smells of megalopoli—and his range of references are immense."
—Mark Sanderson, Times Literary Supplement
"Few novelists have risen above the orthodox categories of fiction to produce something as expansive and elaborate as this."
—Peter Ackroyd, Sunday Times (UK)
"New adventures both picaresque and grotesque take [Pyat] across bootlegging America, like a hobo, to Hollywood as actor, writer and set-designer; to Egypt with various film-making eccentrics, only to end up enacting scenes of lurid degradation for a powerful pervert… Such escapades are Hollywood and schoolboy fantasy seen through the eyes of a talented inventor who is also a bigoted racist, egoist and abuser of women. Moorcock shows us through this remarkable but odious bore that fascistic attitudes are not as far removed from some forms of popular fiction and fantasy as we might prefer to think."
—Robert O'Brien, Time Out London
---
The Vengeance of Rome: The Fourth Volume of the Colonel Pyat Quartet
SKU: 9781604864946
Author: Michael Moorcock • Introduction by Alan Wall
Publisher: PM Press
ISBN: 9781604864946
Published: 8/2013
Format: Paperback, ePub, mobi, PDF
Size: 6 x 9
Page count: 608
Subjects: Fiction
Praise
"The Vengeance of Rome comes along to remind us of what we have been missing: the dynamism of a nineteenth-century master operating with all of the darts and shuffles of our electronic, amnesiac, fast-twitch culture." —Iain Sinclair, The Spectator
"Not for Moorcock the painful, infrequent excretion of dry little novels like so many rabbit pellets; his is the grand, messy flux itself, in all its heroic vulgarity, its unquenchable optimism, its enthusiasm for the inexhaustible variousness of things. Posterity will certainly give him that due place in the English literature of the late twentieth century which his more anaemic contemporaries grudge; indeed he is so prolific it will probably look as though he has written most of it anyway." —Angela Carter, Guardian
"A wonderfully vivid evocation of Europe in its darkest hour." —Mail on Sunday
"A final, breath-stopping moment of deeply ironic self-delusion at the end of a grandiose, beautifully modulated quartet." —Scotland on Sunday
"Of Moorcock's characters…it is Colonel Pyat who is the richest, the deepest, the most complex, and who casts the strongest and most penetrating light on the century we erroneously believe we have left behind." —Charles Shaar Murray, Independent
---
Modem Times 2.0
SKU: 9781604863086
Author: Michael Moorcock
Publisher: PM Press / Outspoken Author Series
ISBN: 9781604863086
Published: 1/2011
Format: Paperback, ePub, mobi, PDF
Page count: 128
Size: 5.5 x 7.5
Subjects: Fiction
Praise
"Moorcock's writing is top-notch."
—Publishers Weekly
"A major novelist of enormous ambition."
—Washington Post
"Moorcock is a throwback to such outsized 19th-century novelistic talents as Dickens and Tolstoy."
—Locus
---
London Peculiar and Other Nonfiction
SKU: 9781604864908
Author: Michael Moorcock • Edited by: Michael Moorcock and Allan Kausch • Introduction by Iain Sinclair
Publisher: PM Press
ISBN: 9781604864908
Published: 3/2012
Format: Paperback, ePub, mobi, PDF
Size: 6 x 9
Page count: 400
Subjects: Literary Collection, Current Affairs
Praise
"Moorcock's reviews and critical essays seem to me exemplary. They are never routine, never obligatory, never tired. They seem to me to be models of what a creative writer should do when producing critical prose. His writing here is always a conversation, never a monologue…we feel lucky to be listening in." —Alan Wall, writer, poet, and professor of writing and literature at the University of Chester, UK.
"London Peculiar is the first full sampling of Moorcock's most important and imperishable musings on subjects both vast and various: movies and music, science and politics, the old days at New Worlds, from Philip K. Dick to R. Crumb, classics from Huxley to Pynchon, and tasty tidbits from the Tea Party to Texas barbecue. Gleaned from a full half century of opinion and outcry, London Peculiar is the work of a man of letters in the grand tradition of Orwell and Dr. Johnson. It's Old School and it's all you need to know about Tomorrow." —Terry Bisson, Hugo and Nebula award-winning novelist
"Moorcock is elegant and aggressive, consistently entertaining, and frequently wise and generous." —Lewis Jones, Spectator (UK) on Into the Media Web
"These non-genre-related pieces add up to a far more complex and fascinating portrait of Moorcock as a writer and a 'post-war culture-ruffian' as Alan Moore describes him…and lend…a deep texture that makes for fascinating reading." —Gary K. Wolfe, Locus on Into the Media Web
"Moorcock's writing is top-notch." —Publishers Weekly
---
Send My Love and a Molotov Cocktail!: Stories of Crime, Love and Rebellion
SKU: 9781604860962
Editors: Gary Phillips and Andrea Gibbons
Publisher: PM Press
ISBN: 9781604860962
Published: 10/2011
Format: Paperback, ePub, mobi, PDF
Size: 5.5 x 8
Page count: 360
Subjects: Fiction Anthology
About
An incendiary mixture of genres and voices, this collection of short stories compiles a unique set of work that revolves around riots, revolts, and revolution. From the turbulent days of unionism in the streets of New York City during the Great Depression to a group of old women who meet at their local café to plan a radical act that will change the world forever, these original and once out-of-print stories capture the various ways people rise up to challenge the status quo and change up the relationships of power. Ideal for any fan of noir, science fiction, and revolution and mayhem, this collection includes works from Sara Paretsky, Paco Ignacio Taibo II, Cory Doctorow, Kim Stanley Robinson, and Summer Brenner.
---
Book Events
---
Reviews
---
Interviews
---
Mentions
---
Blog