By Jeremy Brecher
Oct 21
Almost by definition Green New Deal projects simultaneously address climate protection, worker empowerment, and justice. This Commentary will look at Green New Deal projects and networks that emerged from discriminated-against communities and put issues of justice front and center.
While the Green New Deal is often thought of as a program for climate and jobs, justice has been a central element from its very beginning. The initial Green New Deal resolution proposed by Alexandria Ocasio-Cortez included as a core aim to "promote justice and equity by preventing current and repairing historic oppression to frontline communities." That included:
providing resources, training, and high-quality education, including higher education, to all members of our society, with a focus on frontline communities, so they may be full and equal participants in Green New Deal projects;
directing investments to spur economic development, as well as deepen and diversify industry in local and regional economies and build wealth and community ownership, prioritizing high-quality job creation and economic, social, and environmental benefits in frontline communities and deindustrialized communities that may otherwise struggle with the transition;
ensuring democratic and participatory processes that are inclusive of and led by frontline communities and workers to plan, implement and administer Green New Deal projects at the local level;
obtaining the voluntary, prior, and informed consent of Indigenous peoples for all decisions that affect them, honoring all treaties with Indigenous peoples, and protecting and enforcing the sovereignty and land rights of all Indigenous peoples.[1]
While much of the Green New Deal program has been stymied at the national level, communities, cities, and states have been going ahead to develop their own Green New Deals – what I have called in this series of Commentaries the "Green New Deal from Below." Typically they involve a strong emphasis on the justice objectives of the Green New Deal. For example:
The Boston Green New Deal launched PowerCorps BOS, a green jobs program designed to serve "the dual purpose of creating job opportunities for our young adults" while "protecting our city from the ravages of climate change and enhancing quality of life for all residents."
The Los Angeles City Council passed an ordinance requiring new buildings to be all-electric. Gloria Medina, executive director of SCOPE LA, said this ordinance is "about Black, Brown and Indigenous community members at the forefront. This is their win." Chelsea Kirk, policy analyst at Strategic Actions for a Just Economy, said, "We think this is a super important, logical first step that allows us to make progress in our net-zero carbon goals as outlined in the Green New Deal."
The Illinois Clean Jobs Coalition designed a participatory process called "Listen, Lead, Share" to write a climate, jobs and justice law "written by communities for communities." The Illinois Climate and Equitable Jobs Act, described by one journalist as a "Green New Deal for Illinois," includes a wide range of programs embodying Green New Deal justice programs. For example, it provided that the first fossil fuel plants to be shut down will be those nearest to low-income and marginalized communities; $80 million allocated for Clean Jobs Workforce Network Hubs run by local organizations in 13 of the state's low-income communities to deliver outreach, recruitment, training, and placement for climate jobs; travel stipends, work clothes, tools, and/or childcare for training and incubator program participants; program to train people currently in prison and place them in clean energy jobs; and a Clean Energy Jobs and Justice Fund to pay for projects in low-income and marginalized communities.
While virtually all Green New Deal from Below-style programs include a strong social justice component, some of them have emerged from and primarily represent the demands of people of color and frontline communities. They are the subject of this Commentary.
The Sun Also Rises at Sunset Park
Volunteers inside St. Jacobis Church working with Occupy Sandy's relief efforts. | Is Occupy Wall Street Outperforming the Red Cross in Hurricane Relief? by Katherine Goldstein, The Slate
On October 29, 2009, Superstorm Sandy devasted poor, low-lying neighborhoods of New York City. As official relief agencies like FEMA and the Red Cross floundered, a citywide network of mutual aid volunteers mobilized through Occupy Wall Street.[2] Calling itself Occupy Sandy Relief, hundreds of volunteers quickly improvised system of assistance for people in hard-hit neighborhoods who were being neglected by conventional aid efforts. I visited the aging St. Jacobi church in the Sunset Park neighborhood of South Brooklyn where thousands of pounds of donated clothes, heaters, and generators were being loaded up in cars to be taken out to the Rockaways, Staten Island, and hard hit locations.[3]
A few weeks later I was invited to take part in a small discussion in Sunset Park about how to head off the city's plan to use the disaster to pursue massive development that would displace the people of the neighborhood, and how instead to develop and promote reconstruction plans that emerged from the neighborhood and represented its interests. Two months after Sandy, a community organization named UPROSE convened a meeting in Sunset Park to engage with community members about their experiences during and after the storm. Sharing stories of neighbors helping neighbors led participants to declare, "We are the First Responders!" They began to come up with community resiliency strategies and to identify opportunities for climate adaptation projects in their own homes and neighborhood blocks. The meeting asked UPROSE to put their ideas into a plan for action. The result was the Sunset Park Climate Justice Center.[4]
Uprose had started in 1966 as a service agency, the United Puerto Rican Organization of Sunset Park, but later changed its name and its focus to grassroots community organizing to empower the predominantly low-income Latinx and Asian residents to fight for neighborhood development that benefits local people. It campaigned against lead paint, fought an expansion of the Gowanus Expressway, and helped kill a proposal to build a massive power plant on a floating barge off Sunset Park. Uprose engaged in constructive initiatives as well. When Sunset Park residents dreamed of a waterside park, UPROSE helped organize a campaign that resulted in 2014 in turning a contaminated brownfield and illegal dumping ground into the Bush Terminal Piers Park. The park features a bike path, soccer field, bird sanctuary, and benches for viewing the water. Sunset Park youth helped design the park.
The new Sunset Park Climate Justice Center had as its goals:
To build the capacity of Sunset Park's indigenous leaders and local businesses to effectively respond to future severe weather events, coordinate the allocation of community resources, and mitigate the impacts of future severe weather, including the possible release of harmful chemicals; such capacity will enable the community to care for itself and to enter the future not as passive victim, but as active designer and agent.
To engage community members and local businesses in leadership development and in a block-by-block, building-by-building assessment, mapping and relationship–building process to create, implement and manage a truly grassroots-led climate adaptation and community resiliency plan.
To develop the tools and partnerships needed to transition the Sunset Park Industrial area from a traditional 20th Century industrial operations model into a 21st Century climate resilient and sustainable industrial area adapted to climate change; such a transition will ensure the long term availability of business development and employment opportunities for NYC's largest walk-to-work community, Sunset Park.
To engage community residents and local businesses in the public processes (land use planning, infrastructure design, permitting, etc.) required to adapt the community's infrastructure to climate change.
The Center began addressing community environmental needs through self-help. Activists began speaking to neighbors and landlords about painting rooftops white to reduce heat buildup; building a storm-water collection system to reduce water usage and create a backup in case the water supply is cut off; and testing the suitability of backyard soil for small urban farms. They talked with local businesses ranging from auto shops (the community's biggest industry) to taco and dumpling vendors. Neighborhood meetings asked the Center to set up a system of "block captains" to prepare for future disasters.
UPROSE and the Center ultimately wanted the community to have a voice in the larger decisions affecting it. "You've got an industrial sector that really protected us and kept this a working-class community," said Elizabeth Yeampierre, long-time Executive Director of UPROSE. The community had previously pushed without success to convert its deteriorating waterfront into a green, sustainable port. It would be energy efficient, sensitive to local ecology, a source of permanent jobs, and designed to manage floods — in effect a local Green New Deal. Developers had instead built Industrial City, an upscale 16-building luxury complex. Then developers tried to rezone the area to allow further expansion, displacing longtime residents and driving up rents. UPROSE packed public meetings, held rallies, and lobbied local elected officials. Ultimately the developer withdrew the plan.
In 2018 UPROSE launched Sunset Park Solar, New York City's first community-owned solar cooperative. Partners include the state government agency NYC Economic Development Corporation, woman-owned solar installer 770 Electric, and consumer-owned cooperative Co-op Power. The solar collectors are installed on the roof of the Brooklyn Army Terminal. They are collectively owned by all energy users who subscribe. It will serve 200 low-income residents.
Meanwhile, UPROSE developed a plan for a South Brooklyn offshore wind assembly and maintenance hub. It sought to preserve the "working waterfront" and create jobs in clean energy manufacturing, part of its vision for a Green Resilient Industrial District, or GRID. Yeampierre says, "We can start using the industrial sector to build for the climate future, for adaptation, mitigation, and resilience.
It's finally happening: In January 2023 the state of New York selected the South Brooklyn Marine Terminal in Sunset Park for a wind turbine assembly and maintenance hub to service Northeast offshore wind projects. Equinor Wind U.S., a key contractor, said the port upgrades will provide 1500 short-term and 500 long-term jobs locally. It will contract with minority- and women-owned business enterprises for at least 30% of its supply chain needs. It will also invest $5 million in an "ecosystem fund" that the city says will "bring more New York City residents into offshore wind careers, propel offshore wind innovation, and support a just transition." Elizabeth Yeampierre, longtime executive director of UPROSE, said, "This community vision of taking the industrial waterfront so that it could start building for climate adaptation, mitigation and resilience is not new. These are victories that don't happen overnight."[5]
The Blue New Deal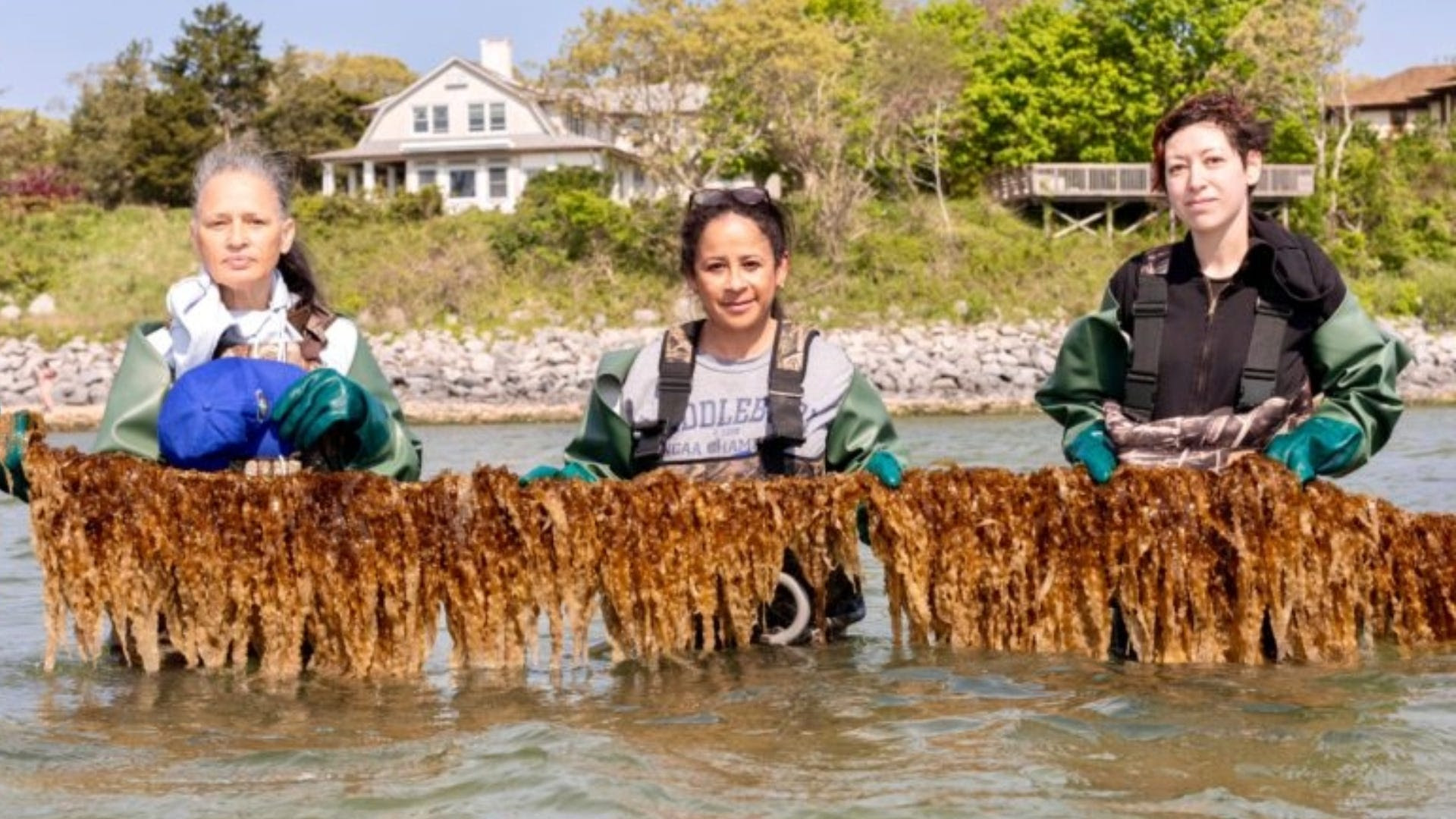 Can Kelp Farming Bring Back Shinnecock Bay? An Indigenous-run business is using regenerative ocean farming to clean up the bay and create local jobs. Photo credit: Credit: Cameron Peter. Read article >>
The Shinnecock people have lived on New York's Long Island since the end of the last Ice Age more than 10,000 years ago. In 1640, colonial settlers signed agreements recognizing Shinnecock rights, including their right to harvest seaweed in the waters adjoining their territory. Seaweed was an important part of the Shinnecock economy, used for insulation, medicine, and fertilizer.
Shinnecock tribal member and attorney Telga Troge helped research early law cases that recognized the Shinnecock's rights. After a long legal struggle, in 2010 the Shinnecock won federal recognition, based in part on their seaweed harvesting rights. Troge says that despite their legal rights, the New York State Department of Environment Conservation is notorious for still harassing tribal members who go out fishing. Troge describes how on one side of Shinnecock Hills, "you have billionaire's row where some of the wealthiest people in America have homes;" on the other side you have Shinnecock territory, where "60% of us are living in complete poverty."[6]
In 2019 a film about the Shinnecock's struggle for their rights caught the eye of staff members at GreenWave, a nonprofit that replicates "regenerative ocean farming" and trains and supports local communities around the world to start their own ocean farms. Part of GreenWave's mission is to ensure marginalized communities—including Indigenous peoples with close ties to the ocean—not only benefit from but lead in the burgeoning seaweed industry. GreenWave connected with Becky Genia, a Shinnecock elder and a central figure in the film, to see if any tribal members would be interested in starting a kelp farm.
Tela Troge says GreenWave's model "closely matched our skills, our expertise, our traditional ecological knowledge." She felt that "the act of cultivating seaweed" was "a really powerful way to assert our tribal sovereignty over the water." It also could help counteract the effect of excess nutrient runoff from wealthy nearby estates that was devastating their waters. "Kelp has an incredible ability to sequester carbon, which is one of the problems that we're facing here with ocean acidification. But sugar kelp also thrives on nitrogen, which is perfect because there is an excess of nitrogen in the water." She and five other indigenous women formed the Shinnecock Kelp Farmers, the first indigenous-owned seaweed farm on the East Coast, and with support from GreenWave and the neighboring Sisters of St. Joseph retreat built a seed nursery and began cultivating sugar kelp.
GreenWave was founded by Bren Smith, a long-time oysterman whose Thimble Island Ocean Farm lies off Branford CT, on the other side of Long Island Sound from the Shinnecock territory. After Smith's oystering operation was wiped out by Hurricane Irene and then again by Superstorm Sandy, he developed a system for lowering his lines into the sea when a storm approached, using a rope scaffolding hung from buoys and anchored to the seafloor. When he found his lines were frequently encrusted by mussels and seaweed, he decided to follow nature's example by growing a mix of seaweed and shellfish on his scaffolding – inventing what has come to be known as the polyculture regenerative ocean farming model.
Smith was impressed by the potential ecological benefits of vertical ocean farming. The oysters and other mollusks filtered massive amounts of nitrogen out of the water–including the fertilizer runoff from on-land farming. And the common seaweed called kelp can absorb five times more carbon than land-based plants and requires zero inputs–making it "the most sustainable form of food production on the planet." Smith recruited celebrity chefs and major institutional food buyers to start including kelp in their offerings.[7]
Although many investors saw profit opportunities in Smith's innovations and tried to capitalize on them, Smith had a different vision. His nonprofit GreenWave "open sourced" the farm design, so that anyone with a boat, 20 acres, and $20,000 can start their own farm. In her presidential campaign, Senator Elizabeth Warren introduced a Blue New Deal plan largely based on Smith's vision. Mayor Michelle Wu included the Blue New Deal as part of her Boston Green New Deal.
The six women of Shinnecock Kelp Farmers started by nurturing kelp from microscopic cells to young plants ready to transport into their farm. Then they waded out to attach them to the horizontal ropes of their farm. They waded out repeatedly to tend the lines even in the middle of winter. After a few months the kelp was ready for harvest.
The Shinnecock Kelp Farmers' "business model" is to be Indigenous-led "from seed to sale." While kelp can have many uses, they see their primary market as a "natural soil amendment," an eco-friendly alternative to conventional fertilizer that can be sold to farms, institutions, golf courses, college campuses, and anyone who is cultivating any type of plants.
The winter of 2022-3 marked the third growing season for the Shinnecock Kelp Farmers. They planted more than 15,000 feet of seeded kelp lines—more than 10 times the previous year.[8] Most of what they harvest will be dried and ground down into natural soil amendment. They have started talking with vineyards, golf courses, and landscaping companies about purchasing their product. One of the farmers noted, "We're always looking to target those large-scale polluters."
In the coming years, the farmers intend to scale-up their production by building a permanent, state-of-the-art nursery at the nearby retreat of the Sisters of St. Joseph's and increasing the number of sites where they farm in adjoining waters. As Troge and her colleagues plan ahead, they're also looking to bring on additional staff to help manage the harvests. They plan to hire from within the Shinnecock community. Troge says, "I'm just really excited about building up to the point to offer people living-wage jobs."
They hope to see wide-scale kelp farming in Long Island Sound that goes beyond Shinnecock. Troge says,
We can't do this alone. We are a collective of six intergenerational Indigenous women, and we're doing our part, but we need to build a huge network — a huge collective of kelp farmers. We need to get kelp into every single body of water. We need to meaningfully mitigate a lot of the damage that is happening, and we'll only be able to do that if we can get as much kelp into the water as possible. We have a lot of carbon to sequester and we have a whole lot of excess nitrates that we need to remove.
We need to stop the chemical fertilizers and septic systems seeping into the water. For this, the return of land to Indigenous people is really key. We're hoping that because of our rights, our experience and our traditional ecological knowledge, we can be a little bit ahead of the game and help provide seedlings to those who are interested — once the legislation catches up with the interests of those looking to clean up the water.
Shinnecock Kelp Farmers identifies "addressing the climate crisis" as a core objective. Tela Troge says, "We're constantly battling the threats of the climate crisis. We have been taught by our elders how to survive here, often with very little resources. We're taught how to think of the entire ecosystem anytime that we're taking action. Additionally, we're taught to think seven generations ahead." "It's "a lot of what drives us in educating and sharing our message, and hopefully getting others engaged in taking action to protect the water now."
What they've already done is having an impact. Within their first season, scallops, clams, sea horses and other species that have experienced precipitous declines in Shinnecock Bay have been sheltering in their kelp lines.
There is a striking convergence between the Shinnecock Kelp Farmers vision and that of GreenWave. In his book Eat Like a Fish Bren Smith lays out "principles of regenerative ocean agriculture" which could well serve as guidelines for a "Blue New Deal" which could be a key element of the Green New Deal from Below. Smith calls for a "circular" economy that coordinates different activities through decentralized networks rather than conventional corporate vertical integration. A key objective is to keep ocean farming affordable, especially for former fishermen, Native Americans, and others who have been excluded or extruded from mainstream employment. That means keeping the cost of entry low; limiting the number of acres any one entity can hold; and requiring living wages and employment open to all. Ocean farmers own their businesses, but the ocean remains a commons open for all to boat, fish, and swim.
For an embodiment of the principles of the Green New Deal – creating jobs and countering historic injustices by remediating the climate –Shinnecock Kelp Farmers would be hard to beat.
The Gulf South for a Green New Deal
Bette Billiot on why you won't find anywhere else like the Gulf South| Credit: Gulf South for a Green New Deal
In May 2019 more than 800 advocates, farmers, fisherfolk, and community leaders from the Gulf South states gathered in New Orleans to project a shared vision of regional sustainability in response to the global climate crisis. The result was the "Gulf South for a Green New Deal Policy Platform."[9]
The Policy Platform defined the Gulf South as the five states of Texas, Louisiana, Mississippi, Alabama, and Florida. Together they form the world's fifth largest economy. Mississippi, Louisiana, and Alabama have three of the five largest Black populations in the nation; the region includes the territory of more than ten Native American nations. The Gulf South provides three-quarters of the nation's oil and gas. The number of days over 100 degrees in the region is predicted to rise four-fold by 2050.
The Policy Platform endorsed the core elements of Representative Ocasio-Cortez and Senator Markey's Green New Deal legislation: We are in a climate emergency. Bold national action is necessary. The federal government has a moral obligation "to create a Green new Deal with the promise to create millions of new high paying jobs and counteract systemic injustices."
The Policy Platform emphasized the aspects of the Green New Deal that focus on issues of justice. The Green New Deal must "prioritize the needs and voices of those disproportionately impacted by our current social systems: Indigenous Peoples, communities of color, migrant communities, deindustrialized communities, depopulated rural communities, low-income workers, women, elderly, LGBTQ+ people, the unhoused, people with disabilities, youth, and people with criminal records." And it must "provide access to healthcare, affordable housing, public transportation, and economic security, education, worker rights, and ownership."
The Policy Platform laid out a series of "frontline values" to help shape a Green New Deal and repair historical injustices as part of climate protection, including:
Follow Indigenous and Frontline Leadership.
Their voices must be prioritized. Rights and treaties of tribal nations must be recognized.
Build Community Wealth and Health.
Green New Deal jobs must offer living wages and prioritize sustainable practices of farming, "remediating toxic soil and reforesting our degraded land," transitioning energy infrastructure to "renewables like Solar and Wind energy," and preparing vulnerable communities and land for a changing climate while caring for those in need.
Advance Community and Local Control.
Shift power "away from large corporations and to local communities." Communities must create and control their own wealth through affordable housing and sustainable homeownership, public control of natural resources, and renewable energy sources.
Use an Intersectional Approach.
Affordable housing, access to healthcare, land sovereignty, and economic justice are necessary elements of "climate resiliency." Eliminating policy barriers to formerly incarcerated, differently-abled, trans and queer people is "climate equity."
Value All Humans Equally.
Green New Deal mobilization must ensure the safety, dignity, and self-determination of all workers, and value non- workers – children, students, unemployed people, elders, and people with disabilities – as worthy of support.
The Gulf South for a Green New Deal has developed a unique structure to connect diverse issues and organizations. It has built state hubs that bring together existing state and local organizations to define state Green New Deal priorities and organize support for action to realize them:[10]
Florida:
The Florida Hub for Gulf South for Green New Deal raised and distributed over $700,000 in 2022 for more than a dozen groups all over the state, such as Lead Coalition of Bay County, La Mesa Boricua de Florida, Coalition of 100 Black Women, and Catalyst Miami.[11] Florida Student Power's "Power University" led an eight-week training for students on political education and participation in democratic processes. The Farmworkers' Association of Florida is advocating for farmworkers and their families with the Defending Immigrants' Rights Program. Catalyst Miami's Worker-Owned Enterprises Program is supporting the development of worker cooperatives. SMASH Miami established a Housing and Healing Justice Corps.
Alabama:
Energy Alabama launched the "Energy Freedom Campaign" to challenge the state's policies that have made it the lowest producer of renewable energy in the Southeast. Other groups organized to run candidates in local Public Service Commission elections to advocate for electric coops. The Alabama Rivers Alliance followed wastewater infrastructure money to hold the state accountable for getting it to the communities who need it most.
Mississippi:
Gulfport's EEECHO is organizing to resist the planned Drax and Enviva biomass facilities as false climate solutions. The Steps Coalition Housing Initiative is working to build affordable housing for Mississippi Gulf Coast residents. Sipp Culture's Community Farm is developing food sovereignty in Utica MS. Mississippi Rising Coalition's Hub City Mutual Aid Project is developing community gardens aimed at addressing food apartheid.
Louisiana:
The Louisiana Just Recovery Network is helping communities impacted by climate disasters to rebuild through the creation of well-paid jobs for local residents. Various member organizations are resisting the development of Carbon Capture and Sequestration (CCS) facilities across Louisiana. Others have developed solar and storage bills that are moving through the legislature. The Greater New Orleans Housing Alliance's #PutHousingFirst campaign is pushing for the implementation of the 10-Year HousingNOLA Plan.
Texas:
The Carrizo/Comecrudo Tribe of Texas is documenting and protecting sacred sites being impacted by the petrochemical buildout, such as Garcia Pasture. In Northeast Houston West Street Recovery is pressuring the state's General Land Office to stop discriminatory climate mitigation funding from hurricane Harvey. Southern Sector Rising is building a network of air monitors in North Texas called SharedAirDFW to provide Dallas and Fort Worth residents with access to real-time monitor data. Many groups, including PACAN and Society of Native Nations, are campaigning to block construction of Energy Transfer's Blue Marlin Pipeline off the coast of Port Arthur, TX.
Recognizing the common experience of the Gulf South and Appalachia as the objects of extraction and exploitation, a "Gulf to Appalachia People's Movement Assembly" process was recently initiated to form an alliance of the Gulf South for a Green New Deal and similar groups in Appalachia.
The original Green New Deal of the 1930s, while it provided substantial benefit to people of color, immigrants, and other disadvantaged groups, was notorious for implementing exclusionary racist policies in housing and other spheres that were demanded by federal legislators from the South. Today's Green New Deal, in contrast, was initiated in large part by people of color and other disadvantaged groups. Policies to challenge racial and other injustice are at its core, and frontline communities are central to the coalitions that have been implementing the Green New Deal from Below.
---
[1] H. Res. 109, 116th Congress, 1st session, "Recognizing the duty of the Federal Government to create a Green New Deal," https://www.congress.gov/116/bills/hres109/BILLS-116hres109ih.pdf
[2] "A Just Transition Doesn't Have to Be Top-Down," Grist FIX Solutions Lab, May 4, 2021. https://grist.org/fix/justice/uprose-brooklyn-just-transition-world-we-need-book/
[3] For a contemporary account see Katherine Goldstein, "Occupy Sandy: Hurricane relief being led by Occupy Wall Street," Slate, November 4, 2012.
https://slate.com/news-and-politics/2012/11/occupy-sandy-hurricane-relief-being-led-by-occupy-wall-street.html
[4] "Climate Justice – Uprose," https://www.uprose.org/climate-justice#
[5] Caspar Gajewski, "The South Brooklyn Marine Terminal Will Bring Jobs To Sunset Park," March 29, 2023. https://blogs.baruch.cuny.edu/locke2023/?p=545
[6] Iris Crawford, "Can Kelp Farming Bring Back Shinnecock Bay?" nexus media news, November 15, 2022. https://nexusmedianews.com/can-kelp-farm-save-shinnecock-bay/
[7] Bren Smith, Eat Like a Fish. See also Jeremy Brecher, "The Blue New Deal," Labor Network for Sustainability.
[8] Teresa Tomassoni, "A Sisterhood of the Sea," American Indian, Spring, 2023. https://www.americanindianmagazine.org/Shinnecock-kelp-farmers
[9] "Gulf South for a Green New Deal Policy Platform," 2019 Gulf Coast Center for Law and Policy, 2019.
https://www.gcclp.org/services-products The creation of the Gulf South for a Green New Deal Policy Platform was a six-month process anchored by the Gulf Coast Center for Law & Policy
which was subsequently renamed Taproot Earth
A Southern Communities for a Green New Deal grew out of the Gulf South for a Green New Deal with the goal of extending its approach to other states throughout the South. https://www.scen-us.org/scgnd
[10] "Gulf South for a Green New Deal 2022 Overview and Action Plan" https://www.gulfsouth4gnd.org/post/read-the-gs4gnd-action-plan-for-2022-and-beyond-here
[11] Gulf South for a Green New Deal, March 16, 2022. https://www.facebook.com/hashtag/floridagreennewdeal