By Jimmy Jordan
Ithaca Voice
January 17th, 2022
It's the season of change at Autumn Leaves and Angry Mom Records
ITHACA, N.Y.—With the start of the new year, Ithaca's sole remaining used bookstore has turned over a new leaf. In fact, every business in the building has.
The ownership of Autumn Leaves is now in the hands of PM Press, a small independent book publisher that specializes in radical literature, and Angry Mom Records — long housed in the basement beneath Autumn Leaves — has claimed the second floor of the building, where a wall has been knocked down and the long rows of vinyl records now sit.
Among the best partnerships in Ithaca's local business landscape, Angry Mom and Autumn Leaves are now set to build on the offerings that have made 115 East State Street a cultural hub in Ithaca.
PM Press founder Ramsey Kanaan said, by and large, the strategy with Autumn Leaves is to augment what the store already does well. "Fundamentally, we're enhancing and improving on what's already here rather than there being a radical — pun intended — shift in the contents."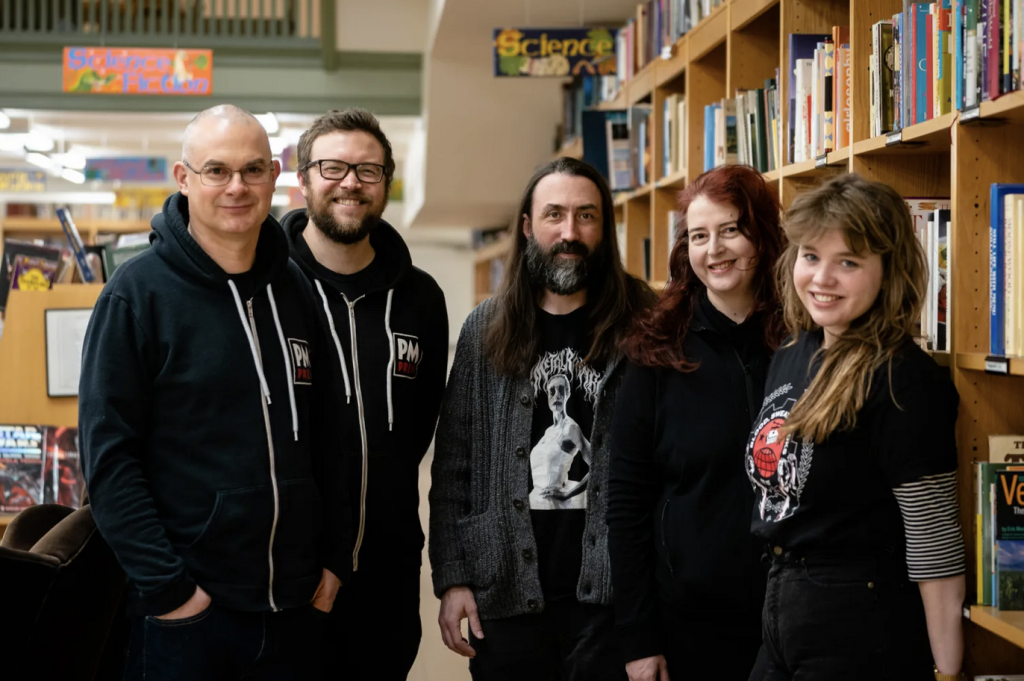 Sticking with what has worked for Autumn Leaves would seem to be a safe bet. The bookstore has been in business for about 20 years and, since its founding, has managed to outlast at least four other local used bookstores by the count of Liz Kitney, who's worked at Autumn Leaves for over a decade.
With the disruption that e-commerce has brought to brick-and-mortar stores, impacting the likes of small independent bookstores especially hard, Kitney has been no small part of Autumn Leaves' longevity. She works as a book buyer there and plans to continue working under PM Press' management, curating what she calls a "discovery element."
"People want the book they've been looking for to appear before them and they didn't even know what they were looking for," said Kitney. To create that feeling, she added, used and new bookstores rely on the personalities and tastes of their buyers and employees to reach wider audiences.
Considering that, the Autumn Leaves' long life might be a form of flattery from the community. "We definitely lean towards the weird in our buying," said Kitney.
The changes PM Press does have planned are to start carrying more new books alongside used books, and more scholarly literature as well in sections like history and philosophy. And, of course, PM Press will be displaying more of its own published works at Autumn which include titles like, "The Bootleg Coal Rebellion: The Pennsylvania Miners who Seized an Industry," and "The Fascist Groove Thing: A History of Thatcher's Britain in 21 Mixtapes."
While Kanaan said that the publishing company doesn't try to "hide our politics," he added that a good bookstore, and good politics, should be a place where the open exchange of ideas is facilitated.
"The logic of good politics is to be as encouraging and as inclusive as possible," said Kanaan. "We do not want to put people off, by saying, 'I don't agree with you, so bugger off.'"
"Autumn Leaves is a fantastic used bookstore. It will remain a fantastic general used bookstore," said Kanaan.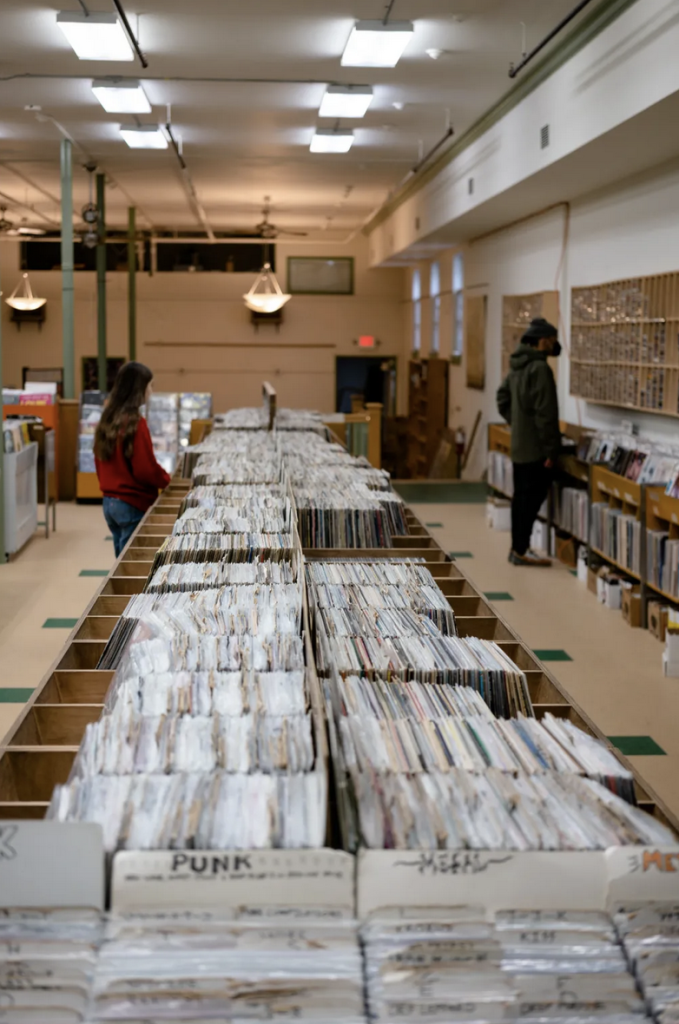 As Angry Mom makes its home with added space and under higher ceilings, the basement it once occupied will be filled with books, expanding Autumn Leaves' floorspace. Looking to the near horizon, Autumn Leaves and Angry Mom will be turning the building's mezzanine into a space for live shows and events.
Angry Mom Records owner George Johann said that the change of scene "feels amazing. It's nice to have some sunshine," but he couldn't have predicted the change. "I kind of always thought we'd just be down in that basement."
A confluence of factors came together at the right time, said Johann. Along with PM Press buying Autumn Leaves, the Tompkins County Workers' Center needed more space of its own. The Workers' Center, a nonprofit focused on fighting for improved working conditions across the county, long made its offices above Autumn Leaves, but the growth of the organization would necessitate it to move, landing it in the Clinton House building on Cayuga Street.
When the opportunity arose to expand, 14-year-old record shop was ready for it. Johann said, "We did something right. [Ithaca] is a very smart town, it's a music-loving town, it's a reading town — I don't know what we did right, but we did something right."
The previous owner of Autumn Leaves, Joe Wetmore — who also owns the Commons building that the bookstore is in — said he plans on guiding the transition of the business for the next year. He sees PM Press and Angry Mom taking everything a step further, and building on the success both businesses were able to maintain in the age of the web.
"What search term do you put into Amazon, saying 'I'd like an interesting book to read' or 'I want to listen to some new music?' How do you search for that online? You don't," said Wetmore. Going into a bookstore or record shop puts a record or a novel right in the hands, he said. Reading a few pages, listening to a record for a few minutes, or getting a recommendation from staff to find something new is a "different kind of experience," said Wetmore — an experience that doesn't look like it's leaving the Commons anytime soon.