Subterranean Blue Poetry

Title of Book: Simultaneous Revolutions

Author: Marcus Colasurdo and G.H. Mosson

Publisher: PM Press

Date of Publication: 2021

Pages: 42


". . . collect my pay, pay my debts, buy a bottle of wine and drink it by the Skagit in the afternoon, and leave next morning for Seattle" – and on, down to Frisco, then L.A., then Nogales, then Guadalajara, then Mexico City -"
– from Desolation Angels
by Jack Kerouac

A Beat inspired celebration in New Age Poetics, at once a protest and at the same time an event in dancing man, a Chapbook, Simultaneous Revolutions by Marcus Colasurdo, G.H. Mosson, and PM Press. G.H. Mosson, is an American attorney and writer. He is the author of five chapbooks and books of poetry, he has been widely published and received 4 Pushcart Prize Nominations. Marcus Colasurdo has worked numerous and eclectic jobs traveling America far and wide, hitchhiking. He has founded Gimme Shelter Productions, a non-profit organization of artists and Soul Kitchens, Baltimore, Maryland, and Hazelton, Pennsylvania providing free meals to those in need. He has authored eleven books with G.H. Mosson at PM Press.

A well-crafted series of downtown stories, "bobby rafter blues" in free verse, Beat progressions with original juxtapositions of words that paint pictures of people and places, when really riveting the Imagist pictures roll in Neoclassical layers. A real street edge in blues and images of the technocracy, the wired world. Some of the poems celebrate the theme of music, also include references to Allen Ginsberg and the greats of rock n' roll, Bob Dylan, Sex Pistols, The Cranberries (Dolores O'Riordan), Chuck Berry, The Clash, and Jerry Garcia.

From "Enter Through If"

"Let's inhabit this music, alone
and not alone, dancing in society's clothes
rearranged from a thrift store, and blur
through the lustful longing of Grimes
on the stage behind her console of giddy electronica
together with us in an abandoned warehouse . . ."

From "Magnificent Rumor"

"Listen, if your minutes
belong to my hours
we'll meet near the street
where all that graffiti
wonderlands the wounded."

Simultaneous Revolutions raises questions about what gives people place? Other people, art, a calling for work, an arts calling, giving to the Community, creating mythologies, telling people's stories, all of the above. And sometimes telling stories of homelessness and the hope of love. A riveting story of downtown America in New Age poetics, Simultaneous Revolutions by G.H. Mosson and Marcus Colasurdo.

Available from PM Press and www.ghmosson.com.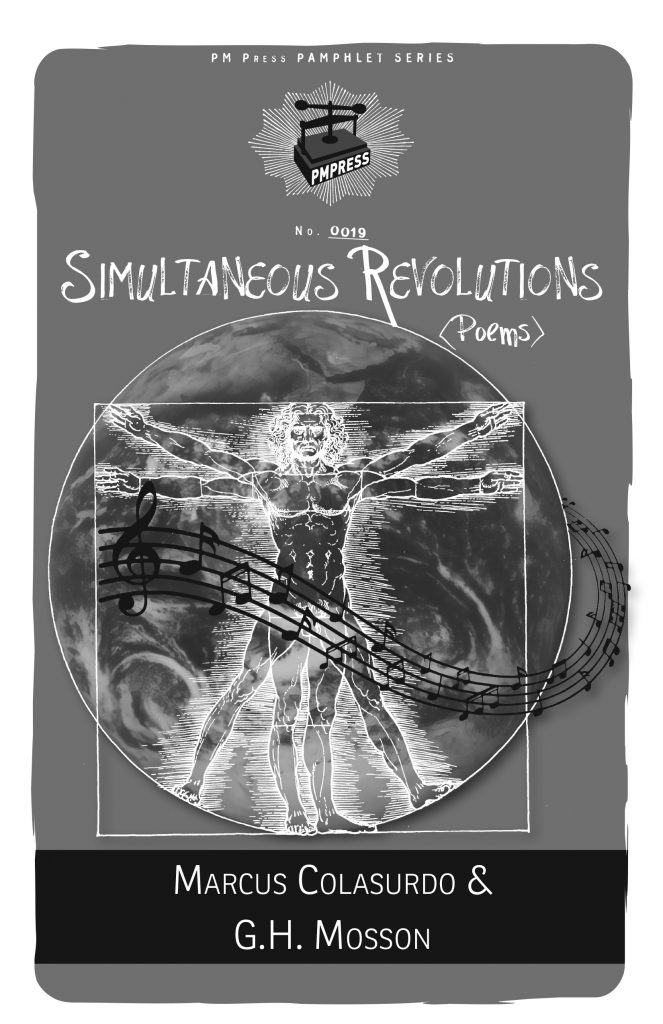 Back to G.H. Mosson's Author Page | Back to Marcus Colasurdo's Author Page