By Diane Donovan
Midwest Book Review
By D. Donovan of the Midwest Book Review
Midwest Book Review, Donovan's Bookshelf, http://www.midwestbookreview.com/mbw/aug_21.htm#dianedonovan
Direct Link: http://donovansliteraryservices.com/august-2021-issue.html#srp
Simultaneous Revolutions: Poems
By G.H. Mosson and Marcus Colasurdo
PM Press
www.pmpress.org
ISBN: 9781629638676
$5.95 Pamphlet / $2.99 ebook
Summary: Simultaneous Revolutions reaches into the heart, mind, and literary worlds with images that
resonate long after the reading is over. It's highly recommended for not just poetry and literary
collections, but anyone interested in social and cultural representations and revolutions that take place
on different levels.
Simultaneous Revolutions is a poetry pamphlet that, in a little under fifty pages, captures the feel and
influences of pop music and culture through social inspections by collaborators G.H. Mosson and Marcus
Colasurdo with spirited intensity and diverse range.
It's an unusual production on many levels. Collaborative poetry, where the poets intersect their talents
and perspectives, is fairly rare. Literary and social allusions within works that provide political and
cultural inspections are also relatively rare. Poetry collections tend to be emotion-driven observational
pieces rather than reflective works resting on the shoulders of poets and musicians who have come
before. The spirited intensity of these pieces also adds a flavor of drama and emotion that too often is
lacking in modern poetry collections.
The language sometimes incorporates and embraces capitalization for added impact. Take the opening
poem "Thinking Apart," for example. Its powerful capitalized words emphasize connection, reflection,
and choice as the narrator blends cultural observation with emotional inspection: "I need to DISCARD
logos and icons/of the cool, dressed-up landscape and HUM what's crude/maybe ethereal UP/above the
dark FREE/as air ABOUT us like/loafing in CHILDhood's favorite chair/rescued from memory's JUMBLED
attic/so (not another "you") but all our TRUEST names/can be TOUCHED through ONE another."
The free verses wind through the themes of contemporary musicians and poets, American communities
and journeys, and beat poet themes in a manner that will be particularly recognizable and appreciated
by fans of Ginsberg, Ferlinghetti, and other beat poets who blend social activism into literary,
psychological, and artistic inspections.
Other poems incorporate a sense of place (often identified in the beginning), offering less dramatic
emphasis and more of a quiet examination of place, time, and human effort; as in "Tilling": "Tilling: In
short time,/the back grows stronger./It's that kind of work./These arms bronze over/hard-glossed by the
heat./As fields I've found/call me further, I dig into Independence."
From On the Road-style travel experiences to the ceremonies and symbols of social and individual
change, these poems are hard-hitting, succinct, and diverse in theme and approach.
It's rare to find a pamphlet of works where every piece is finely tuned and exact. In this format, more so
than book-length ventures, such precision is not a benefit, but a requirement.
Simultaneous Revolutions reaches into the heart, mind, and literary worlds with images that resonate
long after the reading is over. It's highly recommended for not just poetry and literary collections, but
anyone interested in social and cultural representations and revolutions that take place on different
levels: "What cloth would you choose/to make public and plain/the look of your dreams?/Through what
language seen/out of blood and brains/would you stitch/the totem of your settlement?"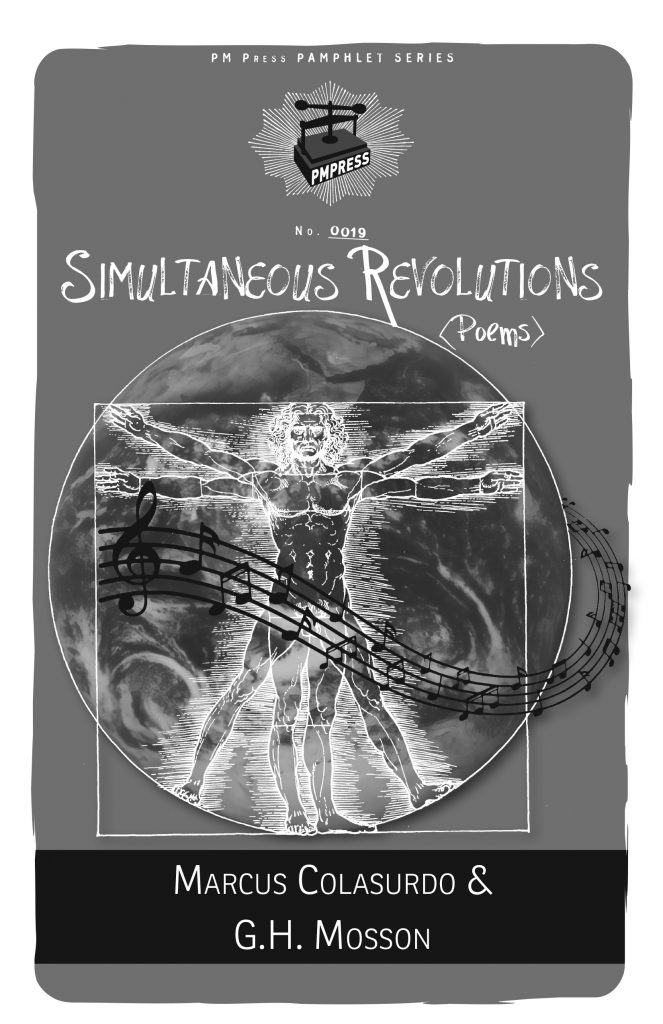 Back to G.H. Mosson's Author Page | Back to Marcus Colasurdo's Author Page