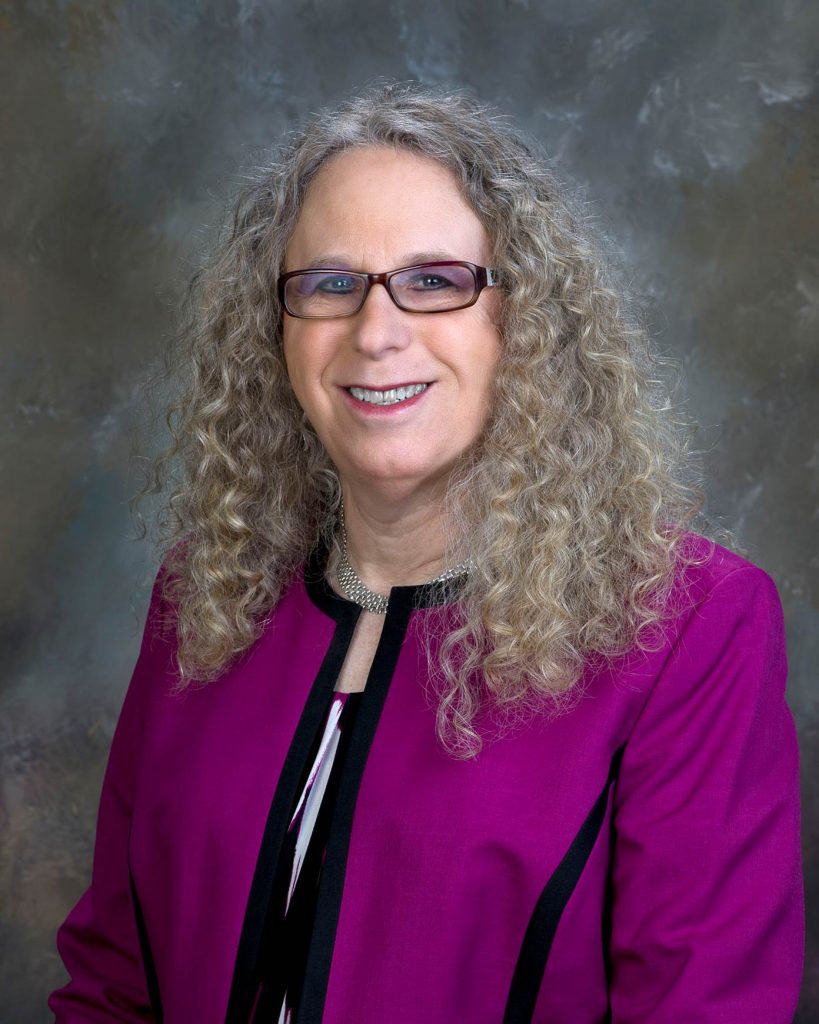 By Tim Cwiek
Philadelphia Gay News
January 19th, 2021
Trans advocates are lauding President-elect Joe Biden's announcement he will nominate Dr. Rachel Levine as assistant secretary for health at the U.S. Dept. of Health and Human Services. If confirmed by the U.S. Senate, Levine will oversee the department's key public health offices and programs, numerous presidential and secretarial advisory committees, 10 regional health offices across the nation, the Office of the Surgeon General and the U.S. Public Health Service Commissioned Corps.
Since 2017, Levine has served as Pennsylvania's secretary of health, where she leads the state's fight against COVID-19. She's also a professor at the Penn State College of Medicine. Levine began her medical career as a pediatrician at Mount Sinai Medical Center in New York.
"I want to congratulate my good friend Dr. Levine on her nomination," said Mara Keisling, executive director of the National Center for Transgender Equality. "She has demonstrated her commitment to public service and is highly skilled. She has earned the chance to serve our country at the highest levels. We look forward to more transgender and non-binary Americans being appointed in the new Biden administration."
Larry Benjamin, spokesperson for Mazzoni Center, called Levine's selection "a wonderful acknowledgement of Dr. Levine's skills and leadership. We will certainly miss her and the expertise and leadership she brought to her role as Pennsylvania's secretary of health but support her entrance onto the national stage where we know she will make amazing contributions. We'd also like to commend the incoming Biden administration for modeling what diversity and inclusion in government can look like."
Adrian E. Shanker, executive director of the Bradbury-Sullivan LGBT Community Center, added his voice to the chorus of praise.
"Dr. Rachel Levine's leadership in Harrisburg has saved countless lives from both the opioid epidemic and the COVID-19 pandemic," Shanker said, in a statement. "She is a dedicated public servant, a public health expert, and a compassionate leader who is well-prepared to go to Washington to improve public health for the American people. As a transgender woman, Dr. Levine will make history as the first trans person to receive Senate confirmation [for a federal office]. But more than making history, Dr. Levine will make a difference in the lives of LGBTQ Americans, and all Americans through her innovative approaches and her unabated dedication to public health. We should all be proud of the Biden-Harris administration for this historic nomination of Dr. Levine, and we should all encourage her swift confirmation by the U.S. Senate."
Jason Landau Goodman, executive director of the Pennsylvania Youth Congress, called Levine "a Pennsylvania treasure."
"Dr. Levine is a Pennsylvania treasure and now the nation will benefit from her expertise," Goodman told PGN. "As she has in Pennsylvania, she will remain laser-focused on the mission to safeguard the health and well-being of all people. She will continue to provide specific attention to the health of vulnerable communities, including LGBTQ people. I've known Dr. Levine for over a decade and have always been inspired by her leadership, authenticity, and wisdom,"
Deja Alvarez, a local trans advocate, said "Pennsylvania's loss will be America's gain."
"I think it's amazing that Dr. Levine has been nominated by President-elect Biden," Alvarez told PGN. "It's about time this country realizes it's time for us to stop worrying about someone's gender or race or ethnicity or identity or sexual orientation and focus on their qualifications. It will be amazing to have an actually-qualified person in this position — especially after the last four years of so many unqualified people holding national positions."
Gov. Tom Wolf commended Levine's selection, which was announced Jan. 19.
"Dr. Levine is a highly skilled and valued member of my administration and she will be greatly missed," Wolf said, in a statement. "She has been a wise and dedicated partner during this pandemic and throughout her career with the commonwealth. I couldn't be prouder of the tireless work she's done to serve Pennsylvanians and protect the public health."
Wolf noted Levine's many accomplishments. "During her tenure at the Department of Health, Dr. Levine was instrumental in establishing the state's medical marijuana program, bringing national awareness to opioid use disorder, and highlighting and promoting the need for adequate medical care and access for the LGBTQ community," Wolf said. "Over the past year, her steady hand and calm approach were critical to managing Pennsylvania's response to the COVID-19 pandemic."
Wolf also praised Levine's strength despite transphobic attacks by her critics. "Her work for our commonwealth has been transformational and I appreciate it more than I can say," Wolf continued. "I and the people of Pennsylvania owe her a debt of gratitude for her leadership, strength and dedication to protecting every person's health amid unprecedented circumstances — and, at times, amid hateful distractions. Dr. Levine is both competent and compassionate, and never lets the anger or fear of others sway her from her goals. Thank you, Dr. Levine, for your commitment, your example, and your legacy."
In a statement, President-elect Joe Biden lauded Levine's attributes. "Dr. Rachel Levine will bring the steady leadership and essential expertise we need to get people through this pandemic — no matter their zip code, race, religion, sexual orientation, gender identity, or disability — and meet the public health needs of our country in this critical moment and beyond. She is a historic and deeply-qualified choice to help lead our administration's health efforts," Biden said.
Vice President-elect Kamala Harris echoed Biden's sentiments. "Dr. Rachel Levine is a remarkable public servant with the knowledge and experience to help us contain this pandemic, and protect and improve the health and well-being of the American people," Harris said, in a statement. "President-elect Biden and I look forward to working with her to meet the unprecedented challenges facing Americans and rebuild our country in a way that lifts everyone up."
Levine is a graduate of Harvard College and the Tulane University School of Medicine. In addition to her work with children and adolescents, Levine's expertise includes work on the opioid crisis, medical marijuana, eating disorders and LGBT medicine, according to her official biography.
---
Adrian Shanker is an award-winning activist and organizer whose career has centered on advancing progress for the LGBT community. He has worked as an arts fundraiser, labor organizer, marketing manager, and served as President of Equality Pennsylvania for three years before founding Bradbury-Sullivan LGBT Community Center in Allentown, PA, where he serves as executive director. An accomplished organizer, Adrian has led numerous successful campaigns to advance LGBT progress through municipal nondiscrimination and relationship recognition laws and laws to protect LGBT youth from conversion therapy. A specialist in LGBT health policy, he has developed leading-edge health promotion campaigns to advance health equity through behavioral, clinical, and policy changes.
Rachel L. Levine, MD, is the secretary of health for the Commonwealth of Pennsylvania and Professor of Pediatrics and Psychiatry at the Penn State College of Medicine. She is a fellow of the American Academy of Pediatrics, the Society for Adolescent Health and Medicine, and the Academy for Eating Disorders. She is a member of the World Professional Association for Transgender Health. She is also a board member and executive committee member of the Association of State and Territorial Health Officials. Dr. Levine joined Governor Tom Wolf's administration in January 2015 as the physician general of the Commonwealth of Pennsylvania and, upon her appointment, became the first transgender person to hold a cabinet position in Pennsylvania. In 2017, she was named the acting secretary of health and in 2018 was confirmed by the Pennsylvania Senate as the Secretary of Health. She leads the LGBTQ Policy Workgroup and advocates for LGBT rights for the Wolf Administration. Dr. Levine is also an accomplished regional and international speaker and author on the opioid crisis, medical marijuana, adolescent medicine, eating disorders, and LGBT medicine. Dr. Levine graduated from Harvard College and the Tulane University School of Medicine. She completed her training in pediatrics and adolescent medicine at the Mt. Sinai Medical Center in New York City.