By Norman Nawrocki
'Ukrainians, Pelicans, & the Secret of Patterson Lake'
Veteran Montreal playwright/actor Norman Nawrocki will give a free livestream performance of his newest dramatic solo play, 'Ukrainians, Pelicans, & the Secret of Patterson Lake,' online in a Facebook Live broadcast, Saturday, November 21st, 2020, @ 7pm EST.
Trailer for the play: https://www.youtube.com/watch?v=_r4t2GpW7WA&t=19s Facebook event page: https://www.facebook.com/events/392253251951488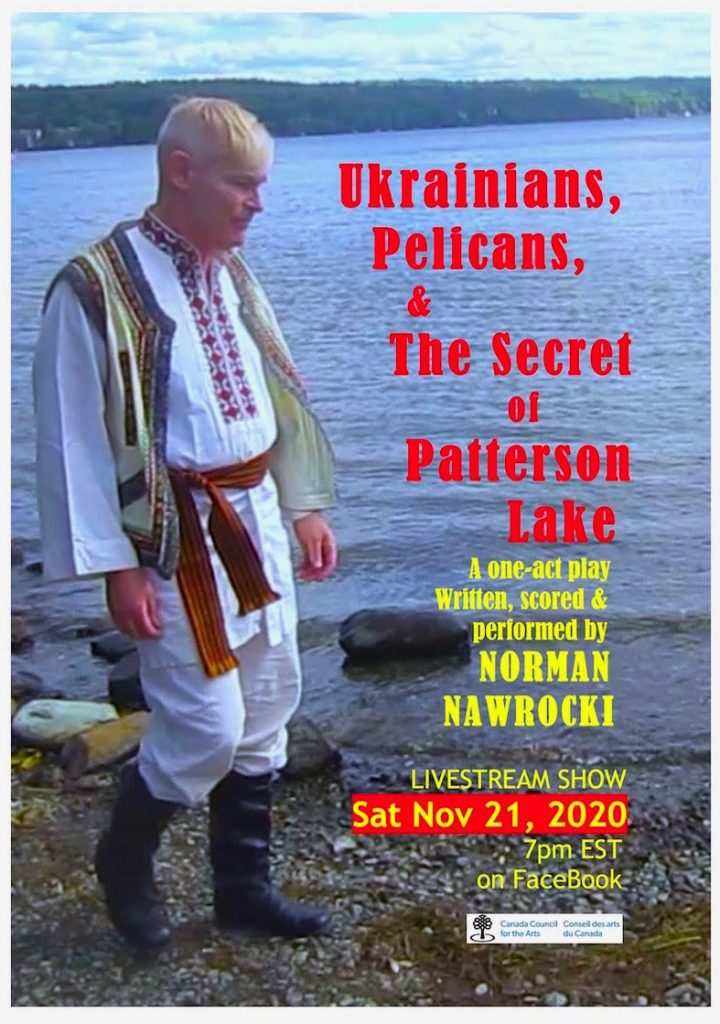 The play weaves Manitoba & Ukrainian history, emigration, mythology, birding lore, an epidemic, Anglo-Saxon prejudice, & family memory into a gripping, 30 minute long, one-act production. In this story of courage & resilience in a harsh new reality, a Ukrainian peasant / farmer reminisces about a sequence of shameful events 50 years earlier in 'the promised land' that ended in tragedy. It marked him & a group of 200 other newly arrived Ukrainian immigrants & family for life, & is still remembered & commemorated today.
Written, performed & scored by Nawrocki, the play is based on a true story from Western rural Manitoba in 1899 during the first wave of Ukrainian immigration to Canada. Nawrocki's maternal Ukrainian family was part of that first wave & homesteaded the same area.
A long-time Ukrainian-Polish-Canadian playwright, actor, musician, author & producer, born in Vancouver, Nawrocki has written & staged numerous theatre creations, written 14 books of poetry, short fiction & a novel, released over 30 albums of music & spoken word & toured the world with his work. Most recently, he's recording & posting music videos with his sister as the Canadian-Ukrainian duo, The Nawrockis.
His last solo play, EVICTION? DOG'S BLOOD!! Nick Zynchuk, 1933 Montreal's Red Plateau, (2020) was called "Thoroughly engaging!" by The Visitorium. The Winnipeg Free Press said his earlier play for three actors, Women Strike! The Winnipeg General Strike 1919-2019, "received thunderous applause from the full house." He acknowledges the support from the Canada Council for the Arts for this show. •
www.facebook.com/norman.nawrocki
youtube.com/channel/UCKBVz0yppyWBrXvfal4PPsw
normannawrocki.bandcamp.com/releases
www.nothingness.org/music/rhythm
soundcloud.com/normannawrocki
www.facebook.com/pg/CazzarolaNormanNawrocki/about/
https://normannawrocki.blogspot.com/
---
Norman Nawrocki is the author of several books of poetry and short stories. He's also an internationally acclaimed cabaret artist, sex educator, actor, and musician, and has released over 50 albums. He teaches at Concordia University, about how to use the arts for community organizing and radical social change, gives workshops about "creative resistance," and tours the world performing theatre, music, and cabaret. Cazzarola! is his first novel. He has written and performed a theatre piece based on the book and released an album-length soundtrack to accompany it.