By Rex Fuller
OUT FRONT Magazine
September 8th, 2020
Many people are aware of the political debates concerning civil rights that have swirled around the LGBT community in recent years. Fewer people may be aware that frequently LGBT people experience poorer health outcomes in our society. What are some of those health disparities and how do they impact the lived experience of people within the LGBT community?
Adrian Shanker, executive director of Bradbury-Sullivan LGBT Community Center in Allentown, PA, has put together a new book examining these questions. Shanker edited Bodies and Barriers: Queer Activists On Health, a collection of essays from leading activists from across the nation and the LGBT experience.
"I am a full-time queer activist leading an LGBT community-based non-profit organization with a focus on LGBT health equity, and it happened to me too," writes Shanker in the introduction to his book as he describes his personal experience dealing with our nation's healthcare system. By collaborating with activists from a wide variety of backgrounds and representing a broad spectrum of the LGBTQIA experience, Shanker paints a fascinating picture that outlines the work activists still have to do to ensure health equity for everyone in the LGBT community.
As The Center on Colfax, Denver's LGBTQ community center, prepares for its Out For Health Virtual Resource Fair, taking place online throughout the month of October at The Center's website, I interviewed Shanker to see how his book can help direct the conversation how The Center can better address the health needs of Denver's LGBT community.
Your book represents a broad cross-section of experiences from the LGBT community. What were some of the underrepresented voices you wanted to make sure were heard and what are some of the most important lessons you learned?
When you've heard from one LGBT person, you've heard from exactly one LGBT person. Our community is a community of communities — with many identities and experiences. It was important to me that Bodies and Barriers be structured to take readers on a journey through the lifespan because our negative experiences with healthcare follow us throughout our lives. Some of the varied topics include informed consent for intersex children, addiction and recovery for the LGBT community, bisexual community experiences with healthcare, and bereavement support groups for the LGBT community, among many other important topics.
What role does gender play in health disparities experienced by the LGBT community?
Gender plays a significant role in how we access healthcare in this country. Alisa Bowman writes in her chapter about navigating pediatric care for trans youth that she felt the need to change her son's pediatrician. She writes that her discomfort with the previous pediatrician "had nothing to do with what my son's doctor said or did. Rather, it had everything to do with what he did not say or do: talk to us about our child's gender."
Liz Margolies writes in her chapter "Gender, Cancer, and Me" that "cancer treatment is profoundly gendered. To claim it is about science and surgery and chemotherapy, all neutral terms, is to miss the gendered environment in which treatment is offered and the impact of treatment on one's felt sense of gender."
A lesson from the HIV/AIDS epidemic of the eighties was the power that our community can experience when we advocate for ourselves. From what you've learned working on this book, what are the issues affecting the LGBT community that we should be advocating for today?
All of them. LGBT people experience health disparities pervasively — but the biggest problem in my opinion is access to care and barriers to care. Some of these barriers are structural (lack of insurance coverage for anal Pap tests), some are clinical (lack of knowledge/training for healthcare providers when it comes to LGBT health issues), and some are behavioral (issues with adherence to PrEP regimens or decisions not to wear a face mask to protect against COVID-19). When we address these barriers to care, our whole community's health is able to be improved.
What are the next steps you hope will evolve within the LGBT movement as a result of this discussion around healthcare?
Healthcare is a human right, and LGBT people deserve access to high-quality healthcare at all stages of our lives. In order to achieve the goal of health equity, we cannot simply tweak a broken healthcare system. We need to radically transform it. The LGBT movement should fully-embrace the needed transformation of healthcare in our country to ensure that all people can achieve the highest quality of health!
Sable Schultz, Transgender Program Director at The Center on Colfax, interviewed Adrian Shanker as part of The Center's Out For Health Virtual Resource Fair.
To watch that interview and discover other health resources in Colorado, visit The Center's website.
Bodies and Barriers: Queer Activists on Health is available for purchase through local and online bookstores, or at www.pmpress.org/bodiesandbarriers
Adrian Shanker, the book's editor, is the executive director of Bradbury-Sullivan LGBT Community Center in Allentown, PA and is a specialist in LGBT health policy.
Rex Fuller is the executive director of The Center on Colfax.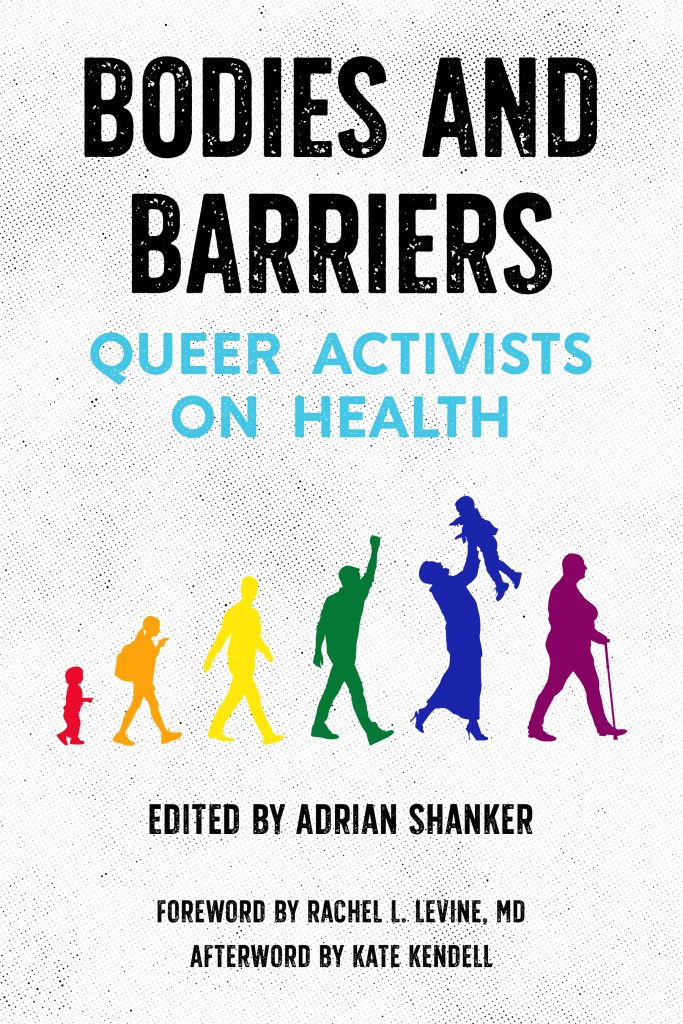 ---
Adrian Shanker is an award-winning activist and organizer whose career has centered on advancing progress for the LGBT community. He has worked as an arts fundraiser, labor organizer, marketing manager, and served as President of Equality Pennsylvania for three years before founding Bradbury-Sullivan LGBT Community Center in Allentown, PA, where he serves as executive director. An accomplished organizer, Adrian has led numerous successful campaigns to advance LGBT progress through municipal nondiscrimination and relationship recognition laws and laws to protect LGBT youth from conversion therapy. A specialist in LGBT health policy, he has developed leading-edge health promotion campaigns to advance health equity through behavioral, clinical, and policy changes.