By Emma Finamore
BBC
October 11th, 2019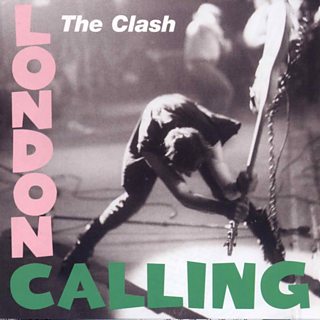 As part of 6 Music's National Album Day celebrations, Amy Lamé is joined by Don Letts to play out The Clash's 'London Calling' album in full (listen from 4pm, Sun 13 Oct).
A milestone in UK music and punk rock, a forward-thinking album that folded in everything from reggae and ska, to jazz and rock n roll, it features a cover that's just as famous as its songs.
Banksy's referenced the image in his work, it's won album cover awards, and the iconic shot of Paul Simonon smashing his bass guitar to pieces perfectly captures the anarchic rage and defiance that The Clash stood for. Ray Lowry designed the ubiquitous sleeve from a Pennie Smith photograph, coupling Simonon's on-stage antics with striking pink and green type.
But what's the story behind this seminal album cover? Here are some fascinating facts about it.
1) The audience at a New York gig were responsible for the whole thing
Taken during a show at New York's Palladium in 1979, it turns out Paul Simonon's outburst wasn't the result of punk-fuelled rage against the system, but a visceral reaction to the venue's disappointingly lacklustre crowd.
Simonon explained in a 2011 interview that he smashed his Fender Precision Bass out of frustration when the bouncers at the concert wouldn't let audience members stand up – The Palladium had fixed seating – making for a far more demure, dull atmosphere than the London punks were accustomed to.
Unable to raise any real response from the crowd, Simonon grabbed his instrument by the fret board and smashed it furiously against the stage. He didn't know it at the time, but album artwork history had just been made.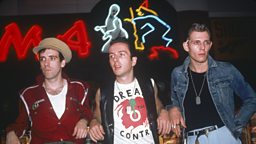 2) The photographer who took the shot didn't want it to be used
British music photographer Pennie Smith – who also counts artists like The Slits, The Ramones, Led Zeppelin, The Rolling Stones, The Who, Iggy Pop, Blur and Oasis among her subjects – took the shot of Simonon just before he plunged his guitar down onto the stage. It would go on to be one of the most iconic images in music history, but at first she wasn't too keen on it.
Apparently when she first saw the picture, Smith dismissed it for being too blurry and having far from perfect composition – she was actually backing away as she took it, to avoid being hit by Simonon.
Despite trying to convince the band not to use the picture on their album cover, her imperfect, fuzzy image went on to embody the spirit of imperfect, fuzzy punk rock, picking up decades of accolades along the way – like Q magazine's 'Greatest Rock 'n' Roll Photograph of All-Time' award in 2002.
Not resting on her laurels, Smith is still a full-time working photographer in London, using a disused railway station as a studio. Once rock 'n' roll, always rock 'n' roll.
3) We (think) we know exactly the moment the photo was taken
Apparently Pennie Smith still has the watch that Paul Simonon wore when he smashed his bass on the stage of the Palladium, and its hands are said to have stopped at the exact moment when his bass hit the floor.
According to the gallery representing Smith and her work, "his watch stopped at 9:50pm" – a strangely precise, tiny detail behind a ubiquitous, decades-spanning image, but one that will no doubt excite die-hard fans (and might come in handy at the odd music pub quiz).