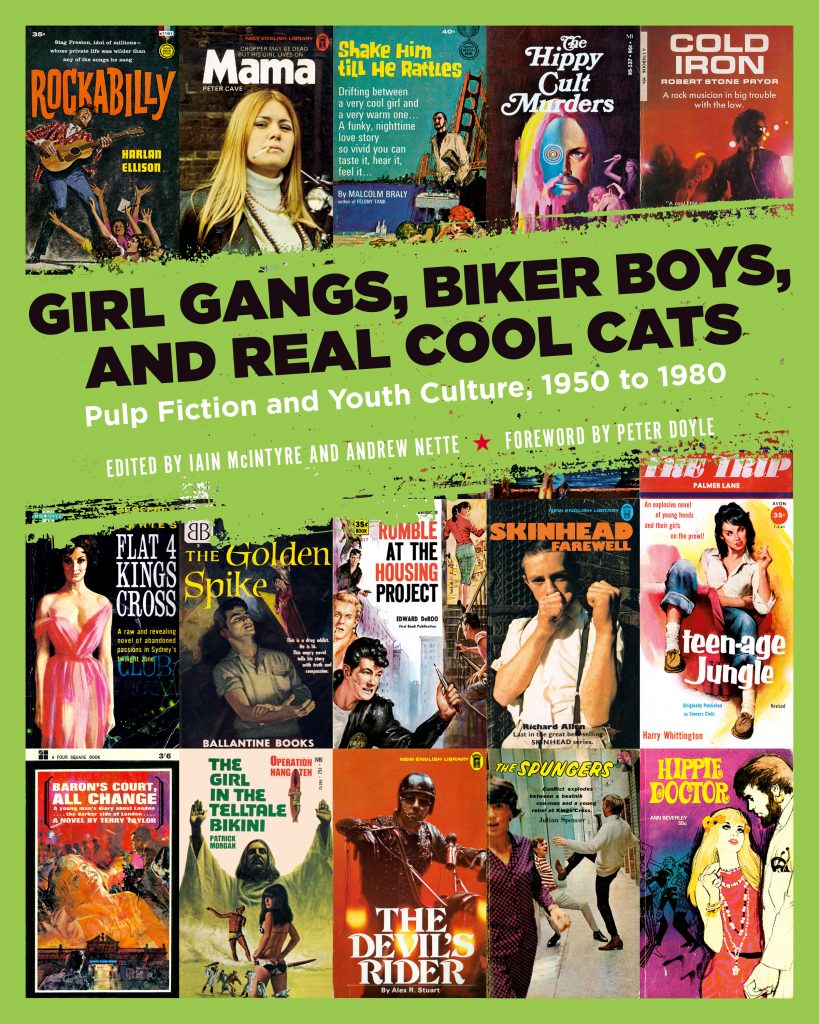 Translated by Google
By Alf Mayer
CultureMag
March 18th, 2018
Alf Mayer on a hot book by Andrew Nette and Iain McIntyre.
The thing with the youth, that was quite different. Teen Ager, then still hyphenated, were the barely domesticated inhabitants of a wild alien planet. Juvenile delinquents. A danger to the general public. Horst Buchholz became a star in 1956 " Die Halbstarken ". Marlon Brandos / Lazlo Bendek's " The Wild One " was called in German " The Wild " (1953). "Hey, Johnny, what are you rebelling against?" Brando is asked. He replies, "What've you got?"
Unlike the cherished successors to the throne and the sticky understanding of today's guardians, the post-war world of the 1960s to 1970s was full of young people who fled their parents' lives and worlds and tried to beat them in every way. Outsiders, Teenage Jungle, Teen Age Mafia, Violent Streets, Teenage Tramps, Roaring Boys, Teenage Terror, Odd Girl Out, Marijuana Girl, Bikie Birds, Terror Go-Round, Black Leather Barbarians, Satan Was a Lesbian, I nvasion of the Nymphomaniacs, The Young and Violent, We Are the People Our Parents Warned Us Against. And above all: Play it Cool. That's the name of just a few of the titles.
From down under you can see subcultures better
The Australians Andrew Nette and Iain McIntyre dedicated themselves to this wild time – subcultures are better seen from down under, and there are (also a pleasure in my travels) the "garage sales" and Salvos stores of the Salvation Army still in the smallest nests often decorated with small jewels. You can still find good finds there, beyond the internet and ReBuy. Girl Gangs, Biker Boys and Real Cool Cats: Pulp Fiction and Youth Culture, 1950-1980 with over 400 covers and more than 70 individual contributions from 20 experts of popular culture gathers such treasures, is also interdisciplinary and international research. It is the first study to give an overview of how post-war youth culture found its expression in the mass medium of cheap paperbacks – the pulps – and was exploited at the same time (with a perspective on the US, UK, and Australia). Let's not talk about it: The sensationalism of the media and the business of the media houses were fueled by the hype of all sorts of youthful aberrations. Common principle to this day: You stir up the fears and worries that you deserve. (BILD boss Julian Reichelt calls something like that "headlined".) Peter Doyle characterizes such Youthsploitation in his preface as a " panic refrain ":
In the late 1940s, early 1950s it was juvenile delinquents, of course. Then came beatniks. And bikers. Gays and lesbians. Hard-dope fiends. Later on, hippies and counter cultural types, mods, rockers, surfers, skinheads, youthful revolutionaries. Trippers, pot heads and ravers. Rock musicians and groupies. Nearly always the subculture what characterizes as a kind of cultivating freemason-like quasi-conspiracy or secret society. "
The lyrics themselves have pulp quality
Andrew Nette and Iain McIntyre are on it. The change is generous, her over-sized trade paperback is extremely readable. Some of the lyrics have no information content, even pulp quality, they scurry away. And there are creams such as portraits of early Harlan Ellison and Evan Hunter (Ed McBain), by Lawrence Block, Colin Wilson, Sol Yurick ( The Warriors ), Malcolm Brawly, or the interview with Marijane Meaker, aka Vin Packer, whose a specialty the so-called "confessions" were. A quote:
"So I wrote some 'confessions'. I was very good at them, because all of them had an interesting title that would pull the reader in, and then make sure the story did not live up to the title. For example, I sold what I called 'I Lost My Baby at a Pot Party'. Teflon pot people come to the house for a demonstration, and while they are on the door … "
The Dolly, Dolly Spy and other surfers of the time
There is Ernest Tidyman (of Shaft -fame), who also wrote Flower Power (1969), there is Samuel Fuller with 144 Piccadilly , there are Charles Manson-inspired "Satanic Slaves", there is John D. MacDonald's Travis McGee in dress In Indigo among the hippies, Brad Lang writes detective novels with a hardboiled hippie, there's the Surfer Spy Pulps by Patrick Morgan, there's Warren Murphy's Destroyer # 13 on Acid Rock . Stewart Home spent years researching the footsteps of Richard Allen, Mike Stax is particularly familiar with the British beat and rock fiction of the 1960s, representatives here about All Night Stand by Thom Keyes and groupie by Jenny Fabian and Johnny Byrne. Adam Diment is treated in two contributions, his British dandy spy is also too interesting ( The Dolly, Dolly Spy , 1967, etc.). Only Lovers Left Alive by David Wallis is considered a rock 'n' roll version of The Lord of the Flies . And then there's Jane Gallion, who calls herself a 'fuckbook writer', wrote novels like Stoned and Biker , worked for Los Angeles Pulp publishers Essex House and Brandon House, and was responsible for countless sex books, such as Coito Ergo Sum . Humor, of course, was a difficult thing, according to the letter she wrote, as her boss repeatedly emphasized: "Jane, he said, you can not laugh as a man and at the same time have a stiffener."
And then Andrew Nette digs out a very interesting pulp author, Gunther Bahnemann, a native of Germany, a forefather of the Queensland that Candice Fox travels to Crimson Lake nowadays. Bahnemann, who became a deserter in Rommel's army, was imprisoned in Australia for seven years, writing about the underworld he knew. His Pulp novel Hoodlum appeared in 1963.
A great social unconscious
Rock 'n roll, hot boxes, car racing, leather jackets, potheads, hippies, lesbians, surfing spies, girls gang, anything queer as you want to be , the book bursts with surplus energy and the desire to find expression through style, fashion, Music and language, revolt and protest. The many covers are just one aspect. Pulp fiction, as Susan Stryker noted in her Queer Pulp, Perverted Passions from the Golden Age of the Paperback (2001), "functions as a great social unconscious. Fantasies of wish fulfillment are abolished here as well as desperate desire, despised desires, small disappointments and treacheries, irresponsible violence, doubts or marginalization. "
Girl Gangs, Biker Boys and Real Cool Cats charts how beatniks and hippies, skinheads and punks, street gangs, junkies, rockers have become sensational themes, showing the fear and the lust for subculture. The chapters speak for themselves:
Teenage Jungle: Pulp Fiction's Juvenile Delinquents
Beat Girls and Real Cool Cats: 1960's Beats and Bohemians
Party Girls and Passion Pits: The Pulp Fiction of Sydney's Kings Cross
Love Tribes: Hippies and the Pulp Fiction often called Late-60s and Early-70s Counterculture
Groupies and Immortals: Pulp Fiction Music Novels
Wheels of Death: Pulp Biker and Motorcycle Gangs
Cults of Violence: 1960s British Youthsploitation Novels
Outsiders: Late-60s and Early-870s American Pulp and the Rise of the Teen Novel.
Pulp literature as a mirror of society
Above all, Andrew Nette and Iain McIntyre appreciate the immediacy and the intimate proximity to the respective subject in the Pulp novels. Pulp literature as a mirror of the voyeuristic society – as well as all the subcultures in which it plays. The skirts short, the hair longer.
Girl Gang, Biker Boy, and Real Cool Cats will receive a sequel at the end of this year, a political one. Andrew Nette and Ian McIntyre have looked at the post-war political movements, from Black Power and the Ant-Viet Nam Movement, gay activism and feminism, left porn to science fiction, with JG Ballard, Ursula K. Le Guin, Michael Moorcock, Octavia Butler, Iceberg Slim and Donald Goines, Chester Himes and Brian Garfield as well as a billion unfamiliar names. The title: Sticking it to the man. Revolution and Counterculture in Pulp and Popular Fiction, 1956 to 1980 .
The authors: Iain McIntyre, like Andrew Nette, lives in Melbourne, is a writer, musician and radio maker, specializing in activism, popular culture and music. His publications include How to Make Trouble and Influence People: Pranks, Protest, Graffiti and Political Mischief-Making from across Australia (2013), Wild About You: The Sixties Beat Blast in Australia and New Zealand (2010), Tomorrow Is Today: Australia in the Psychedelic Era, 1966-1970 (2006). And he was one of the compilers of Down Under Nuggets: Original Australian Artyfacts 1965-1967 (CD, 2012).
Andrew Nette, whom you could already meet in our CulturMag annual review 2017 , is internationally one of the best connoisseurs of pulp literature. Pulpcurry is the name of his visitable website. Even young, he was fascinated by the paperbacks that his father read and collected; He was particularly impressed by Carter Brown , the Sydney-born author Alan Yates, to whom we owe pulps with divine titles such as agriculture and fornication . Andrew Nice's first novel Ghost Money (2012) plays in Cambodia, his Gunshine State is a hardboiled heist novel that can compete with Richard Stark's Parker, Garry Dishers Wyatt and Wallace Strobys Crissa Stone, plays in Queensland, Melbourne and Thailand and is urgently needed. Andrew Nette was one of the founders of Crime Factory Publications in Melbourne, whose forge, for example, came from Hard Labor (2012), an anthology of Australian short crime fiction. One of my treasures is LEE (2014), a collection of stories inspired by cinema icon Lee Marvin. Andrew Nette is very active in journalism. He is currently writing his PhD on the history of Australian pulp fiction and is working on the sequel to Gunshine State . At CrimeMag he will appear more often in the future.
Iain McIntyre and Andrew Nette: Girl Gang, Biker Boys and Real Cool Cats: Pulp Fiction and Youth Culture, 1950-1980. Contributors include Nicolas Tredell, Alwyn W. Turner, Mike Stax, Clinton Walker, Bill Osgerby, David Rife, JF Norris, Stewart Home, James Cockington, Joe Blevins, Brian Coffey, James Doig, David James Foster, Matthew Asprey Gear, Molly Grattan , Brian Greene, John Harrison, David Kiersh, Austin Matthews, and Robert Baker. PM Press, Oakland 2017. 334pp, $ 29.95.
PS. Of course, there was always the possibility that the whole world would be blown up by the H-bomb, but this idea was too powerful to be even more frightening. At least there was no depression now, no air strikes, no food rationing. It was no longer the main thing to stay afloat – no, the teenagers could finally file their claims … Now that life was easier, they started rioting. – This is how Frank Göhre and I described in the chapter "Seeds of violence. The movie "The Time of Evan Hunter's novel Seed of Violence and the film of the same name. The novel made Salvatore Albert Lombino, who grew up in Harlem and the Bronx, a bestselling author. The Blackboard Jungle (1954) was his first success and processed autobiographical experiences with wild students. MGM quickly made a film of it, with Glenn Ford besieging teacher Dadier. 'Rock Around the Clock' by Bill Haley & His Comets became a world hit through the film. (See Frank Göhre & Alf Mayer: Cops in the City, Ed McBain, and the 87th Police Station : A Report , Culturbooks, Hamburg 2016.)
Reading ahead with CrimeMag : (13) The Illustrated Ross Macdonald Archives
(12) Peter Blauner: Proving Ground (11) Mike Ripley: Kiss Kiss Bang Bang
(10) Stephen Hunter: G-Man
(9) James Ellroy's Photo Book: LAPD '53 (8) Richard Price: The Whites
(7) Dominique Manotti: Noir (6) Chuck Logan: Falling Angel
(5) Death Goldberg: Gangsterland (4) Gerald Seymour – a portrait
(3) Donald E. Westlake: The Getaway Car
(2) Garry Disher: Bitter Wash Road
(1) Lee Child: Personnel
Back to Iain McIntyre's Author Page | Back to Andrew Nette's Author Page