By Eve Ottenberg
Counterpunch
July 4th, 2019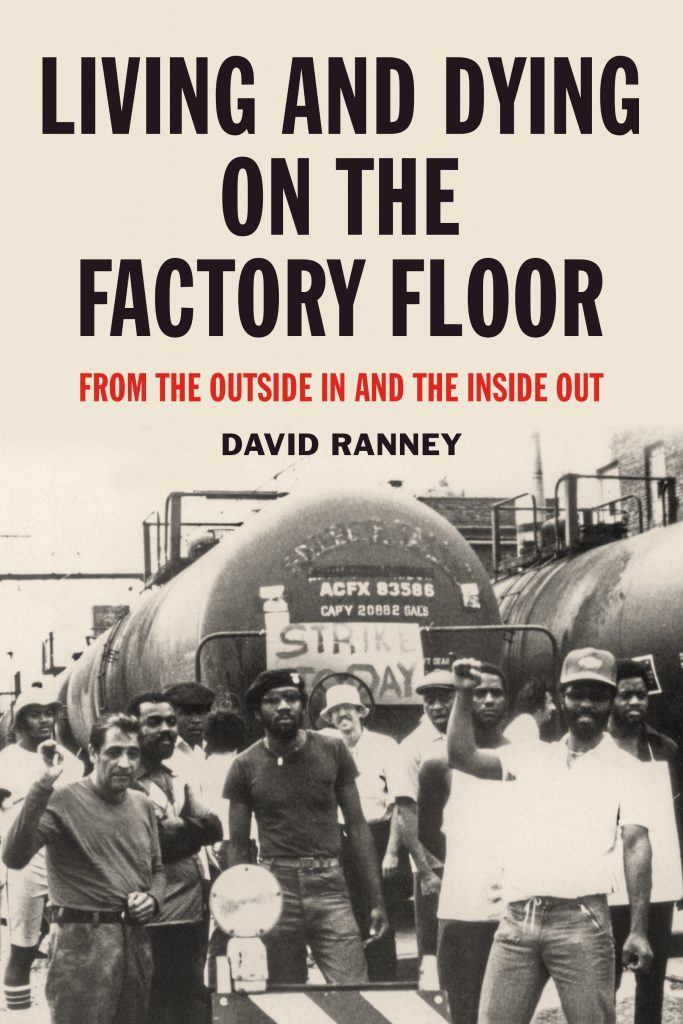 If there's one thing the hotel workers' and teachers' strikes last year have driven home, it's that the future of American labor does not lie with manufacturing. Most of those jobs are gone. And according to David Ranney in his new book, "Living and Dying on the Factory Floor," they're not coming back. "The height of manufacturing employment in the U.S.," Ranney writes, "was in 1979 when 19.5 million workers or 22 percent of the U.S. workforce were employed in manufacturing jobs." The steel mills of Southeast Chicago and Northwest Indiana have shut down. So have the related factories where Ranney worked in the 1970s and '80s and which he describes in his new book. "Today only 12.4 million workers," he reports, "or 8 percent of the national workforce, are in manufacturing."
This memoir describes "the exploitation of back breaking and dangerous labor and the often unhealthy and unsafe working conditions." It is also about his South Chicago co-workers – white, black, Mexican – and how they divided along lines of race and nationality, until those rare moments when they defied management and their corrupt union and struck. As one worker, Lawrence, summed up this solidarity during a strike at Chicago Shortening: "There ain't no justice…just us." Or, as Ranney explains: "the strike exposed the fact that union, company and government institutions were united in opposition to a class-based 'us.' In the course of the strike…we overcame the divisive aspects of race, alcoholism and drug addiction in favor of solidarity."
In the '70s and '80s, Ranney was affiliated with the Workers Rights Center, which he wanted to help connect more with its South Chicago neighborhood. Though steel was a big local employer – "at one point five steel mills in the area [South Chicago] employed over one hundred thousand workers" – Ranney worked first at a shop rebuilding centrifuge machines used in rendering at slaughterhouses. The centrifuges' contents were grisly and the workplace dangerous. Next Ranney worked at a box factory, but his leftism got him fired. Then he was a maintenance man at Chicago Shortening, which made cooking oils, using "lard – the fat from pigs – and tallow – the fat from beef cattle." The place emitted an overpoweringly nauseating stench. Workplace safety was spottily enforced. In one room with a sign "Danger! Flammable Gas!" people entered while smoking and later extinguished their cigarettes. Outside workers called pumpers climbed on top of rail cars, "dragging hoses and attaching them to fittings…They take lard or tallow out of some of these cars…The pumpers hook up steam lines to those cars…[to] keep the oil hot enough until they move out."
Safety concerned these workers. There were "a lot of minor accidents from falls and burns. Also, clothes and boots don't last long. Acid in the product and the chemicals used for cleaning or as additives eat boots away in no time. Work clothes soon become rags…Everyone complains about the low pay and shitty benefits. There is a general consensus that the union [Amalgamated Meat Cutters and Butcher Workmen Local 55] is corrupt and worthless." The workers assumed company and union were mob-connected. Despite several serious on-the-job accidents – in one, a worker's hand was crushed – inspectors did nothing. "The inspector pulls out a flash light and shines it in the general direction of the boiler…'Looks good boys,' he calls over his shoulder." Old equipment was not replaced. As for repairs: "We are always instructed to do the minimum."
Union negotiations with Chicago Shortening were disorganized. Ranney posted a list of demands on the bulletin board, and later fought with the union rep, who tried to persuade workers to accept a lousy contract. The rep physically attacked Ranney. Other workers chased the rep out of the building. They walked out; later the police came. Ranney was arrested for trying to prevent a company truck from leaving with shortening. The next day, the strikers confronted a truck driver, who said: "Teamsters Local 179. They told us this ain't a legal strike and we're not to honor your picket line. Sorry, I gotta work too." Strikers then pulled the pin connecting the cab to the rest of the truck, causing a delay of several hours. Ranney writes: "A little act of sabotage goes a long way."
Chicago Shortening management finally realized it couldn't run the plant without workers and so sent everyone home and temporarily shut down. Meanwhile left-wing groups arrived to support the strikers, including Iranian students who wanted to depose the shah. Later, a union vice president met with them, the company agreed to binding arbitration, and one worker, Charles, taken back on the job, was stabbed to death by scabs. It was a violent, dangerous, disorganized, exploitative environment.
Ranney also worked at a factory that made railroad freight cars. The supervisor told him, "three months ago, there were two workers killed in accidents." The union, a Boiler Makers local, seemed decent. Ranney also worked at a structural steel fabrication shop – manufacturing work that, he reports, is not much done anymore in the U.S. On probation, one new worker, not properly dressed, got badly burned. The book also describes a paper cup plant, a non-union shop but "the best factory job I have had." Still, after labor unrest, Ranney got fired, then worked for a company that made "boards and other products used in foundries at steel mills to insulate molten metals." The plant began to automate, which caused lay-offs, then a speed up. Hating the night shift, Ranney quit. It was 1982, and factories were laying off workers.
Today all the factories where Ranney worked except one are gone. The surrounding neighborhoods have either sunk into deep decline or been gentrified. At his memoir's end, Ranney wonders what happened to his co-workers. One thing is sure – a lot of them left manufacturing.
Eve Ottenberg is a novelist and journalist. Her latest book is Carbon. She can be reached through her website.