By Eve Ottenberg
http://www.eveottenberg.com
August 2018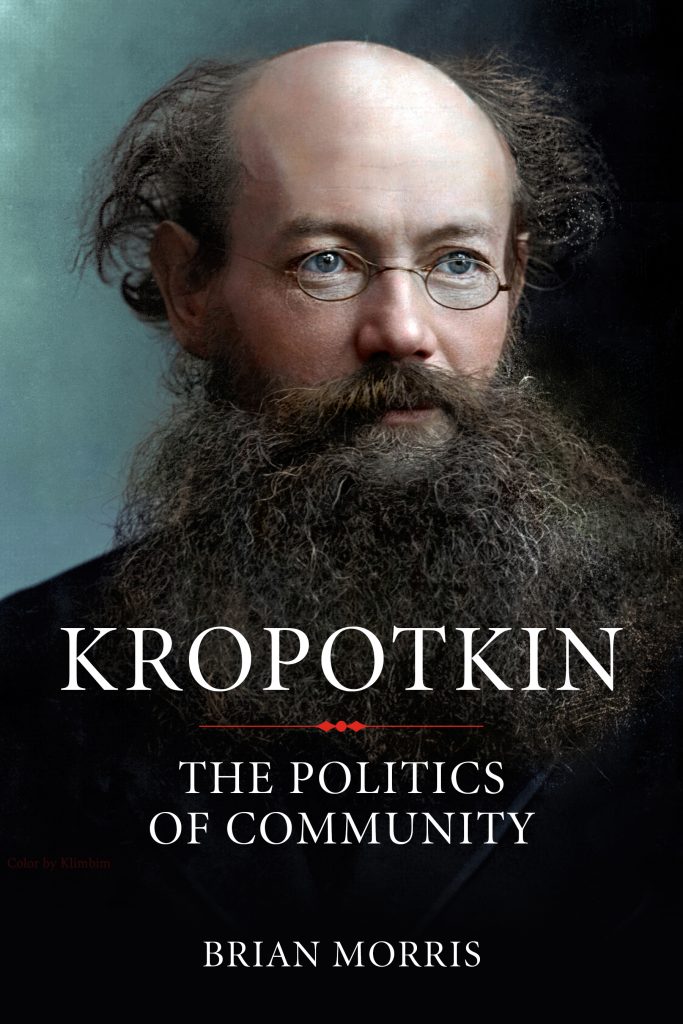 Anarchists have a bad reputation. Historically they are associated with terrorism, bomb-throwing, assassinations and the wild utopianism of a life without government, in chaos. Admittedly, over the course of centuries, some anarchists have fit this description. More recently, the word "anarchist" conjures images of the black bloc – black-clad rioters in balaclavas, smashing windows, car windshields and pitching rocks at police. In short, to many, anarchism means lunatic violence. But like most stereotypes, the anarchist one is misleading; applied to Proudhon, Bakunin or Kropotkin – three notable anarchist thinkers of the nineteenth and twentieth centuries – these stereotypes are simply piffle, as a new book by Brian Morris, "Kropotkin, the Politics of Community," amply demonstrates.
Right from the start, Morris is at pains to distinguish between anarchist communists and socialists. But distinctions between founding a federation of autonomous communities or a workers' state seem remote and secondary in these dark, reactionary times, in which an evil, thieving, global capitalist empire rules the world and through its environmental rape threatens the future of life on earth. What Kropotkin would call an empire of brigands has seized planetary control. In his day, at the time of the 1871 Paris Commune, there was hope. Now we have despair. But despair can be put to good use; with lucidity about where this global, fossil-fuel capitalism leads – to the grave – despair can invigorate the struggle for any socialist alternative.
At the turn of the twentieth century, people like Kropotkin, Lenin and Trotsky had good reason to believe that capitalism was dying and would soon be replaced by a more humane socialism. That belief led to a successful workers' revolution in Russia, the first ever in human history. Others followed. Before the Russian revolution was betrayed by Stalin, people could hope for progress, that rapacious, thieving capitalism would yield to social ownership of social goods, that history was not merely the repetitive struggle, reenacted in each generation, between decency and solidarity on the one hand and the arrogant dominion of a minority of kleptocrats on the other. That hope is gone for now. There is nothing left at the moment but struggle.
If Kropotkin could see us now, he would doubtless advise us to promote trade unions, worker cooperatives, environmental activist groups and, especially in the global south, to aid the equitable distribution of land to poor farmers. He would have more suggestions than that, because he had learned from history. "The clan, the village community, the guild, the free medieval city," Morris writes, "were all institutions, Kropotkin argues, by means of which the common people resisted the encroachments of brigands, conquerors and other power-seeking minorities."
Kropotkin argued that mutual aid and altruistic sociability inhered in mammalian biology – in contrast to those who argued that what drove early humanity was a Hobbesian war of all against all. As Morris recounts, Kropotkin published articles on mutual aid to counter "struggle for existence" and "survival of the fittest" dogma. Hence Kropotkin's "vision of a new society that is based on mutual support and voluntary cooperation, not on coercive authority, hierarchy and exploitation." But how to bring such a society about? Kropotkin considered anarchist bombings futile: "a structure based on centuries of history cannot be destroyed by a few kilos of explosives." According to Morris, "like the Marxists, Kropotkin always repudiated terrorism as a political strategy." Though he argued for a massive social uprising to overthrow capitalism and the representative government that served it, and that, he insisted, always served it, he criticized the Russian revolution, mainly because of the Bolshevik role.
In 1919, Morris writes, Kropotkin, old and frail, met with Lenin, then at the height of his power. Kropotkin had returned to his country, Russia, the land of socialist revolution, and by meeting with Lenin, presumably hoped to influence the revolution's course. Lenin did not take him seriously, Morris reports. Lenin, with his idea of the socialist state, must have regarded Kropotkin's vision of a stateless federation of communes, cooperatives and mutual aid societies as quaint. Unfortunately, by the end of the next decade, the workers' state had been hijacked, and in 1991, its remnants finally frayed to nothing. So maybe it's time to dust off these anarchist writings that blend individualism and communism and reconsider what Proudhon, Bakunin and Kropotkin had to say.