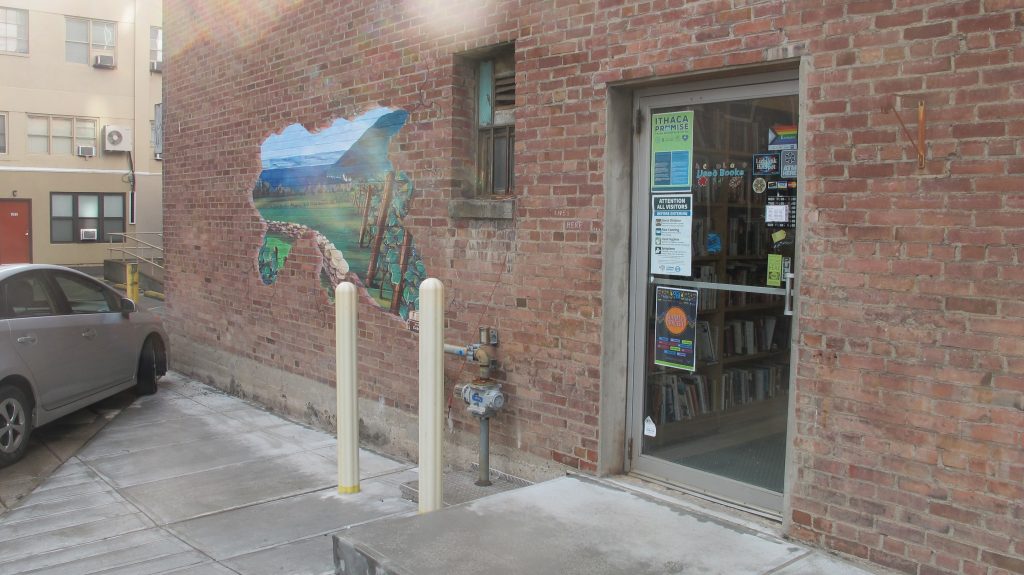 Parking

We have limited parking in the rear of the store for people bring us boxes of books they are selling.
Downtown parking is FREE on evenings and weekends at the meters and at the garages!
History of the Building
2013-2015 The Ithaca Commons was completely rebuilt with the current new design
March 2001 — Joseph Wetmore bought 115 E State Street and moved Autumn Leaves Used Books to its new location 115 E State Street.
March 1993 — Autumn Leaves Used Books opens at 108 E State Street.
1974-1975 Faced with prospects of a mall being built in neighboring Lansing, newly elected Mayor Ed Conley began plans for a pedestrian mall in downtown Ithaca. Under the direction of local architect Anton J. Egner. Construction began in 1974, and the Commons opened in 1975.
1972 Dick and Elizabeth Adams bought 115 E State Street and opens Logos Emporium.
1936 The Building at 115 E State Street was probably built for J. C. Penney's, which moved from across the street from its previous location at 120 E State Street, into this new Art Deco building features black Carrara glass panels on the front. J.C. Penney was founded in 1902 and became one of the United States largest apparel and home furnishing retailers.
A quick history of The Ithaca Commons
---
Mom's Hand Painted signs
All the classification signs, the literature rack and the sign along the stairs are hand painted originals by artist Margery Coffey (and Joe's Mother). Coffey was born and raised in Nebraska and operates Black Prairie Dog Woman Studio is currently located in Walthill, Nebraska, on the Omaha reservation.
You can see more of her work store signs HERE and more of her other art work HERE.
---
Related links:
Be sure to check out our building-mates and comrades: