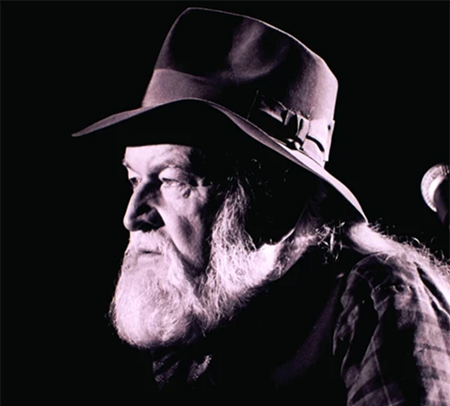 Utah Phillips (1935–2008) was a labor organizer, folk singer, storyteller, poet and the "Golden Voice of the Great Southwest." He described the struggles of labor unions and the power of direct action, self-identifying as an anarchist. He often promoted the Industrial Workers of the World in his music, actions, and words.

---
Making Speech Free (CD)
SKU: 9781604863550
Artist: Utah Phillips
Publisher: PM Press/Free Dirt Music
ISBN: 9781604863550
Published: 5/2011
UPC: 877746006326
Format: CD
Size: 5.5 x 5.5
Length: 74 Minutes
Subjects: Music-Folk
Praise
"If you have never heard Utah Phillips live, you're in for a treat. He's fantastic. Unique. You'll feel better ever after, as you recall him. There's no one like him." —Pete Seeger
"Phillips above all is a consummate showman, a master of the theater…Phillips has a genius for making people laugh and care at the same time." — Boston Globe
---
Starlight on the Rails: A Songbook (CDs)
SKU: 9781604868326
Artist: Utah Phillips
Publisher: PM Press/Free Dirt Records
ISBN: 9781604868326
Published: 9/2014
UPC: 877746007026
Format: 4 x CDs
Size: 5.5 x 5.5
Length: 280 MIN. & 12 page booklet
Subjects: Music-Folk/History-US
Praise
"For anyone who's a fan of Utah's work, this is a must-have purchase."
—Chris Nickson, Allmusic.com
"Utah Phillips has come out with the defining work of his career. Starlight on the Rails is a four-CD collection with a personal introduction by Utah to each track. It's a musical documentary of his life experiences spanning decades, more rich than any American history textbook. I can't imagine any folk fan not having this in their collection. Period."
—Angela Page, Sing Out!
"Arguably the most important folk star to emerge after the '60s revival, Phillips creates a 4 CD epic of music and story, recounting his life through his best songs. Intimate, droll, and fiercely felt, it is equal parts cultural history and musical memoir."
—Scott Alarik, Boston Globe
"Utah brings a message of defiance, disobedience, and solidarity . . . (and) reminds us of a history that we were not taught in schools and colleges. They tell us of people who, like us, seemed to be powerless before the might of corporations, but who struggled and fought back, and changed their lives."
—Howard Zinn, author of A People's History of the United States
"Utah Phillips is surely one of the nation's most unforgettable characters, as will be attested to by people all over the U.S. who have heard him, guitar in hand, hold forth on the ways of the world. What a joy now to have his Songbook available. You will be going through it again and again."
—Pete Seeger
---
Book Events
---
Reviews
---
Interviews
---
Mentions
---
Blog