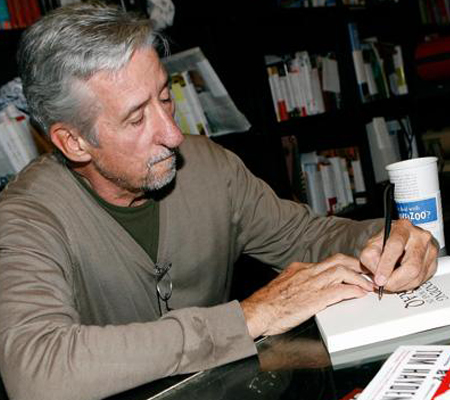 Tom Hayden is a writer and political activist, best known for his involvement in contemporary animal rights movement and anti-war and civil rights movements of the 1960s.
---
Conspiracy to Riot in Furtherance of Terrorism: The Collective Autobiography of the RNC 8
SKU: 9781936900183
Editor: Leslie James Pickering • Foreword by Tom Hayden
Publisher: Arissa Media Group/PM Press
ISBN: 9781936900183
Published: 9/2011
Format: Paperback
Size: 5.5 x 8.5
Page count: 416
Subjects: Politics-Activism, Current Events
Praise
"Part memoir, part recent history, part manifesto, Conspiracy to Riot is a collection of stories by a group of ordinary folks who awoke to a world in flames, and the extraordinary and courageous choices they made in response. In straight-forward language and direct prose each engages the central questions of our time: Who am I, and what is my responsibility to myself and others? What does the known demand? What does it mean to be human in the 21st Century? And where are we on the clock of the world? An eye-opening and provocative book, CTR is also an invitation to revolution in a time of peril and possibility." —Bill Ayers, author of Fugitive Days.
"These narratives of the RNC 8 spotlight the underbelly of political repression: surveillance, preemptive arrests, intimidation, cruel and unfair punishment, and inflammatory accusations of terrorism. This important, passionate, and courageous book is a necessary read for everyone who stands on the frontlines of social change." —Dr. Jason Del Gandio, author of Radical for Radicals: A Handbook for 21st Century Activists
"In an age of state-sponsored terrorism, the rise of the Patriot Act, and their concomitant chilling effect on dissenting voices, Leslie James Pickering gives us Conspiracy to Riot in Furtherance of Terrorism. This book details the life and times of eight organizers for social justice who should be hailed as dedicated resistance fighters, but were demonized and railroaded as "terrorists" by a monstrous state apparatus that has increasingly turned its attention to domestic rebels. A must-read for anyone interested in basic human rights, civic engagement, and freedom from the prying eyes of the state." —Deric Shannon, co-editor of Contemporary Anarchist Studies
"Any country's pretensions of democracy are tested in moments of conflict, when dissent flowers amid social, cultural and economic moments of change. In Conspiracy to Riot in Furtherance of Terrorism, readers get an uncompromising look at a flashpoint that, when the powerful, law enforcement and the criminal justice system could operate at their best, unambiguously demonstrated state power at its worst. Through equal parts idealism, ideology and sheer determination, the authors relate a story that demands to be heard." —Ernesto Aguilar, Program Director, KPFT, Pacifica Radio
"If you want to learn about state repression and its effects on activists, then this is the book for you. It chronicles the inner thoughts, reflections, and emotions of the RNC 8. Their courage and determination comes across clearly through a first person narrative, bring with it an avalanche of lessons for individuals and social movements confronting power. Don't miss it." —Dr. Luis A. Fernandez, author of Policing Dissent and Shutting Down the Streets
---
Book Events
---
Reviews
---
Interviews
---
Mentions
---
Blog