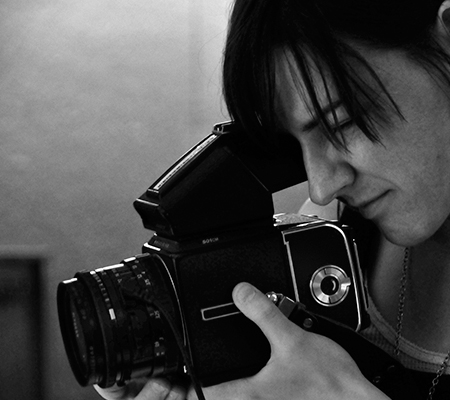 Rachelle Lee Smith is an award winning, nationally and internationally shown and published photographer. She has spent the majority of her photographic career capturing images with a passion to share experiences. Rachelle's work in Speaking OUT: Queer Youth in Focus combines her passions for activism and photography to tell the stories of, and provide a rare insight into, the ever evolving passions, confusions, prejudices, fulfillment, joys, and sorrows of queer youth. Off the streets and into the studio, portraits are presented without judgment or stereotype by eliminating environmental influence with a stark white backdrop. The images are strengthened by the handwritten text that serves as a voice of a diverse group of youth ages 14 to 24 identifying as LGBTQ (i.e., lesbian, gay, bisexual, transgender, or questioning).
Rachelle Lee Smith has had the fortunate experience to have this body of work be the first solo show at the Human Rights Campaign (HRC) headquarters and be exhibited at the first Federal LGBT Youth Summit held by the Federal Department of education in addition to galleries, youth centers and universities.
She is excited beyond words to get this in book form.
Speaking OUT! has been awarded the Rainbow award for BEST Bisexual, Transgender & LGBT Debut

Speaking OUT! is also first runner up for the Rainbow award for Best LGBT Book and second runner up for Best LGBT Non Fiction, Poetry, Visual Arts / Photography.
@SpeakingOUT_rls
---
Speaking OUT: Queer Youth in Focus
SKU: 9781629630410
Author: Rachelle Lee Smith • Foreword by Candace Gingrich • Afterword by Graeme Taylor
Publisher: PM Press/Reach and Teach
ISBN: 9781629630410
Published: 10/2014
Format: Paperback
Size: 8 x 10
Page count: 128
Subjects: Gay Studies/Photography
Praise
"Rachelle Lee Smith has created a book that is not only visually stunning but also gripping with powerful words and even more inspiring young people! This is an important work of art! I highly recommend buying it and sharing it!"
—Perez Hilton, blogger and television personality
"It's often said that our youth are our future. In the LGBT community, before they become the future we must help them survive today. This book showcases the diversity of creative imagination it takes to get us to tomorrow."
—Mark Segal, award-winning LGBT journalist
"The power of a look, a pose, and a story can be seen through Rachelle Lee Smith's photography and the youth who opened up their raw emotions, insecurities, and celebrations to us all. Sharing stories saves lives, but also reminds us that there can be continual struggle in finding identity and acceptance.
—Ryan Sallans, author of Second Son: Transitioning Toward My Destiny, Love and Life
"Rachelle Lee Smith's photographic project presents us with the face and the voice of this generation of LGBT youth: they are passionate, angry, funny, and committed. As an openly gay educational leader, I think this project is critical—not only for young queer people, but for their teachers, parents, mentors, and friends. We need to put this project in libraries and schools across the country!"
—Sean Buffington, President and CEO, The University of the Arts
"These are portraits of a revolution. Photographer Rachelle Lee Smith gives lesbian and gay youth an outlet to speak for themselves. Simple, yet powerful photos of queer youth speak reams."
—Advocate
"Queer youth have a powerful story to tell and Rachelle Lee Smith has given voice to them through her stark, gorgeous photography. Speaking Out captures the essence of LGBTQ young people – proud, visible and with something important to say. Smith's collection offers a glimpse of Generation Equality you won't easily forget."
—Candace Gingrich, Human Rights Campaign
---
Book Events
---
Reviews
---
Interviews
---
Mentions
---
Blog