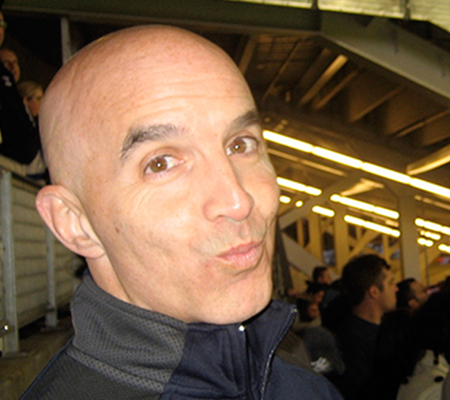 The regular visitors to Mickey Z.'s website have ordained themselves "The Expendables." Mickey asked them to write a collective bio and here is the result:
Mickey Z.'s voice is the roundhouse kick of activist literature…profoundly mistrustful of government in all its dreadful guises, while courageously supporting all of us who stand against it. Determined to live the words, rather than simply to speak them, Mickey Z. doesn't get more readers, he just makes more friends. His blog is like a front stoop where we all gather to talk over the news, what's happening with each other, and generally enjoy each other's company. The gentle concern for his fellow humans and the behind-the-scenes acts of kindness are surpassed only by the cuteness of his dimples.
He can be found on the Web at: www.mickeyz.net, and his novel Dear Vito can be found here.
Photo (c) Michele Zezima
---
Self-Defense for Radicals: A to Z Guide for Subversive Struggle
SKU: 9781604862041
Author: Mickey Z • Illustrated by Richard Cole
Publisher: PM Press
ISBN: 9781604862041
Published: 12/2009
Format: Pamphlet
Page count: 32
Size: 5.5 x 8.5
Subjects: Self-defense, Activism
---
Praise
"Mickey Z. shows you how to use your head. Literally! An invaluable guide for those moments when violence must be countered by force." —pattrice jones, author of Aftershock: Confronting Trauma in a Violent World
"In this violent culture, Self-Defense for Radicals belongs on every coffee table and in the glove compartment of every car driven by a man or a woman." —Rosemarie Jackowski, peace activist, advocacy journalist, Vermont Attorney General candidate '06 and '08
---
Book Events
---
Reviews
---
Interviews
---
Mentions
---