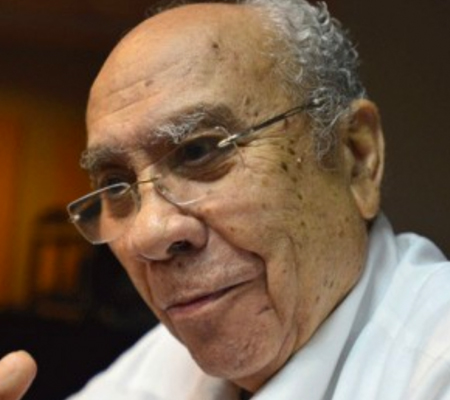 Dr. Luis Nieves Falcón, renowned lawyer, psychologist, and sociologist, is professor emeritus of the University of Puerto Rico (UPR) and a longtime advocate for Puerto Rican human rights. A founder of the UPR's Department of Latin American and Caribbean Studies, Dr. Falcón has been at the intellectual and activist forefront of every major modern campaign for Puerto Rican sovereignty. As chairman of the Puerto Rico Committee for Human Rights, the Puerto Rican PEN Club, and the International League for the Rights and Liberation of the Peoples, he has convened international tribunals on various issues concerning the Puerto Rican condition in Barcelona, New York, Vieques, and San Juan. Dr. Falcón is presently the president of the Nilita Vientós Gastón Foundation. His recent books include Un siglo de represión política en Puerto Rico: 1898-1998 [A Century of Political Repression in Puerto Rico: 1898-1998], and La Luz Desde La Ventana: Conversaciones con Filiberto Ojeda Ríos [The Light from the Window: Conversations with Filiberto Ojeda Rios].

---
Oscar Lopez Rivera: Between Torture and Resistance
SKU: 9781604866858
Author: Oscar López Rivera • Editor: Luis Nieves Falcón • Foreword by Archbishop Desmond Tutu • Introduction by Matt Meyer
Publisher: PM Press
ISBN: 9781604866858
Published: 2/2013
Format: Paperback
Size: 5.5 X 8.5
Page count: 160
Subjects: Politics–Activism/History–Puerto Rico
---
About
The story of Puerto Rican leader Oscar López Rivera is one of courage, valor, and sacrifice. A decorated Viet Nam veteran and well-respected community activist, López Rivera now holds the distinction of being one of the longest held political prisoners in the world. Behind bars since 1981, López Rivera was convicted of the thought-crime of "seditious conspiracy," and never accused of causing anyone harm or of taking a life. This book is a unique introduction to his story and struggle, based on letters between him and the renowned lawyer, sociologist, educator, and activist Luis Nieves Falcón.
In photographs, reproductions of his paintings, and graphic content, Oscar's life is made strikingly accessible—so all can understand why this man has been deemed dangerous to the U.S. government. His ongoing fight for freedom, for his people and for himself (his release date is 2027, when he will be 84 years old), is detailed in chapters which share the life of a Latino child growing up in the small towns of Puerto Rico and the big cities of the U.S. It tells of his emergence as a community activist, of his life underground, and of his years in prison. Most importantly, it points the way forward.
---
Book Events
---
Reviews
---
Interviews
---
Mentions
---
Blog
Check out Democracy Now!'s coverage of the 32 Days for 32 Years Project and the call to release Oscar Lopez Rivera from Prison