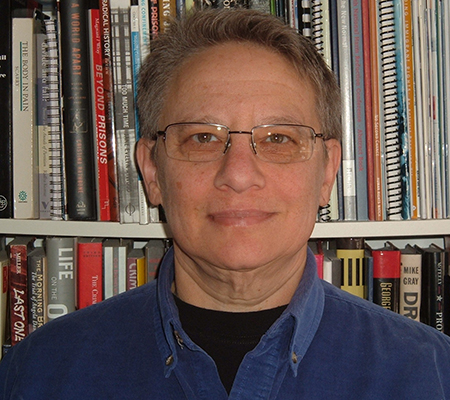 Lois Ahrens has been an activist and organizer for social justice for more than forty years.
In 2000 she started the Real Cost of Prisons Project which brings together justice activists, artists, justice policy researchers and people directly experiencing the impact of mass incarceration to work together to end the U.S. prison nation.

The Real Cost of Prisons Project created workshops, a website which includes sections of writing and comix by prisoners, a daily news blog focused on mass incarceration and three comic books. The website (at www.realcostofprisons.org) and blog (at www.realcostofprisons.org/blog/) receive more than 30,000 distinct visits per month.

In 2005, she developed three comic books: Prison Town-Paying the Price by Kevin Pyle and Craig Gilmore, Prisoners of A Hard Life-Women and Their Children by Susan Willmarth, Ellen Miller-Mack and Ahrens, Prisoners of the War on Drugs by Sabrina Jones, Ellen Miller-Mack and Ahrens. More than 100,000 free comic books have been sent to prisoners, their families, organizers, teachers and others. The comic books have now being anthologized into the book, The Real Cost of Prisons Comix, published by PM Press in September, 2008.

Through the Real Cost of Prisons Project, Ahrens has been fortunate to have built an extensive correspondence with prisoners, which has grown into working relationships and friendships. Additionally, Lois is involved in educating people with criminal records, those who hire them and the public about how to overcome and end obstacles created by laws and practices surrounding Criminal Offender Record Information. She also works to raise awareness and opposition to the building and expanding of new jails in MA.
A recent letter addessed to Lois:
The Real Cost of Prisons Comix
SKU: 9781604860344
Editor: Lois Ahrens • Written by Ellen Miller-Mack, Craig Gilmore, Lois Ahrens, Susan Willmarth, and Kevin Pyle • Illustrated by Kevin Pyle, Sabrina Jones and Susan Willmarth • Introduction by Craig Gilmore and Ruth Wilson Gilmore
Publisher: PM Press
ISBN: 9781604860344
Published: 9/2008
Format: Paperback, mobi, ePub, PDF
Page count: 104
Size: 7 x 10
Subjects: Comics, Social Justice, Penology
Winner of the 2008 PASS Award (Prevention for a Safer Society) from the National Council on Crime and Delinquency.
Praise
"I cannot think of a better way to arouse the public to the cruelties of the prison system than to make this book widely available."
—Howard Zinn
"The Real Cost of Prisons comics are among the most transformative pieces of information that the youth get to read. We take it with us to detention centers, group homes, youth shelters and social justice organizing projects. Everywhere we go we see youth nodding with agreement and getting excited to see their reality validated in print. The Real Cost of Prisons helps youth know what's up and gives them the push they need to get active in the struggle to make interpersonal and community-wide change."
–Shira Hassan, Co-Director Young Women's Empowerment Project, Chicago, IL
---
Book Events
---
Reviews
---
Interviews
---
Mentions
---
Blog