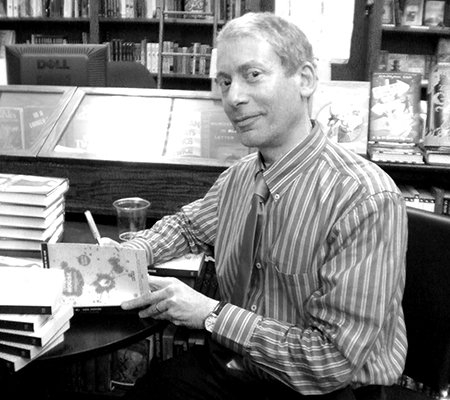 Kenneth Wishnia's novels include 23 Shades of Black, which was nominated for the Edgar Allan Poe Award for Best First Novel and an Anthony for Best Paperback Original; Soft Money, a Library Journal Best Mystery of the Year; and Red House, a Washington Post Book World "Rave" Book of the Year. His short stories have appeared in Ellery Queen, Alfred Hitchcock, Queens Noir, Long Island Noir, Send My Love and a Molotov Cocktail, and elsewhere. His latest novel, The Fifth Servant, was an Indie Notable selection, a Best Jewish Book of the Year according to the Association of Jewish Libraries and the Jewish Press, won a Premio Letterario ADEI-WIZO (the Italian chapter of the Women's International Zionist Organization), and was a finalist for the Sue Feder Memorial Historical Mystery Award, a category of the Macavity Awards. He recently edited the Anthony Award-nominated anthology, Jewish Noir, for PM Press. He teaches writing, literature and other deviant forms of thought at Suffolk Community College on Long Island. For more about Ken visit: http://kennethwishnia.com/
Check out Ken speaking on "Noticias Univision 41: 'Acá entre Nos"" with Carlos Javier Solano about Lago de Sangre: Un libro de misterio sobre Filomena Buscarsela.
Check out Ken Wishina's new book trailer for the third Novel in the Filomena Buscarsela series, The Glass Factory!
Jewish Noir II: Tales of Crime and Other Dark Deeds
SKU: 9781629638225
Editors: Kenneth Wishnia & Chantelle Aimée Osman • Foreword by Lawrence Block
Series: PM Press
ISBN: 978-1-62963-822-5
Published: 2/2022
Format: Paperback
Size: 6×9
Pages: 352
Subjects: Fiction: Noir/Jewish
Praise
"Some seriously good stuff here… this goy loved it."
—Lee Child, #1 New York Times bestselling author
"[Wishnia writes for] a diverse audience of intelligent readers. . . . I eagerly await his next venture into any period of Jewish history."
—Jewish Book World
"Jewish Noir will dazzle crime fiction readers of every variety."
—Jenny Milchman, USA Today bestselling author of As Night Falls
"A little angst, some healthy cynicism, a touch of guilt, a few wisecracks and some very good stories. What else were you expecting?"
—Michael Moorcock, author of Mother London
"A hearty mazel tov to the ingenious team who created and assembled this vivid and wide-ranging collection."
—Linda Barnes, author of The Perfect Ghost
---
Send My Love and a Molotov Cocktail: Stories of Crime, Love and Rebellion
SKU: 9781604860962
Editors: Gary Phillips and Andrea Gibbons
Publisher: PM Press
ISBN: 9781604860962
Published: 10/2011
Format: Paperback
Size: 5.5 x 8
Page count: 360
Subjects: Fiction Anthology
Description
An incendiary mixture of genres and voices, this collection of short stories compiles a unique set of work that revolves around riots, revolts, and revolution. From the turbulent days of unionism in the streets of New York City during the Great Depression to a group of old women who meet at their local café to plan a radical act that will change the world forever, these original and once out-of-print stories capture the various ways people rise up to challenge the status quo and change up the relationships of power. Ideal for any fan of noir, science fiction, and revolution and mayhem, this collection includes works from Sara Paretsky, Paco Ignacio Taibo II, Cory Doctorow, Kim Stanley Robinson, and Summer Brenner.
---
Jewish Noir
SKU: 9781629631110
Editor: Kenneth Wishnia
Publisher: PM Press
ISBN: 9781629631110
Published: 10/2015
Format: Paperback, mobi, ePub, PDF
Size: 6 x 9
Page count: 432
Subjects: Fiction-Anthology/Literature-Jewish
Praise
"Stirring. Evocative. Penetrating."
—Elie Wiesel (on Stephen Jay Schwartz's "Yahrzeit Candle")
"Wishnia presents the world of Ashkenazi Jewry with a keen eye for detail. Wishnia never judges his characters, but creates three-dimensional people who live in a very dangerous world."
—The Jewish Press on The Fifth Servant
"[Wishnia writes for] a diverse audience of intelligent readers. I predict a bright future for Kenneth Wishnia, filled with loyal readers who enjoy a serious and entertaining story. I eagerly await his next venture into any period of Jewish history."
—Jewish Book World, on The Fifth Servant
"Wishnia's works are addictive, thought provoking page-turners."
—Impulsive Reviews
---
23 Shades of Black
SKU: 9781604865875
Author: Kenneth Wishnia • Introduction by Barbara D'Amato
Publisher: PM Press
ISBN: 9781604865875
Published: 4/12
Format: Paperback
Size: 8 x 5
Page count: 300
Subjects: Fiction/Mystery
Praise
"Packed with enough mayhem and atmosphere for two novels."
—Booklist
"From page-turning thriller to mystery story to social investigation, 23 Shades of Black works on all levels. It's clear from the start that Wishnia is charting a unique path in crime fiction. Sign me up for the full ride!"
—Michael Connelly, author of Lost Light
"Wishnia cuts a different path with his stories and novels, choosing subjects, settings, and characters of a sort the reader is unlikely to encounter in the mainstream of mystery and crime fiction. His fine sensibility and skillful prose will appeal to discriminating readers."
—Janet Hutchings, editor of Ellery Queen's Mystery Magazine
"With her sharp tongue, quick mind, and stubborn will, Filomena Buscarseal is the ultimate New Yorker: a cop, a woman, an immigrant who has made the city her own."
—Linda Landrigan, editor of Alfred Hitchcock's Mystery Magazine
"Ken Wishnia's Filomena Buscarsela is one hell of a woman fighting the good fight in politicized bad-to-the-bone stories where the point is not merely to interpret the world, but to change it… one goddamn block at a time."
—Gary Phillips, author of Monkology
---
Soft Money
SKU: 9781604866803
Author: Ken Wishnia • Introduction by Gary Phillips
Publisher: PM Press
ISBN: 9781604866803
Published: 4/2013
Format: Paperback, mobi, ePub, PDF
Size: 5 x 8
Page count: 288
Subjects: Fiction/Mystery
Praise
"Great fun…Fil is a hyperbolic character, spewing enough acerbic opinions to fill half a dozen average mysteries. A spirited sequel."
—Publishers Weekly
"Wishnia's world is like a New York subway train—fast, loud, dirty, and dangerous—but it's well worth the ride with Filomena Buscarsela in the driver's seat. A hard-edged story gracefully told."
—Booklist
"Sharp and sexy… Hilarious and exciting… [Wishnia] has a perfect ear for female urban angst."
—Chicago Tribune
"Nonstop activity, wry humor, mordant characterizations, and a solid dollop of police procedure make this a hugely appealing follow-up to 23 Shades of Black."
—Library Journal
"Sizzling…memorable characters, genuine surprises, and fine writing… 23 Shades of Black took the mystery world by storm. Soft Money keeps the winds in full swirl."
—Book Page
"Filomena Buscarsela [is] an irreverent, intrepid, Ecuadorian-born, former New York City cop with the savvy of Erin Brockovich and the stamina of Wonder Woman." —Newsday
"Filomena Buscarsela [is] a Latina heroine with the epic appeal of Everywoman. The world's a mess, but Filomena's still fighting. It's that perspective that sets Wishnia apart—there's nothing else out there remotely like his books." —Rocky Mountain News
---
The Glass Factory
SKU: 9781604867626
Author: Kenneth Wishnia • Introduction by Reed Farrel Coleman
Publisher: PM Press
ISBN: 9781604867626
Published: 8/2013
Format: Paperback, mobi, ePub, PDF
Size: 5 x 8
Page count: 256
Subjects: Fiction, Mystery
Praise
"Wishnia writes with brio, energy, rage, passion, and humor. Brash, sassy, smart, and indomitable, Filomena is purely a force of nature, and The Glass Factory is another winner." —Booklist
"Riveting circumstances, a strongly focused plot, and ably described settings make this essential reading." —Library Journal
"Mother and daughter are so appealing, and the case against an unscrupulous businessman is put together so compellingly, the tale keeps one reading to its bittersweet end." —Boston Globe
---
Red House
SKU: 9781604864021
Author: Kenneth Wishnia • Introduction by Alison Gaylin
Publisher: PM Press
ISBN: 9781604864021
Published: 3/2014
Format: Paperback, mobi, ePub, PDF
Size: 5 x 8
Page count: 288
Subjects: Fiction/Mystery
Praise
A Washington Post "Rave" Book of the Year
"Smart dialogue, a realistic and gritty depiction of New York, and the sensitive exploration of environmental, racial, and economic issues make this another great read in an energetic series."
—Booklist

"An engaging character with a wry sense of humor. The jam-packed plot makes for an exciting story."
—Publishers Weekly

"[Wishnia's] word play is as sharp as his social conscience, and he has created a wonderfully intelligent and human voice for his protagonist. She can move from angry to funny to obscene in a handful of sentences, then climb back out of the gutter to take on the big boys again without hesitation. If only Buscarsela were real, the world would be a better place."
—Washington Post

"Wishnia delivers well-developed characters with sharp, realistic dialogue. Red House shines when it depicts the gritty, uncaring urban jungle."
—South Florida Sun-Sentinel

"She puts [other] female sleuths way in the shade."
—The Times (St. Petersburg, FL)
---
Blood Lake
SKU: 9781604864304
Author: Kenneth Wishnia • Introduction by Liz Martínez
Publisher: PM Press
ISBN: 9781604864304
Published: 8/2014
Format: Paperback, ePub, mobi, PDF
Size: 8 x 5
Page count: 384
Subjects: Fiction/Mystery
Praise
"In a stunning portrait of a country just over the line between law and chaos, Blood Lake gives the reader urgent, pulse-pounding prose, an unstoppable, appealing narrator, and a sense that the veneer of civilization may be, in places, very thin indeed.
—S.J. Rozan, author of Ghost Hero
"The first page of Blood Lakeis strong, on a dead run; and the rest of the book ain't too dusty, neither."
—Harlan Ellison, winner of the Edgar, Hugo, Nebula, and Emmy Awards
"Wishnia's brand of gritty surrealism jolts the reader with startling images and jarring contrasts. [He] evokes a country and a culture vividly and unforgettably."
—Publishers Weekly
"Successfully serves up exotic atmosphere, complex family relations, social unrest, and dazzling characterization."
—Booklist
"Enormously engaging. It's as if Wishnia were attempting to rescue the thriller from the bloat and preposterousness of Ludlumization in order to return it to its more Graham Greene-like roots in a recognizably mean real world—just as Chandler and Hammett rescued detective fiction from drawing-room gentility and yanked it down to the mean streets that had always been its natural habitat."
—The Washington Post
---
Lago de Sangre: Un libro de misterio sobre Filomena Buscarsela
SKU: 9781629634432
Author: Kenneth Wishnia • Introduction by Liz Martínez
Publisher: PM Press
ISBN: 9781629634432
Published: 8/2018
Format: Paperback, ePub, mobi, PDF
Size: 5 x 8
Page count: 376
Subjects: Fiction / Mystery / Latin America
Praise
"La primera página de Lago de Sangre es fuerte, te parte como un rayo; el resto del libro tampoco se pierde en el polvo."
—Harlan Ellison, sus obras han sido galardonadas con el premio Edgar Allan Poe; Hugo; Nebula; y otros premios
"La marca de surrealismo perspicaz que Wishnia propone sacude al lector con imágenes insólitas y contrastes agitados. Logra evocar a un país y su cultura de una forma vivida e inolvidable."
—Publishers Weekly
"Recrea con éxito una atmósfera exótica, relaciones familiares complejas, malestar social y una deslumbrante caracterización de personajes."
—Booklist
"Enormemente atractivo. Es como si Wishnia quisiera rescatar la novela de suspenso del abotagamiento y de la sobre iluminación absurda, con el fin de devolverlo a sus raíces más Graham Greene—asentando la realidad en un mundo hostil—así como hicieron Chandler y Hammett cuando rescataron la ficción policial de la cursi sala de estar para arrastrar a este género a las calles, que son su habitad natural."
—Washington Post
"En un delirante retrato sobre un país que se erige entre la dicotomía de la ley y el caos, Lago de Sangre le da al lector una prosa urgente y rítmica, con un narrador atractivo e imparable, y una sensación de que la capa de la civilización puede ser—en algunos sitios—muy delgada."
—S.J. Rozan, autor de Winter and Night, libro ganador del premio Edgar Allan Poe
---
Book Events
---
Reviews
---
Interviews
---
Mentions
---
Blog