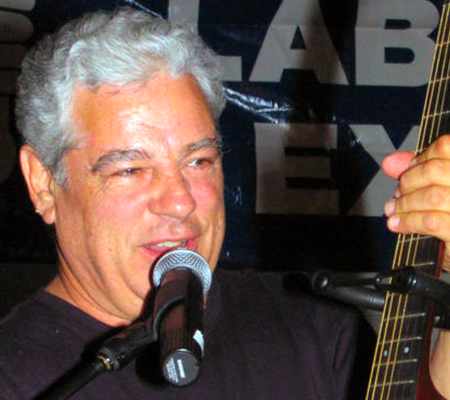 Throughout his life, Jon Fromer (1946–2013) personified the idea of putting one's artistic talent to use toward the goal of creating a better world. He was a driving force behind numerous progressive musical endeavors and organizations, including the Freedom Song Network, the Western Workers' Labor Heritage Festival, Encuentro del Canto Popular, and the annual mass demonstration of over twenty thousand protesters outside the infamous military training project School of the Americas in Ft. Benning, Georgia.
His recordings include the live concert CD We Do the Work (1998) and the studio album Gonna Take Us All (2008). He also led a Freedom Song Network chorus in recording This Line is Singing (1991), a rousing collection of union songs.
Reed Fromer's active involvement in music dates back to his days as a youth performer on the TV shows Git Box and Just Kidding, both created by his uncle, Jon Fromer. In addition to accompanying Jon for over 35 years and producing Jon's Gonna Take Us All CD, Reed has led one of Northern California's most powerful R&B bands for nearly 30 years, is an award-winning songwriter (with material covered by Gregg Allman, among others), accompanies gospel choirs and Motown revue acts, directs the Night Choir on Elm Street adult chorus, and has instilled a love of pop and folk music in thousands of children through his chorus classes in schools and recreation programs. He was a recipient of the Marin County Human Rights Commission's 1994 Martin Luther King, Jr. Award for his educational work on civil rights, and recently completed his first novel, a parable about institutional racism and affirmative action.
---
Looking for Freedom: A Celebration of the Music of Jon Fromer
SKU: 9781629631240
Artists: Jon Fromer and Reed Fromer
Publisher: PM Press
ISBN: 9781629631240
Published: 6/2015
Format: Audio CD
Size: 5.5 x 5.5
Length: 63 Minutes
Subjects: Music-Folk
Praise
"I hope many people start singing Jon's songs."
—Pete Seeger
"When Jon played at our rallies, events and picket lines his music would grab us by the collar and lift us up with him. With each time it seemed his energy, his power and the beauty of his song would lift the entire Movement with the spirit to carry on!"
—Art Pulaski, executive secretary-treasurer, California Labor Federation
"Jon Fromer is truly a gifted musician with a strong, tough baritone voice, a powerful, rhythmic guitar style and a talent for composing engaging melodies."
—Paul Liberatore, HERE
"When Jon Fromer took the microphone the whole scene was transformed. His gift is to bring ordinary people together and make them move. It starts with his right hand, which hammers the guitar strings with ferocious commitment and reverberates down to his feet, which tramp in place like an army of one—justice bound."
—Eric Wolfe, The Reporter (IBEW local 1245, AFL-CIO)
---
Book Events
---
Reviews
---
Interviews
---
Mentions
---
Blog